There is a lot to love about Switzerland, with its tall mountains; clean, picturesque landscape; plethora of outdoor sports; and lively, cosmopolitan city offerings. Known historically for its political neutrality and famous/infamous banking policies, Switzerland is also one of the safest countries in the world.
Being married to a French-speaking Swiss and having visited Switzerland almost every year for the last 15 years, I've developed some clear "loves" for the country. Here they are:
#1 Cheese! (Fondue and Raclette)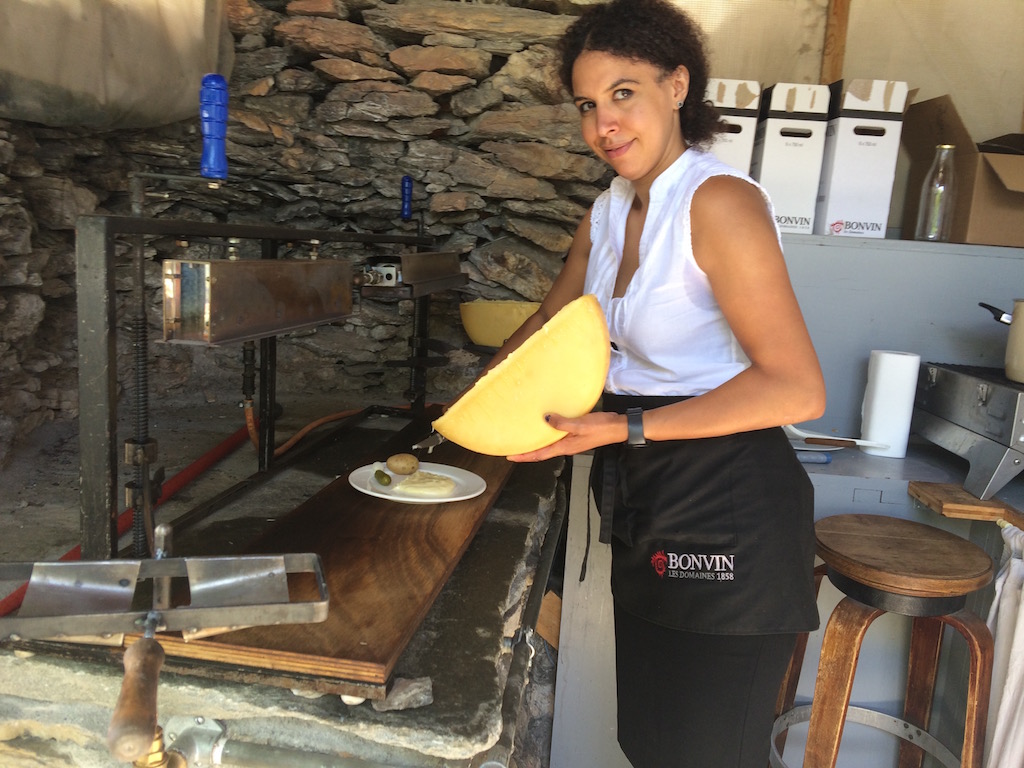 Switzerland's national dishes are not just deeply satisfying, but also fun to eat. For fondue, friends and family gather around a table and dip bread into a communal pot of hot, melted cheese. Or in the case of raclette, you put half of a huge round slab of cheese near a flame and scrape the melted portions bit by bit over small, boiled potatoes. Who doesn't like melted cheese, especially of such high quality? You can find these national dishes just about anywhere in Switzerland. Just ask. See my blog post to find out where to have the best fondue in the world.
#2 Outdoor Sports Galore
Those mountains! Both the Alps and the Juras host an endless system of well-marked, winding trails with plenty of hiking and mountain biking in the summer and cross-country skiing and snow-shoeing in the winter. People fly in from around the world to hike the Alps, and the Swiss themselves are fit and love to hike their mountains. To read up on my snow-shoeing adventure at the famous Swiss watchmaking town of Vallee de Joux, see this blog post.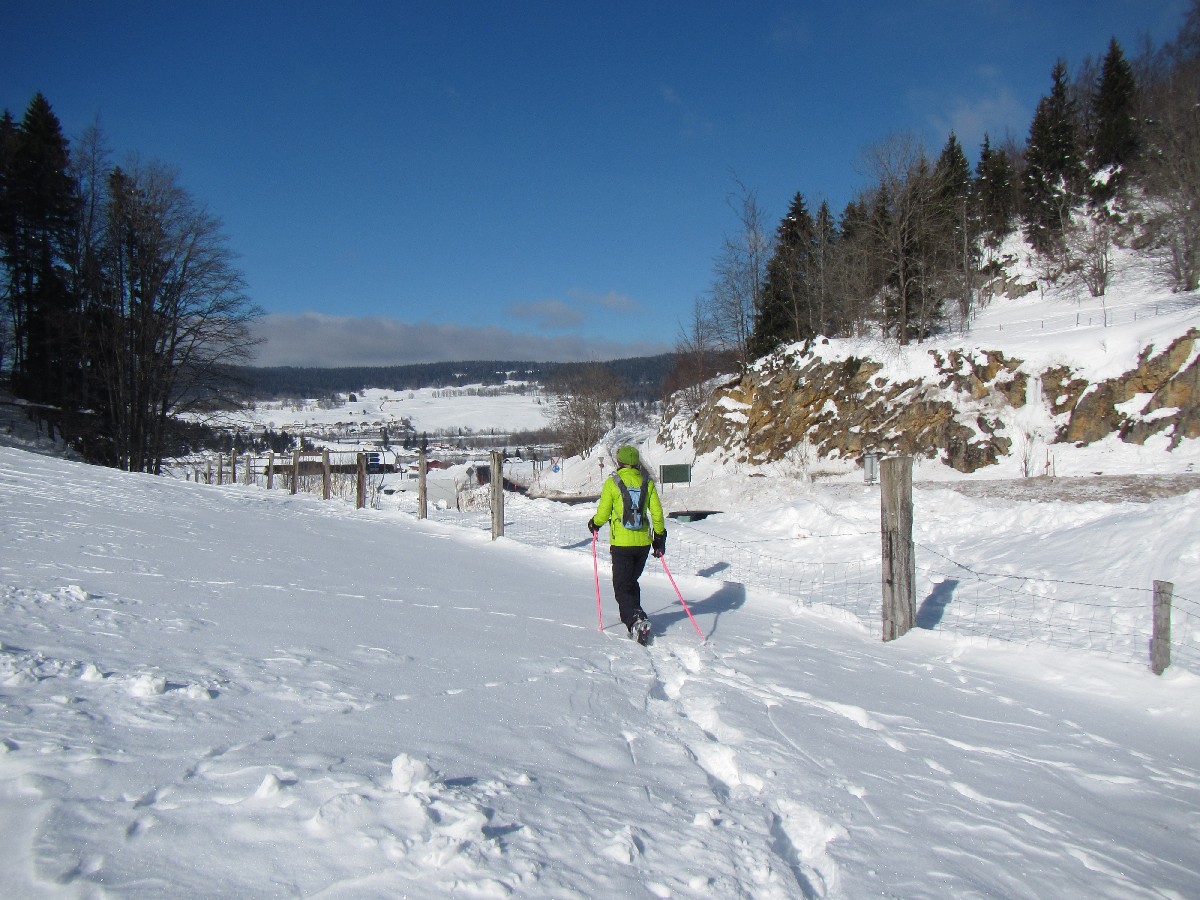 Those mountains are also famous for downhill skiing, mountaineering, rock-climbing, and parasailing. (Driving along a freeway from the regions of Vaud to Valais in the summer, you can often spot five or ten colorful parasails at a time, gently floating among the mountain tops.)
In summer, the many lakes provide ample swimming, kayaking, and stand-up paddleboarding (very popular!), and there are several locations where you can rent day-use equipment. In winter, some lakes offer ice skating. The way villages are spread throughout the country, road-biking from one to another in summer is also a fantastic, although arduous (given the steep inclines), activity.
The best thing about these sports is that they are so easily accessible! There is a sports center near almost every mountain town and village, and they are all a short drive away from major cities, such as Geneva and Zurich.
#3 Chalets and Refuges (Alpine Huts) in the Middle of Nowhere
Traditional chalet restaurants exist throughout the Swiss mountains, but the most impressive are the ones that appear out of nowhere and offer a simple, traditional menu of fondue, charcuterie, Croque Monsieur (in French-speaking Switzerland) or Rosti, along with carafes of white wine or vin chaud (hot red wine).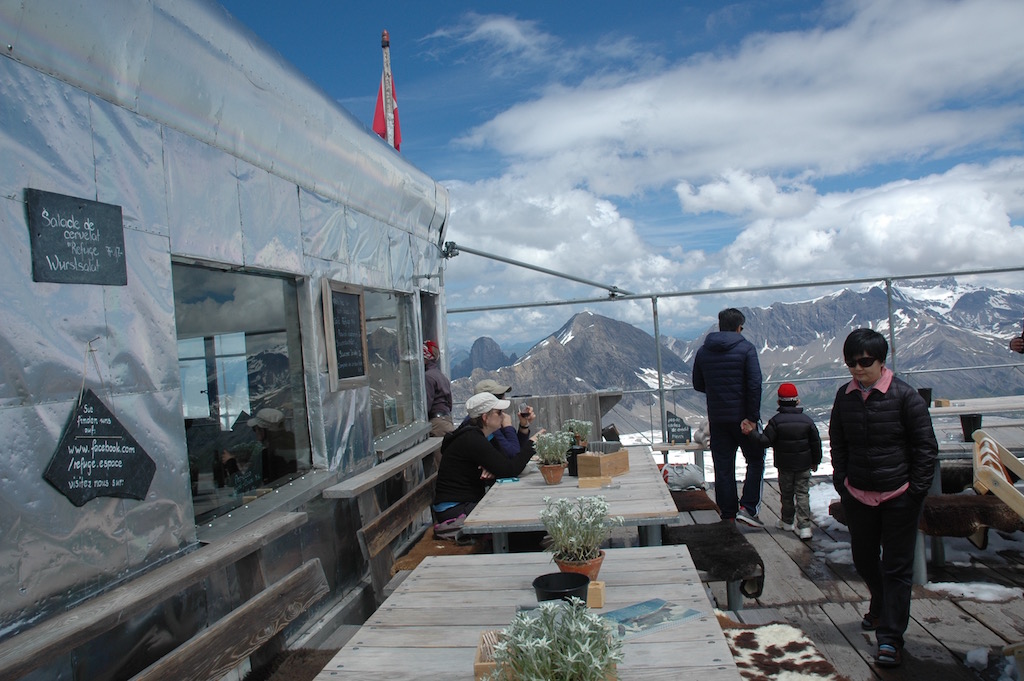 Picture this: you've been hiking or snow-shoeing for hours in the mountains with your pack, but you've neglected to take with you the classic Swiss picnic: French bread, saucisson, a block of Gruyere, and of course a Swiss knife with which to cut these. Within 5 or 10 kilometers, however, you stumble upon a chalet, maybe with a smoking chimney if it's winter, and inside, you find a wooden table with benches, a small, friendly staff, and a simple menu, or the soup of the day is on offer. What wonderful respite it offers! Note: they may only have beverages available between meal times.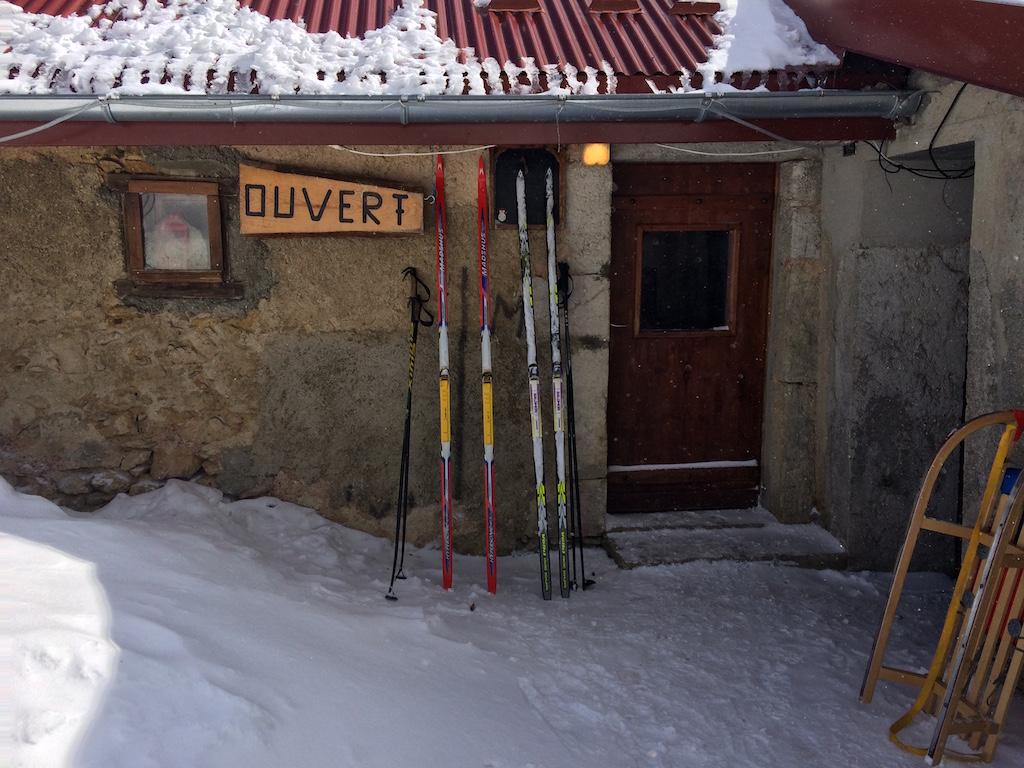 Likewise, refuges (alpine huts) are scattered in numerous remote (and not so remote) areas. As the name implies, these wooden farmhouses or chalets traditionally offer refuge to hikers and mountaineers along trails that are many kilometers in. They provide accommodation (often in a communal style) and a kitchen. More modern versions include staff, showers, and even gourmet meals. The truly isolated ones are often free, but others, such as Cabane des Dix or Cabane Mont-Fort, charge.  Either way, call to reserve your spot in case, especially if it's the weekend or a holiday. Here are a few lists of such alpine huts:
#4 Thermal Baths
The Swiss care about their health and wellbeing, and love soaking in one of the many thermal baths that dot their country. Most of these wellness centers have a number of large pools, which look like swimming pools, but really they're baths, with temperatures around 33C (92F) and full of healing minerals. Many of these pools have massaging jets, bubbling waters, and a "river" that lazily pushes you around in a circle. Our favorite thermal baths, which we visit every year, is Bains de Saillon, which includes a giant waterslide for the older kids, a kiddy pool for the little ones, a sauna, and fitness center. To find a thermal bath near your location in Switzerland, see either 1) this list or 2) this list. Enjoy!
#5 Chocolate
I am not a big chocolate fan, but if I was (as my husband and daughter are), I'd melt at just the smell of Swiss chocolate. With their dedication to top quality, the Swiss make some of the best chocolate in the world. When we visited the Cailler chocolate factory near Gruyere over a year ago, it happened to be closed for renovation, but the smell of the air when we opened our car doors was unforgettable! Beautiful, rich chocolate. I thought I was outside Willy Wonka's factory. And even though I'm not a connoisseur of chocolate, I can very well taste the difference between, say, Lindt and Hershey's. Difference: huge!
#6 Multi-Cultural Cities
When I think of Switzerland, surrounded by Germany, France, Italy and Austria, I think of it as a predominantly white man's country, and mostly, it is. However, Switzerland, with its historic neutrality and the United Nations, appears more open to other cultures and ethnicities than its neighbors.
When I walk down the streets of Geneva (especially), Lausanne, or Zurich, I see people of seemingly every race and ethnicity. I love that diversity! The cities are clean, modern, and cosmopolitan, with plenty to see and do, as well.
#7 Safety
Switzerland is one of the safest countries in the world. Until recently, people never bothered to lock their doors. It's the only place I've let my then 8-year-old go to the grocery store by himself. My Swiss in laws repeatedly tell stories of leaving wallets and backpacks on trains or in restaurants, retrieving them the next day with everything in tact (no cash removed). On a recent visit, I left my shopping bag against a vendor's display on a street in Lausanne, and when I returned an hour later to look for it, it was exactly where I had left it.
There are a few reasons for this. First, Switzerland is a wealthy country that pays well and has low unemployment. But the bigger reason Switzerland has low crime is that the Swiss have a strong sense of personal and civic responsibility. Generally, they do what's right and take it for granted that their fellow citizens will do the same. Somehow, it works!
#8 High-quality Products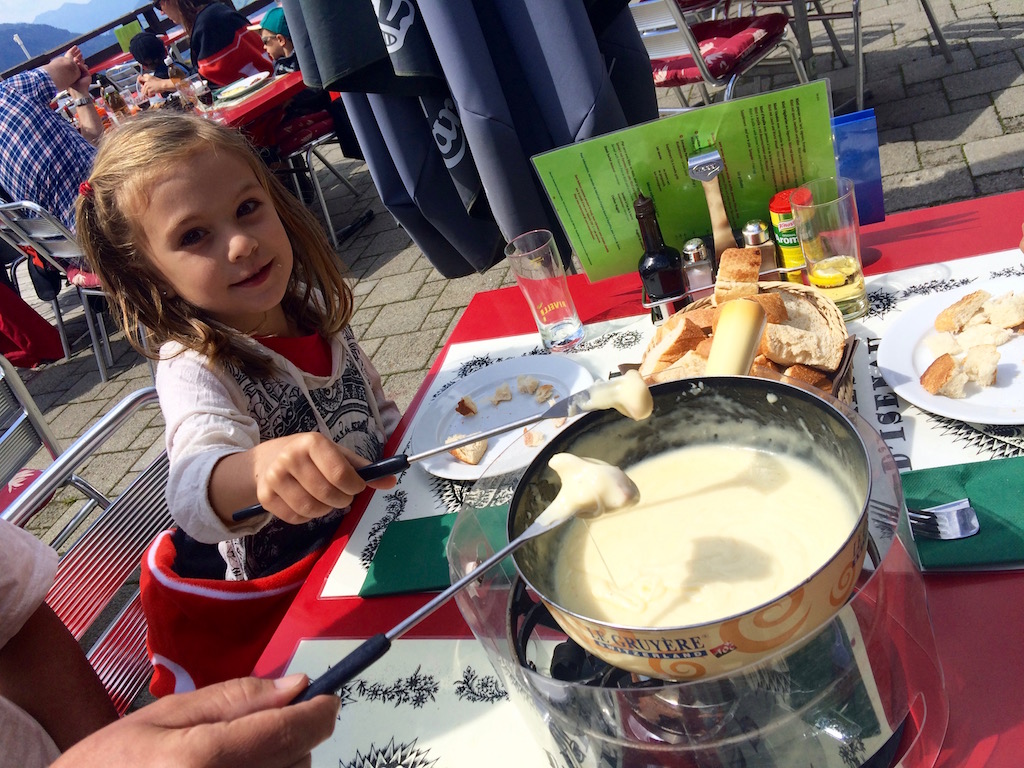 The Swiss are famous for creating high-quality brands and products, such as watches, pocket knives, cheese, and chocolate. In everything they do, they strive to make the best. Craftsmanship is highly regarded. Homes, for example, are built in smart ways with high-quality materials and are made to last.
You may pay more for Swiss products (sometimes a lot more), but you know you'll be getting top quality that will last a very long time. For this, the Swiss are dependable and reliable. Their reputation depends on it.
#9 Organization and Efficiency
The Swiss are famous for being on time. Trains arrive and depart, as the cliché goes, like a Swiss watch—not one minute early or late. If you have an appointment with someone at 2:00 p.m., he or she will walk in right when the local church bells strike two (although my Swiss husband says that in social circumstances, you do have a fifteen minute window).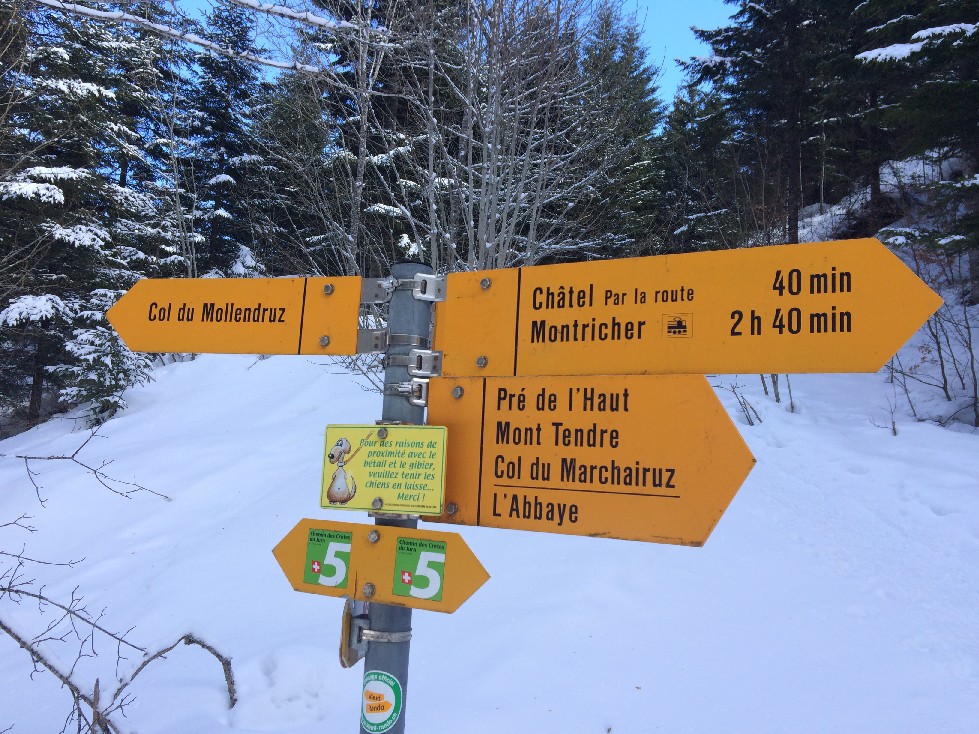 The Swiss are also very organized, with their thousands of hiking trails well marked and with projects executed in precise steps.
Although not everyone is a fan of the Swiss' attention to detail, in most cases, I find it comforting, as you know what to expect!
#10 Swiss Wine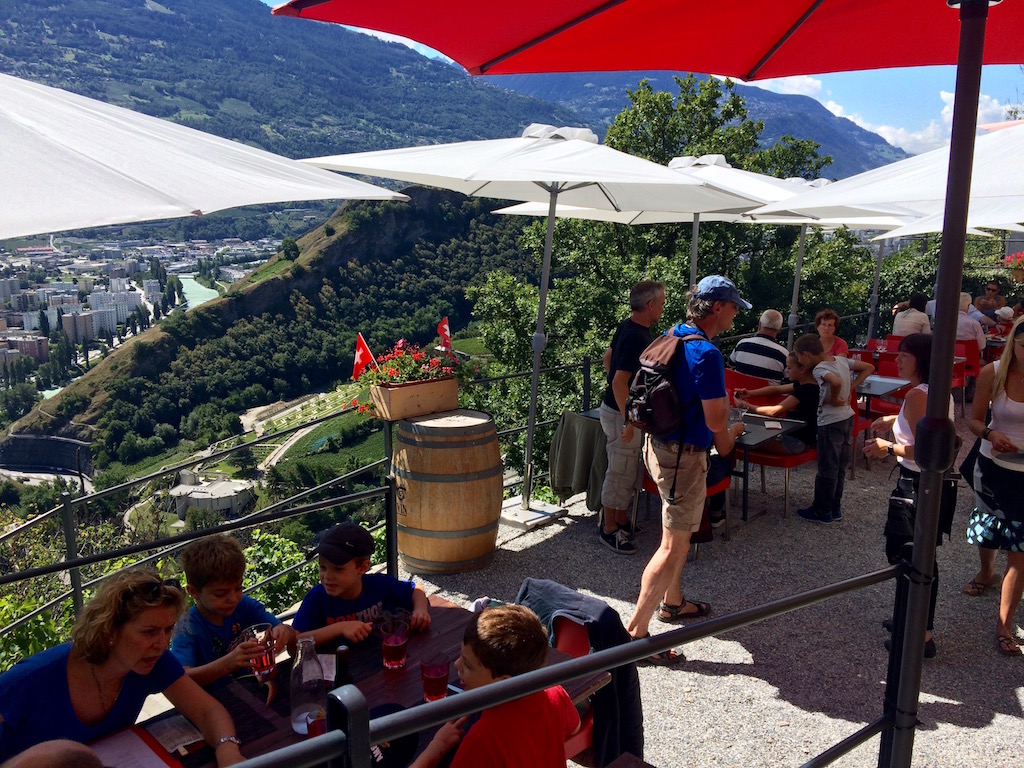 Glancing at the miles of vineyards blanketing the steep hills of the region of Valais in Switzerland, you would be right in assuming that Switzerland produces a lot of wine. They export less than 2% of it (to Germany), however, preferring to drink it all up themselves. This is sad to me because I love the Swiss versions of light, dry white wines, and I can only get them while in Switzerland. Sure, the French have great wines, but it always takes me a while to locate ones I like (I am not a connoisseur). Such wine goes perfectly with the Swiss national dishes of fondue and raclette. The vin chaud (hot red wine) on offer during winter at chalet restaurants and ski resorts can also help keep a body warm.
And one great way to enjoy Swiss wine is to take a short walk along the Bisse de Claveau (small waterway) through the vineyards on the hills of Sion, Valais, Switzerland to arrive at La Guérite Brûlefer (+41 79 246 56 59), a winery's restaurant with a stunning view. (Consult Google maps for where to park and walk.) It's only open on weekends and serves traditional foods, such as raclette. A great way to spend an afternoon!
So enjoy the Swiss wines while you're there!
#11 BONUS: Recycling and the Environment
If you go to Switzerland, the first two things you'll notice are the towering mountains and how clean the country is. The Swiss are proud of their environment and take recycling very seriously. Every city and village has receptacles or centers for recycling paper, plastic, glass, and compost, and everyone recycles. For the Swiss, it's a matter of personal and civic responsibility.
In many cantons (states), special garbage bags that cost CHF 2 (about $2.50) each are required by law to motivate residents to throw out as little as possible.
As someone who cares about the environment, I like seeing this kind of devotion to recycling, although I have to agree with some that in certain cantons, recycling can be taken too seriously: in Zurich, for example, large fines are applied for placing your recycling bottles out on the wrong day (about a $200 fine!) or not properly dividing your newspaper and cardboard and bundling them with the appropriate string (another $200+ fine). There is even garbage police (I kid you not), who go through your trash looking for identifying information so they know who to fine if the recycling hasn't been done right. Uptight neighbors may snitch on you if you don't hold up your share of responsibility. For me, this much regulation seems more about administration than the environment.
Luckily, none of this affects tourists! We just get to enjoy the clean landscapes and feel good that the environment is being respected.
Additional Practical Information
For hotels in cities mentioned in this post, see these links for Geneva, Lausanne, or Zurich.
Also check out Lonely Planet for their guide on Switzerland.
This blog post, including photos, is copyrighted (c) 2016 by Cindy Bailey Giauque and is an original publication of www.mylittlevagabonds.com. Please join us on Twitter and Facebook. Happy travels!