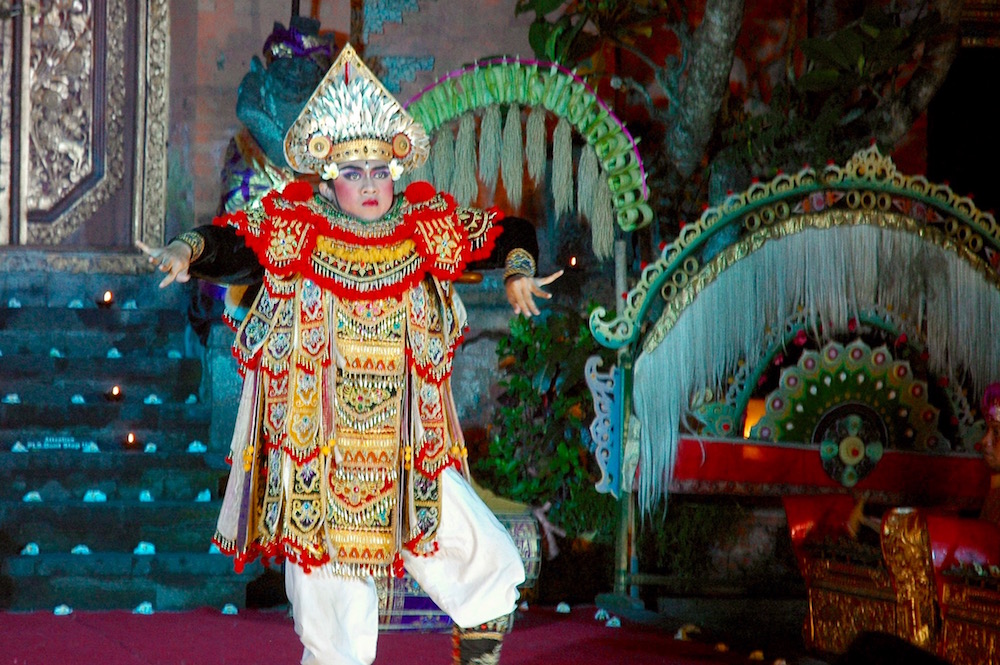 Has it been your dream to take a few months, or even years, to travel the world, or some part of it, but you can't quite grasp how you would do it, or when? How, exactly, do you step away from the life in which you are so entrenched and make room for long-term travel? What, exactly, would you need to do to make that happen? 
And do you wait until you have a break between jobs? Or when your youngest is old enough to have memories? Or when you've put a certain amount of money away?
Any worthwhile goal in life may appear daunting at first. But if it's something you really want, you will find a way to do it. The best strategy is to break the dream down into smaller, more manageable parts.
Here are the steps we took to move our family from inundated suburban life to on-the-road freedom. (Note: I assume you want to travel for more than six weeks and you plan to do it kid(s) and all.)
# 1 Decide to Do It!
# 2 Define It
# 3 Pick When to Go
# 4 Figure Out How to Pay for It
# 5 Make It Real
# 6 Plan Your Trip
# 7 Deal with Your Stuff
# 8 Complete Admin Tasks Before You Go (Checklists!)
# 9 Know What to Pack (More Checklists!)
# 10 Go!
#1 Decide to Do It
Whatever form your dream takes, whether it be hitting popular destinations on every continent forever or going island-hopping by boat for a summer, just decide you will do it. You do have to check in with your family to ensure everyone's on board, and that may mean making some adjustments. I can't stand being on a small boat for long periods, so cruising islands was out for us. Thankfully, we both agreed that traveling the world would be an educational opportunity for the kids and a great experience for the whole family.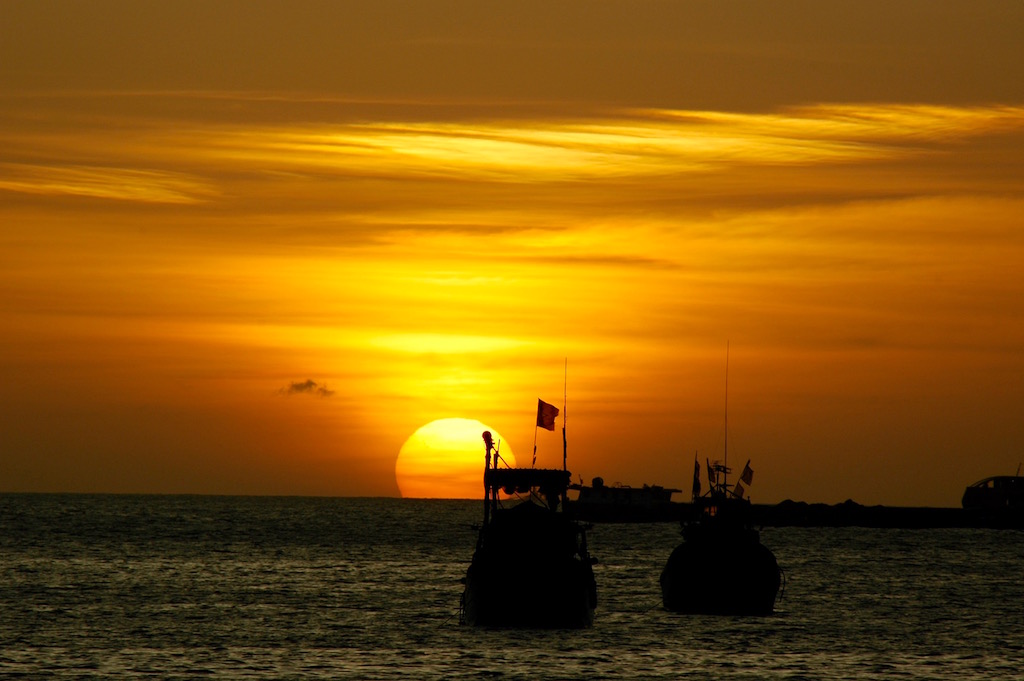 We also agreed that a month off wouldn't cut it. We felt burdened by the obligations of our day to day lives and needed a bold, dramatic change, so we decided to take at least one year "off" to travel.
Which leads to another thought: Sometimes, we don't decide to take a long-term trip so much as we get pushed into it. I know of one travel blogger who wrote that if she didn't have such an awful, crappy year she wasn't sure she would have embarked on what turned into a four-year nomadic journey around the globe with her then nine-year-old son.
#2 Define It
There are many ways to travel: fast/slow, budget/lux, DIY/with a tour operator. One family of five planned a full one year trip around the world in advance. They got out a map, tagged the places they wanted to see, and then purchased two round-the-world tickets to make it happen. They remained a week on average at each location, staying in hotels, apartments, or even houses while checking out local sights before moving on. Mom homeschooled her three girls and dad took time off his job, but worked remotely, as needed.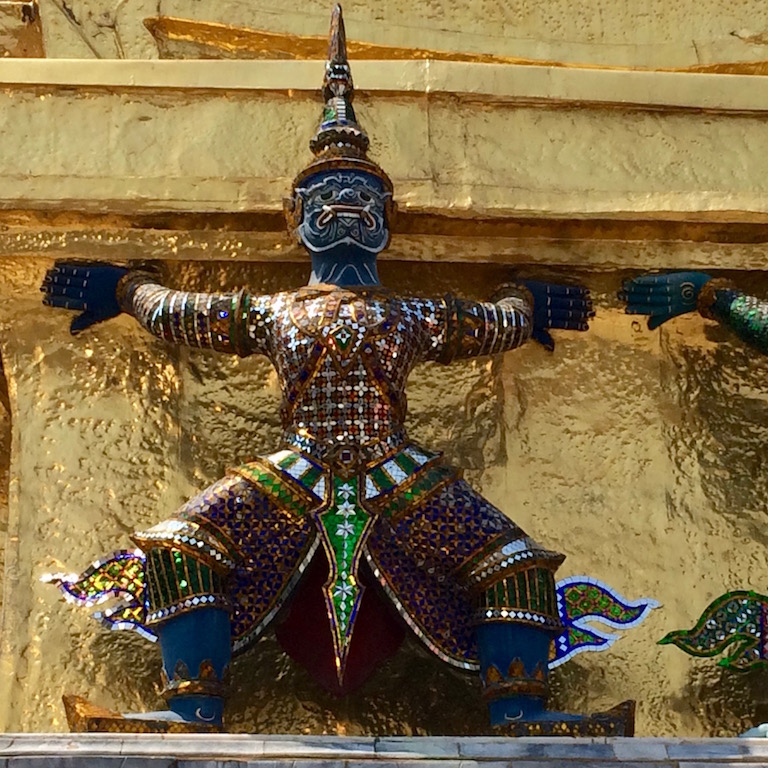 That's fast travel and one way to go: you can see more in a short time. Others travel more slowly, staying weeks or months in one location, getting to really know the place, people, and culture. Slowing down also allows time to homeschool, work, or do admin tasks. (I wrote about the advantages of slow travel here.)
Others still, travel more spontaneously on an open-ended trip.
We tend to mix slow and fast travel, depending on the destination and our mood. We also mix culturally rich destinations (Cambodia, Vietnam) with adventurous pursuits (learning to surf in Bali, mountain biking in Moab, Utah).
Generally, what will determine your travel style are your preferences and budget. So, decide where you would like to go (at least at first), how long you'd like to stay, and generally what you'd like to do there. (Also see my blog post: How Do You Know Where to Go Next and How Long to Stay?  Also, check out these fun ideas on travel styles at AirTreks. )
#3 Pick When to Go
So, when to take off on your adventure of a lifetime? As much as possible, I invite you not to wait. While you have your health and energy, go. If you crave more quality time with your kids while they're still at home, go. As long as you have sufficient funds to cover your travels or a way of earning them on the road (see the next section), then go.
It's not that there is no right time to take off (between jobs is a good one, or while kids are out of school). It's just that the right time, when everything falls perfectly into place for all members of the family, can be hard to find. And in the meantime, anything can happen to derail your plans, such as a relative (or you) getting seriously ill.
In our case, I knew I could work remotely if needed, but Pierre would have to quit his secure, well-paying job, and we'd have to pull the kids out of school. The decision to do such things is not a light one! But we had to go.
#4 Figure Out How to Pay for It
I'm sure you've heard it before: you don't need a lot of money to travel, and that's true. But you do need some. Although you can get airline tickets for cheaper than multiple car payments, you still have to pay for them, along with food, lodging, and transportation.
Thankfully, there are many ways to fund travel. For now, I'll share the two most common and accessible: save up to do it and/or work and pay for it as you go.
It helps significantly if you come from a wealthy country, such as the U.S., Japan, Australia, and countries in western Europe, to name a few. Because the cost of living in so many other (non-wealthy) countries is low, your currency will go far in those places. In Southeast Asia, we have gotten very comfortable family accommodations for an average US $ 25/night, and eaten amazing food for about US $1 or $2 a dish. Slow travel also helps with the budget.
The best way to pay for travel as you go: work remotely. It allows flexibility over your schedule and enables you to earn in your home country's (hopefully higher) currency. From technical writing to web programming to consulting over Skype, there are many options for doing this; just be sure you are already up and running before you leave home.
Also keep in mind that balancing travel, family, homeschooling, and work is challenging! I could only work (as a corporate writer) on the road when we stayed in one place for a month or longer and I had my husband's support and help with the kids; and still, I only worked part-time. Why travel to exotic lands only to hide in a bedroom and work while your family goes sight-seeing?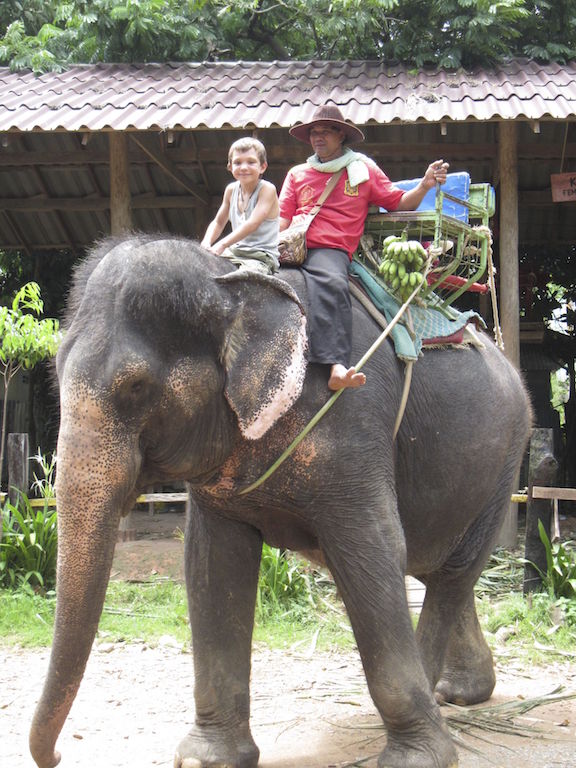 If you save up for your trip, cut expenses and stop buying anything that isn't essential. Also, come up with a reasonable, average budget for your trip.
Before Pierre quit his job, we came up with a plan to cover the costs of our travel. We would rely on money we saved for a couple of years along with Pierre's company's stocks, which we would sell as we go. Pierre also came up with a budget, which roughly came to US $100/day for our family of four. That was doable in Southeast Asia, but more challenging in the U.S., Canada, and Europe. As back up, I could take on consulting work here and there. We are 19 months in now, and so far, so good.
For another view on this topic, check out this article from another travel blogger.
# 5 Make It Real
There is a huge difference between wanting to do something and actually doing it. In this step, you make the dream real: set a date on the calendar, announce it to friends and family, turn in your resignation letter. These are the events that made it real for us, that confirmed our commitment, that made us say, "Oh, shit, we're really doing this!" Then, we just had to follow through.
# 6 Plan Your Trip
This is the fun part! You can plan your whole trip—as far as you can envision it—in advance, or you can plan as you go, but I recommend at the very least, securing transportation and lodging for your first destination (see #5 Make It Real).
Research Destinations
It's very important to research the destinations to which you will travel, not only for planning purposes, but also for reasons of safety, practicality, and cultural respect. It was useful to know in advance that Bluebird taxis were the ones to trust in Indonesia and women should dress modestly in Malaysia, which is pre-dominantly Muslim. (Please also see, 10 Tips for Keeping Your Kids Safe While Traveling.)
For travel planning resources, please see my Travel Resources page.
Prepare Passports and Visas
Be sure to allow yourself sufficient time to get new passports if needed (up to six weeks in the U.S.), and visas for the countries you're traveling to.
A note about visas: every country has different requirements, and visa policies and fees change constantly. For the latest information, be sure to check with your destination country's embassy well in advance.
A note about passports: Know that many countries require your passport's expiration date to be at least six months away. A few countries also require a certain number of pages (such as four) to be available for immigration stamps. Check with each country's embassy for details.
Passport Resources for Americans:
#7 Deal with Your Stuff
Your next major task in preparing to travel the world is to figure out what to do with your stuff while you're gone. This means your apartment/house, car(s), everything.
Your House
For your living space, you can have friends housesit it; arrange to rent or sublet it out (you can try Airbnb); or just let it go (sell it or give notice). It's a personal choice.
When we went to Thailand for eight weeks, we subleased our home to my husband's work colleague for one-third of our rent, recouping at least some of our costs. When we took off on our two plus years of nomadic travel, we gave up our house and practically everything in it. Huge lessons in that kind of dramatic downsizing! I highly recommend it!
Your Cars
For your cars, either sell them or store them, in case you plan to be back. Be warned that storing a vehicle in a commercial space is costly! If you can store yours at a friend or family member's place, that's best. Don't forget to disconnect the battery.
Your Stuff
I highly recommend downsizing, even if you plan to be back in a few weeks. Going on a long-term voyage is a life-defining moment, and it marks the perfect time to take stock of your life and all the objects in it. So, open the closet and get rid of those outfits you haven't touched for over a year; dig into the garage and throw out your kid's old baseball gear.
Here's exactly how we got rid of 90% of our possessions to travel the world.
#8 Complete All Admin Tasks Before You Leave (Checklists!)
When you leave for longterm travel, there's a lot to think about and do. What about medical care on the road? Do I need vaccines? What do I do with my mail? How do I pay my bills? How do I school the kids? And so on.
The only way I could stay on top of it all was to make lists. To help guide you through that overwhelming mass of to do's I offer them to you here.
Medical Checklist
Get Medical Travel Insurance. We did a lot of research and in the end, we went with World Nomads.
Get vaccines for the countries to which we will travel. To do this, check the CDCs recommendations on vaccines, and then visit either your doctor or the travel section (if it exists) of your county's public health department. (Ours is here.) Know that some travel vaccines (such as Hep B) need to be taken in a series over time.
Get medical checkups for our kids to find out what preventative care (routine vaccines) they'll need in the next 2 to 3 years.
Find out what happens to our Health Savings Account (HSA) when we leave.
From our doctor, get Cipro or Zithromax (in case of severe traveler's diarrhea).
Get medical supplies, such as a first aid kit, medicines, and so on. See our Packing Lists.
Homeschooling Checklist
Research homeschooling options. A good starting point is this website.  Also see how we approached homeschooling and the resources we used.
Register to homeschool our kids with our state (in the U.S.) and note their requirements.
If needed, order materials. We used online resources, but also brought writing journals, pens, pencils, erasers, pencil sharpeners, and a handful of lightweight books for our new reader (digital books for our older reader).
House Admin Checklist
Get rid of possessions (see this blog post for steps).
Get storage unit and place items in it. Set up auto payment for the unit with a credit card.
Give landlord notice (and later, keys).
Get house cleaned.
Arrange for place to stay between house and when trip starts (friends/other).
Set-up email auto-responders, if needed.
Set up voice mail for our phones (virtual or otherwise), as needed.
Mail and Bills Checklist
For steps on handling your MAIL and BILLS while traveling, see this blog post. Also, don't forget to do the following:
Notify DMV of address change, as needed.
Notify any remaining bills of address change.
Finances Checklist
Cancel all credit cards except three (include 1 visa and 1 MC) to limit exposure, and let them know your travel plans. (Note: Be sure one of them is with Capital One, which does not charge foreign transaction fees.)
Check on any auto-payments that go to credit cards that are expiring or being canceled and switch them to other cards
Make sure there is enough money in the primary bank account to cover your expenses (yes, really). Note: Be sure to open a Capital 360 online checking account, which does not charge foreign transaction fees or additional ATM fees.
Arrange for any work checks to come via direct deposit or through PayPal, if possible. (Otherwise, your mail service can deposit checks for you for a modest fee.)
Talk to your tax accountant about any concerns re: your tax filing for the coming year(s).
Electronics Checklist
Also see How Many Electronics Is Too Many on a Trip?
Port my cell phone number, which I've had forever, to Google voice to preserve it.
Cancel our iPhone service contracts (fee involved) and contact Apple to unlock our iPhones. (This allows us to purchase SIM cards for our iPhones in the countries we visit, giving us voice and/or data services.)
Backup iPhones and iPads to our computers.
Backup computers to two hard drives: one we leave with a friend, and one we take with us on the road.
Set up electronics for all needs, including movies, digital books, homeschooling programs, online banking, Dropbox, and more. See my Travel Resources page for more.
Get adapters (and transformers, if needed) for all countries visiting. See our Packing Lists.
Trip Preparation Checklist
Plan initial itinerary and book housing.
Review visa requirements for countries to visit (and apply, as needed).
Get new passports, as needed.
Place scanned copies of passports and vaccination records in the cloud (Dropbox).
Locate the nearest clinics/hospitals and U.S./Swiss consulates.
Learn how to dial phone numbers in destination countries.
#9 Know What to Pack (More Checklists!)
Every traveler will tell you the same thing, and yet it may take living through it yourself (as it did me) to heed the advice: take with you as little as possible! There are many reasons for this.
For more information on WHAT to pack and HOW, along with PACKING CHECKLISTS, please see my blog post: How to Pack for Longterm Travel.
#10 Go
Get on that plane or train and start your great family adventure! The experiences, education, and confidence you will gain from making such a bold move and traveling the globe will last a lifetime! Things may not always run smoothly, you may at times grow tired of being with your family 24/7, for example, but know that you can always adjust your schedule, change your plans, take a break, hire help. The options are all there! Those are part of the lessons you'll take from the road, and the flexibility, freedom, and autonomy you gain will be priceless.
So, go forth, travel, learn, live! Also see my list of Travel Resources.
This blog post, including photos, is copyrighted (c) 2016 by Cindy Bailey Giauque and is an original publication of www.mylittlevagabonds.com. Please join us on Twitter and Facebook and Instagram. Happy travels!