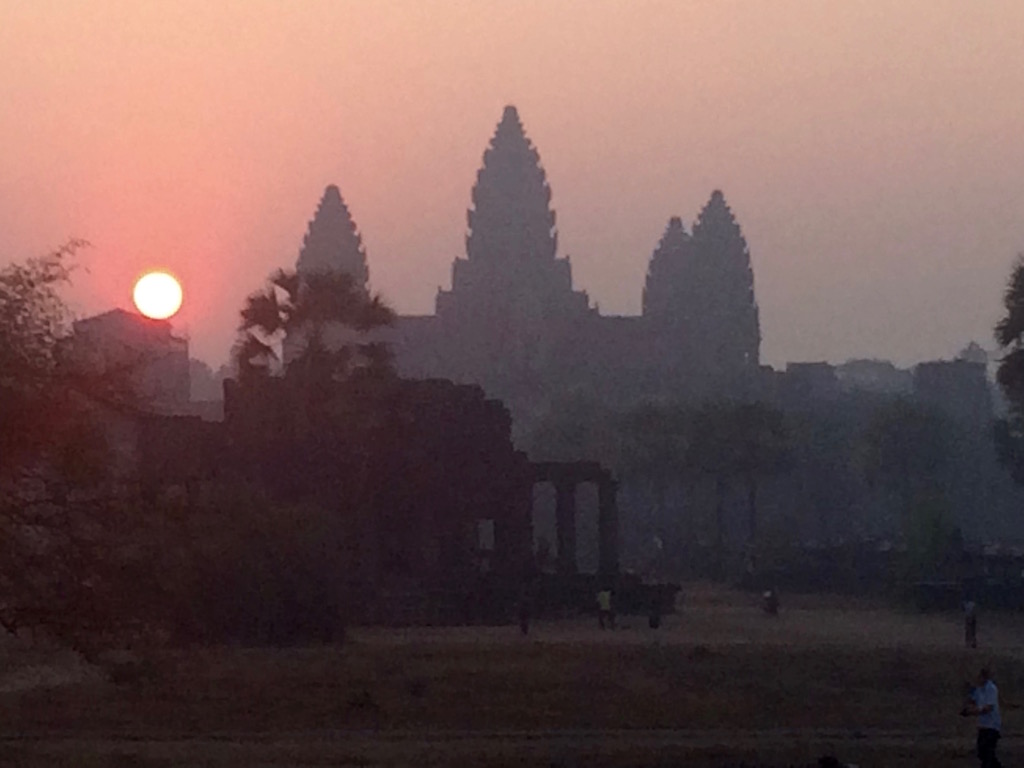 This is a question we get asked often, and one we asked of ourselves when we started our nomadic world travels with the kids.
The simple answer is, it depends. What kind of traveler are you, and your family? Do you like to hit 10 cities in 20 days, taking in as much as you can in the time you have, or do you like to dial it down and savor each place? What is it about travel you like best? The food? People? Sights? Shopping? Outdoor adventures? A little of it all? Are you on a budget or do you have cash to splash? Do you have a few weeks, or is your trip open-ended?
It helps to know all this. Still, planning a long-term trip—whether in advance or as you go–can be overwhelming, especially if you're going someplace you know nothing about. Here's how we've handled it, and sometimes, mis-handled it. I'll use our trip to Vietnam as an example, and assume you are some kind of budget.
#1 Pick a Region
First, we pick a region through which we want to travel and explore. For us at the moment, this is Southeast Asia. This gives us the option to travel by bus, train, or boat, in addition to flying, from one country to the next.
#2 Pick a Country and Check Visa Requirements
Then we pick a country within the region that we'd like to see. Assuming the country is safe for kids (no political upheaval or tourist kidnappings), we then research its visa requirements, which can also shape how long we stay. Some visas can be renewed by leaving the country for a quick overnight jaunt and re-entering. But do the research and find out, and know that rules and fees change often. Also, be sure to allow enough time for visa processing, which can take between one day and a few weeks. We often forget until the last moment and get lucky. Don't rely on luck!
Now, to decide when to go, where to go, what to do, and how long to stay…
#3 Decide When to Go
There are two considerations for what time of year to visit a country, and they're often related: the weather and low season vs. high season.
Take Southeast Asia, for example. Different regions experience rainy season at different times of the year. Also, some rainy seasons are of the predictable variety: the rains start late afternoon every day, but  that's it. Others are more of the rain all day almost every day and expect flash floods variety. We strive to avoid the latter, but are open to the former: you can do a lot before 3:00 p.m.!
You also have to consider what you plan to do. If you want to scuba dive or spend time outdoors, you'll want to avoid a heavy rainy season, or bad weather. During our trip, we stayed in more northern countries of Southeast Asia, which had good weather, while we waited for the weather in the south to improve, which it does in April.
Many countries also experience a high and low season, and as you might imagine, prices for lodging, transportation, and more can increase during high season, sometimes dramatically. In popular Bali, Indonesia, for example, high season is June, July, and August when it's also the dry season (no more rain!). Prices go up and so do the crowds. In Europe it seems the whole continent is on vacation in August, filling hotels and creating suffocating crowds at popular museums and attractions.
If what you plan to do is not weather-dependent, go in the low season, avoid crowds, and save money. If you want good (or at least fair) weather, but fewer crowds and cheaper prices, your best bet is to go in what are called the "shoulder months," those weeks between high and low season, between "good" and "bad" weather. For Europe, that would be fall and spring, for example. For Bali, April and May.
If you're stuck because your kids are in school, I say, think about pulling them out for a few weeks, or maybe even consider homeschooling, as we do.
By the way, I love this site for checking out the weather in Southeast Asia at different times of year.
#4 Decide Where to Go and What to Do
Once we've picked a country to visit, we first learn about what it has to offer. Mostly, that means going to Google and typing "top things to see and do in <insert country>" and following numerous online links and leads until we have a feel for the place. More recently, we also consult the very well-organized Lonely Planet guides. These guides also include well-defined itineraries, if you'd rather just follow one of those (instead of researching your own).
This research can take us a solid three to four days, but in the end, we have the big picture. It might list more places than we have time to see, but it gives us a starting point.
Example: We knew little about Vietnam except that it had been through a terrible war with the U.S. After extensive online research, we learned that to really see Vietnam, as we wished to, we should visit all three regions: the north (Hanoi, Sapa, Halong Bay); the center (Hue, Hoi An, Danang); and the south (Ho Chi Minh City [Saigon], the Mekong Delta, Vung Tau or maybe Nha Trang). We also decided to throw in a visit to Phu Quoc, an island we had read about.
That was the big picture, anyway. We figured we'd take the train from south to north and hit as many places along the way as we could. We applied for a three-month visa, just in case, and that turned out to be just right.
#5 Decide How Long to Stay in Each Place within a Country
Determining how long to stay at each location within a country is trickiest of all. How do you know you are going to really like a place if you've never been there before? What we take into consideration: sights to see; activities to do; number of restaurants, cafes and entertainment available; images of the place; impressions other tourists and expats have; how much homeschooling we plan to do from that location; if we need to work in some down time.
If we are traveling onward from the location by train or bus, we have room to be flexible, extending or shortening a stay. Non-refundable airline flights usually lock us in, although we've booked these as late as three days before flying without a cost penalty.
From research, we decided to stay ten days in Ho Chi Minh City (Saigon), enough time to visit the War Museum and the Cu Chi tunnels, check out the Banh Thanh Market and try the local foods. Because Saigon is also a loud, congested city, we also opted to take a more comfortable apartment (via Airbnb.com) that could work as a sanctuary for us and use extra time to homeschool our kids.
While in Phu Quoc in the south, we opted to ditch our train travel plans and instead fly directly to Hanoi in the north and stay a whole month. The fact that it was a major Vietnamese holiday and travel during this period is discouraged informed that decision, along with the fact that we really needed a break from our constant motion. We figured that as the capital of Vietnam, Hanoi would not totally shut down during the holiday and had a lot to offer, which turned out to be true!
On the other hand, we decided to stay only 12 days in Cambodia, which was sufficient time to see the sights and meet the people we wanted in Phnom Penh and Siem Reap.
It really is a matter of personal taste, and how you're feeling at the time. In any case, you'll find a way to make the time you have work for you.
#6 Plan as You Go and Leave Room for Spontaneity
You should know that the big picture is all we have when we enter a country. We're usually too busy seeing the sights, learning a new culture, catching up on admin tasks, or homeschooling (or just watching!) our kids, so we don't get to the detailed plans and reservations until we're already there!
And that's OK, because plans often change and you have to be open to that. Maybe your visas expire and you have to leave a country sooner than planned (happened to us on our second entry to Thailand), or fellow travelers tell you of cool places you just can't miss. In Vietnam, we took Sapa off the list because locals and expats told us it was not the right time for the stunning, green vistas of multi-tiered rice fields (it was instead cold and brown).The Mekong Delta had to go too. You have to leave room to roll with these.
Also, it is possible to over-plan (I'm normally very good at that!); to plan so much that you never end up actually leaving or doing anything. Know this (and I suspect you already do): there is no perfect plan! The experiences we have are mostly what we make of them, and I believe that's especially true in travel.
This blog post, including photos, is copyrighted (c) 2016 by Cindy Bailey Giauque and is an original publication of www.mylittlevagabonds.com. Please join us on Twitter and Facebook. Happy travels!