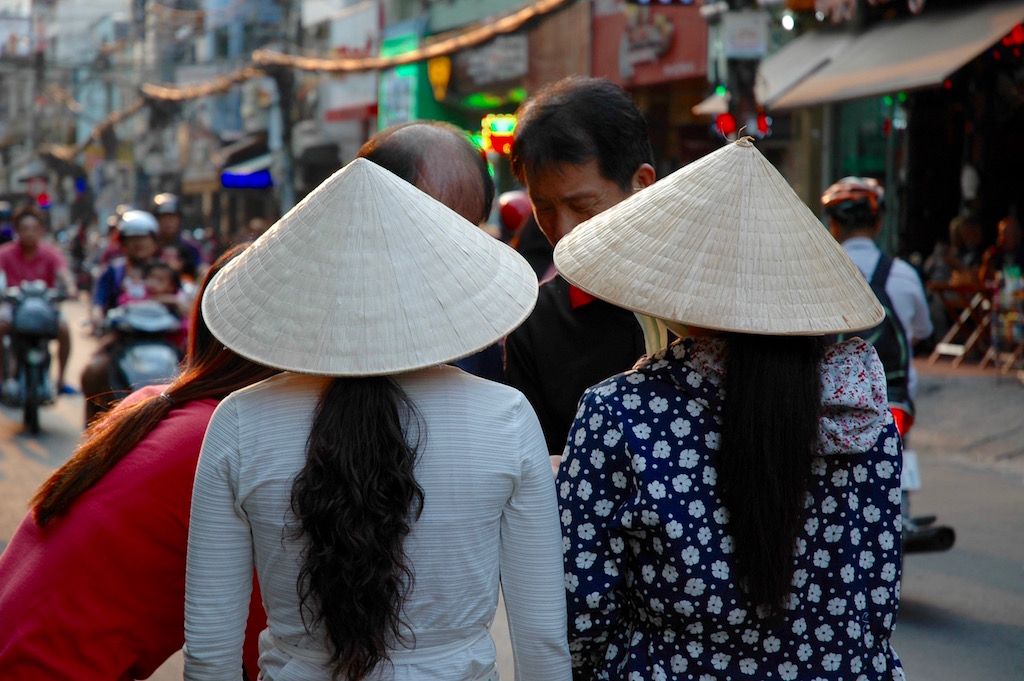 When I hear, "Saigon," I immediately think "Fall of Saigon," as in that last day in April, 1975, when the People's Army of Vietnam and the VietCong (both on the side of North Vietnam) captured Saigon, the capital of South Vietnam, thereby ending the American-Vietnam War and reunifying Vietnam under  communist rule.
In Vietnam today, that day is known as "Reunification Day," and after it, the city's name was changed to that of one of Vietnam's most revered communist leaders, Ho Chi Minh. Nevertheless, many still refer to the city as Saigon, and its downtown area is still called this.
I felt it important to visit this city and discover the side of it that is not a reference to war. In fact, it is a hot, dense, pulsing, modern city, filled with rivers of honking scooters and motorbikes; tons of lively sidewalk restaurants, cafes, and bars; plenty of street food stalls and markets; and its own thriving, youthful culture. Do visit and check it out!
SIDE NOTE: I did want to warn first time visitors that although we had a great time here, we did fall pray to some petty street-level scams, as many tourists do, such as getting grossly inflated (and wildly fluctuating) prices for produce at street markets, unscrupulous taxi drivers charging double or more, vendors giving us the wrong change back (their money has a LOT of zeros in it), or no change. Note, however, that these incidents were in the minority; we found most people to be honest, friendly, and helpful. For every petty "scam" we experienced, we counted at least five acts of generosity and kindness, from people inviting us for lunch or dinner, to vendors who insisted we take our change or keep our tip money, to restaurant owners who gave us extra treats, on the house. A good attitude will go a long way.
Here is our list of the top activities to do in Saigon:
#1 Visit the War Remnants Museum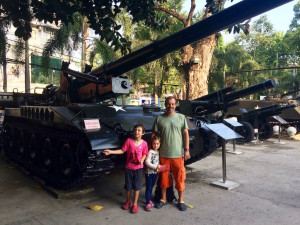 This museum shares the North Vietnam's side of the story of the Vietnam-American War, and it is graphic. Gut-wrenching photos and exhibits show shootings, massacres of innocent civilians, children born with deformities from Agent Orange. Still, as mentioned in a previous blog post, I feel it's important to witness these ugly atrocities and hopefully learn from them. You will have to judge whether your kids are up for this. We brought ours, but frankly, they were bored with the whole thing (not connecting the pictures to real life, I assume), and retreated with Dad to the super cool play room the museum has for younger kids. There is also a cafe outside where you'll also find military tanks and aircraft.  Hours: 7:30 to 12:00 & 1:30 to 5:00.
#2 See the Cu Chi Tunnels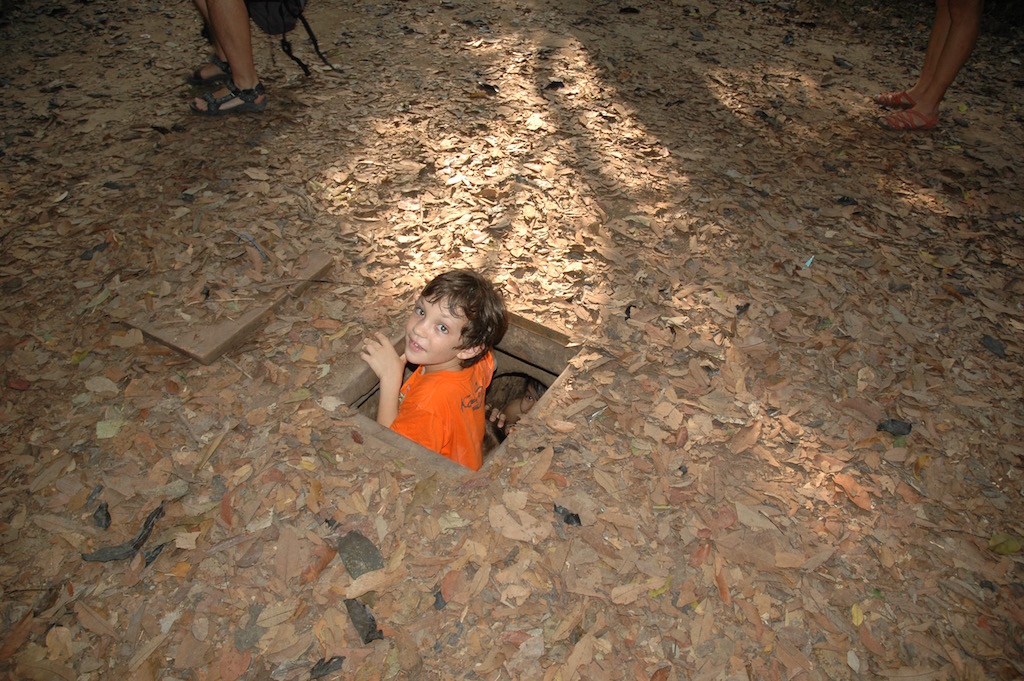 Another must-see remnant of Vietnam's war with the Americans, these tunnels were built by hand by the VietCong and used to hide in and fight from. Over 250 km. in length and sometimes going three stories deep, these tunnels included medical rooms and dining areas. Definitely bring the kids to this one! They will love following the guide and crawling in and out of those hidden tunnels, which have been widened considerably for tourists. The tunnels can be viewed at two locations, Ben Dinh and Ben Duoc; be sure to go to Ben Duoc as it is far less touristy. The tunnels are 40 km. outside HCMC.
#3 Hang Out on Phạm Ngũ Lão Street (the Backpacker's Area)
Phạm Ngũ Lão Street and its environs, in District 1, is considered the Backpacker's area, comparable to Khao San road in Bangkok, but more compact, crowded, and a little crazier. The area gets especially busy in the evenings, particularly along Bui Vien road with all its restaurants, cafes, and bars. You can sit at Cong Coffee and sip one of their special coconut coffee drinks while taking in the lively street scene. Or choose one of dozens of other bars or restaurants. For lunch, we enjoyed Bun Cha (too busy for dinner), and really enjoyed the atmosphere and food at Huong Vy restaurant.
#4 Shop at the Bến Thành Market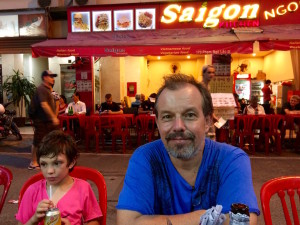 This indoor market is located on a walking street in downtown, and at the end of a park. They mostly sell clothes, shoes, jewelry, T-shirts, and souvenirs. They also have numerous food stalls, but be prepared to haggle, even for your food. (And don't let food vendors tell you the price next to a picture of a plate of fresh spring rolls is for each roll, after you've already eaten them; that's a scam. Be clear that the price you're paying is for the whole plate!) It is fun to look around and shop here, as long as you're prepared to bargain on prices. I heard one story in which a vendor asked for the equivalent of $30 for a brass elephant and the tourist ended up getting it for $5. Hours: 6:00 a.m. to midnight.
Note: If you want to shop at a market for clothes without the tourist trinkets, go to Saigon Square. I got a great denim shirt there for $9.
#5 See a Water Puppet Show
This is a beautiful, traditional Vietnamese cultural event, and great entertainment for the kids and the adults alike. We actually didn't see a water puppet show in Saigon; we saw one in Hanoi instead, but in case you don't make it to Hanoi, Saigon has them too. Check out this link for more information on water puppet shows in Ho Chi Minh City/Saigon.
#6 Eat at the Street Food Market
For a civilized evening out with a decent meal (that you don't have to bargain on prices for!), go to this sort of upscale, outdoor street food market venue near Ben Thanh Market. As of our visit, it's brand new! And proving very popular, with locals and tourists alike. We met our Vietnamese friend An, there. You walk up and down the aisles of food stalls, choose and buy food, and then go find a place to sit in the general seating area (wooden benches and tables). They'll deliver your food to you when it's ready. Hours: 10:00 a.m. to 11:00 p.m.
#7 Take the Kids to the Playground
Across the street from the aforementioned Backpacker Area is a park, where locals come in droves to exercise at sunrise and sunset. (It's way too hot at any other time of day.) They also have a pretty substantial playground, which our kids loved. Located at Công viên 23 Tháng 9, and along Phạm Ngũ Lão Street.
#8 Walk along Nguyen Hue Street in Downtown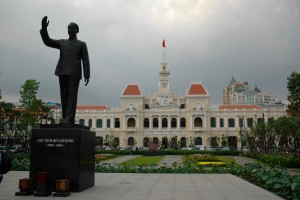 This fairly new, very wide "walking street" runs through downtown among a few skyscrapers. On either side are numerous cafes and a few restaurants. At the end is a statue of Ho Chi Minh, and behind him a grand French Colonial building. It's a good place to just loaf around, look at the buildings, take in a coffee, and let the kids chase after a ball without fear they'll die by scooter. As a new Vietnamese friend told us, the best view of the walking street is from the balcony of McDonalds, where we took our son to satisfy his craving for a burger.
Bonus! Check Out Our Local Friend's List of Cafes, Restaurants, and Shops
The following is a list of cafes, bars, restaurants, and souvenir shops that were sent to us by our local friend, Phuong An, who rented us her sanctuary of an apartment through AirBnB (check it out!), in District 1, walking distance from the heart of Ho Chi Minh City and all it offers. Thanks, An, for sharing your list of favorite spots!
#9 Check Out These Cafes, Bars, and Restaurants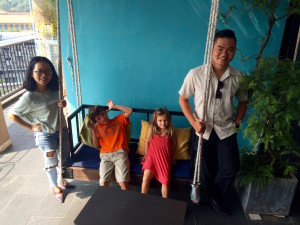 BK6 Sky Bar – This is not a fancy hotel sky bar. This is a fun, down-to-earth cafe/ restaurant with a nice view of Saigon. They also show movies on Wednesdays and Sundays. We met our friend Phuong An and her close friend, Huy, there, for a fabulous meal and even more fabulous conversation about Vietnam and travel. Location: 104 Nam Ky Khoi Nghia, near Saigon Square (shopping).
Bang Khuang Cafe – A nice, hidden, quiet place, especially after lunch time. My favorite is "Bun Rieu Chay" (vegetarian, vermicelli noodles with mushrooms and veggies) and the non-vegetarian version, "Bun Rieu Man." Location: 3rd floor, 9 Thai Van Lung, D1.
Snap Cafe – The cafe with a playground for kids and a relaxing area for parents. If you go on Wednesday, they have Burger Wednesday with a promotion for a free drink for every burger. Location: 32 Tran Ngoc Dien, Thao Dien, D2.
Carmen – A very nice place to enjoy live flamenco music. Location: 8 Ly Tu Trong, D1.
Vietnamese Cuisine:
Propaganda – A really nice bistro serving tasty Vietnamese dishes with a modern twist in front of the park. Good for lunch and dinner or just to chill with a glass of wine or cocktail. Location: 21 Han Thuyen, D1.
Cục Gạch – A beautiful place to enjoy true Vietnamese food. Location: 10 Dang Tat, D1.
Mountain Retreat – Located at the heart of Saigon on a top floor of an old building (5th floor, no elevator), this place serves delicious traditional food. Location: Rooftop 36 Le Loi, D1.
Other Types of Food:
Ichi Sushi – Young and modern place for Japanese food. Location: 192 Hai Bà Trưng, D1.
Le Bouchon de Saigon – The place for a cozy dinner with Western food. Location: 40 Thai Van Lung, D1.
#10 Check Out These Souvenir and Book Shops
TriBooks (located at 158ED Dong Khoi, D1) and ArtBook (located at 43 Dong Khoi or 46 Le Loi, D1) – Where you can find foreign languages books introducing the land and people of Vietnam or souvenirs and art works from Vietnam.
The House of Saigon – Where you can buy authentic handicraft and handmade items, with a nice quiet café upstairs. (Location:  16 Thu Khoa Huan, Ben Thanh ward, D1.)
Sahabook – Where you can find many Lonely Planet books and travel guidebooks. Location:  175/24 Pham Ngu Lao, D1.
Have a great time! This is a lively city with a lot to offer!
This blog post, including photos, is copyrighted (c) 2016 by Cindy Bailey and is an original publication of www.mylittlevagabonds.com. Please join us on Twitter and Facebook. Happy travels!