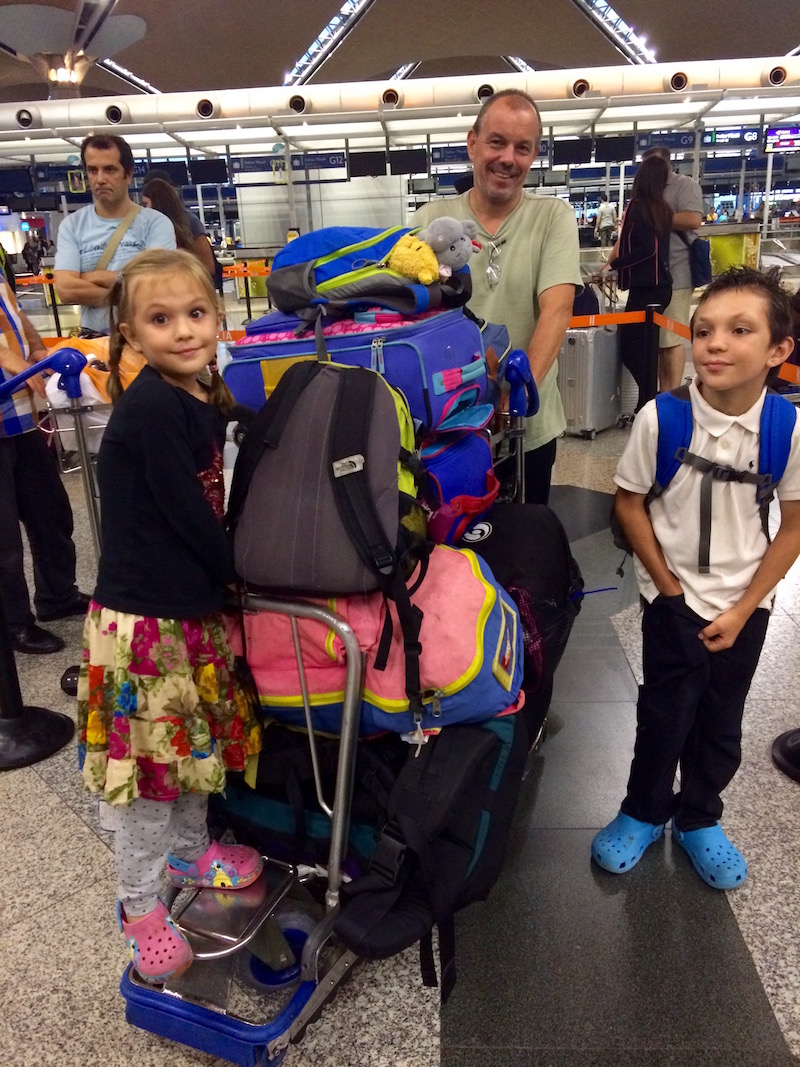 What and how you pack depends on where you go and when. But one piece of advice remains the same no matter what: take as little as possible! This means that no matter how long you plan to travel—one month or two years—pack as if you were traveling for 10 days at the most, and expect to do laundry often.
If you are traveling to off-beat destinations, or you will be moving from plane to bus to train to boat, you will likely be carrying (not rolling) your luggage, and you will need it to be as light as possible.
Another reason to keep luggage light: modern airlines allow only one check-in bag per passenger and often that bag cannot exceed 20 kg (44 lbs.) on domestic flights within a country, or 30 kg. (66 lbs.) on international flights.
Also, the less you bring, the less you'll have to keep track of on the road, which is a huge plus when traveling as a family and perpetually packing and unpacking at new locations.
Rest assured that you can often buy what you need as you travel, and recycle (give away or trade) what you have. It just might require a different mindset than you're used to.
Backpacks or Suitcases?
Bottom line: Use wheeled suitcases if the only place you'll need to haul your luggage is around the airport and to place it in and out of a car parked right out front. When we went to Europe for five months, renting a car to travel between cities, we used suitcases.
For every other situation, use good quality backpacks. This has the added advantage of leaving you hands-free, which is useful for grabbing kids and keeping them close while you're traversing pot-holed streets.
If your child is old enough to handle his/her own backpack, great! Otherwise, for our young kids we opted for small roller-bags (18-inches, like this one) that we could easily carry for them when needed.
For backpacks, you'll want one that is durable, high-quality, ideally between 50 and 80 liters in volume, and distributes weight well on your back, like this one or this one. Be sure to get a rain cover if it doesn't come with (such as this one  for a 50-60l pack, this one  for an 80-100l pack, and this one which we used for our daypacks).
What to Pack
Some packing TIPS from our nomadic travels:
Bring only what you need (for about a week or so) and do laundry often. In many developing countries, laundry service can be had for as little as US $2 a load! Bring string or rope to make a clothesline.
For toiletries, take one set with you, then plan to buy on the road as you go. Only bring a large quantity of items you really want and won't find at your destination. (For me, this is healthy sunscreen!)
For women, know that it can be hard (if not impossible) to find tampons in Muslim-dominated countries or remote areas of developing countries, so bring a stash with you and expect to refill when you pass through a major city or tourist area.
Consider buying clothes and other items at your destinations, and recycling. I heard of a family who traveled to Hawaii with only carry-on luggage. Once they arrived, they hit a thrift shop to buy clothes, and when it was time to go, they donated everything back. I love that!
You really don't need the following: more than a couple of toys per kid (they will find creative ways to play!); books (bring digital ones!); hair styling equipment, such as a curling iron or hair dryer; excessive makeup or jewelry; more than two or three pairs of shoes (sandals and sneakers).
For inspiration, read about how travel writer Rolf Potts traveled the world with just the clothes on his back.
Packing Lists!
Essentials
Paperwork: Passports, vaccination records, drivers' licenses; scuba certificates
Credit cards, ATM/Debit cards
Electronics: iPads, MACs, adapters, cameras, and all the apps to support our travels (see our Travel Resources page)
Composition books, pens, paper, homeschooling supplies
Flashlights (electricity does go out)
String or rope for laundry
Whistles for kids
1 beach towel (not all places provide them)
1 big throw bag (for the beach or groceries)
Ziploc bags (sandwich size to three-gallon; useful for packing and other purposes!)
Swiss Army knives
Hats
Sunglasses
Reading glasses
Clothes & Related
This list for each family member is a rough guideline only! Note: it doesn't include baby gear.
2 or so pants and/or stretch pants
2 to 3 shorts
3 or so dresses and/or skirts (ladies)
socks & underwear (10 pieces for each kid)
4 to 6 short-sleeved shirts
3 to 4 long-sleeved shirts
Exercise gear (2 outfits)
Swimwear (including sun-defying rash guards)
Lightweight raincoat; heavy coat as needed
2 to 3 pairs of shoes (sandals, tennis shoes, crocs for kids, hiking shoes as needed)
Belts, bags, scarves (especially those with elephants!)
Medicines & Toiletries
Over the counter medicines: Imodium (anti-diarrhea), ibuprofen (for pain), hay fever meds, Tylenol for kids, anti-fungal cream, hydro cortisone cream, Neosporin (antibiotic cream)
Prescription medicines: Cipro or Zithromax (antibiotics) for persistent traveler's diarrhea
Probiotics (for first 4 to 6 weeks of travel to adjust to new foods)
First Aid Kit, including band-aids, alcohol swabs, gauze, adhesive bandages with tape
Oral Rehydration Packets (for kids to replace fluids during diarrhea or for dehydration)
Insect repellant (with DEET to avoid malaria and dengue fever in the tropics)
ThinkSport suntan lotion (no harmful chemicals)
  Water filtration tablets
  Thermometer
  Nail clippers
  Eye drops
  Hand sanitizer
  Toothpaste and brushes
  Deodorant
  Haircare products
  Tampons
Sports Gear & Kids Stuff
For the island-hopping portion of our travels:
  Life jackets for the kids
  Goggles and snorkel gear
Kids stuff:
  2 stuffed animals each
  2 smallish toys each (legos, Barbies, coloring books & markers, Pokemon cards)
  Ergo carrier (for the little one, but not for long!)
How to Pack
On our travels to Southeast Asia, we had the following gear:
2 backpacks for the grownups
2 small (18-inch) roller bags for the kids
1 day pack for each family member
For part of our trip we also had:
1 inflatable paddleboard (equipped in its own backpack)
1 large backpack with snorkeling gear for all of us and life vests for the kids
Three-gallon ziploc bags are immensely useful in packing clothes and other items into an otherwise cavernous backpack. Use one ziplock bag for pants, another for shirts, another for notepads, etc. Not only does this organization make packing and unpacking much easier, it also provides another layer of protection against your stuff getting wet.
You'll figure it all out! The beauty is that you do the best you can up front, and work on improvements with each iteration. After almost two years of nonstop nomadic travels and in that time, 27 flights plus a number of bus, train, and boat rides, we've figured a few things out.
Also see my travel guide: 10 Steps to Travel the World, and our Travel Resources page.
This blog post, including photos, is copyrighted (c) 2016 by Cindy Bailey Giauque and is an original publication of www.mylittlevagabonds.com. Please join us on Twitter and Facebook. Happy travels!