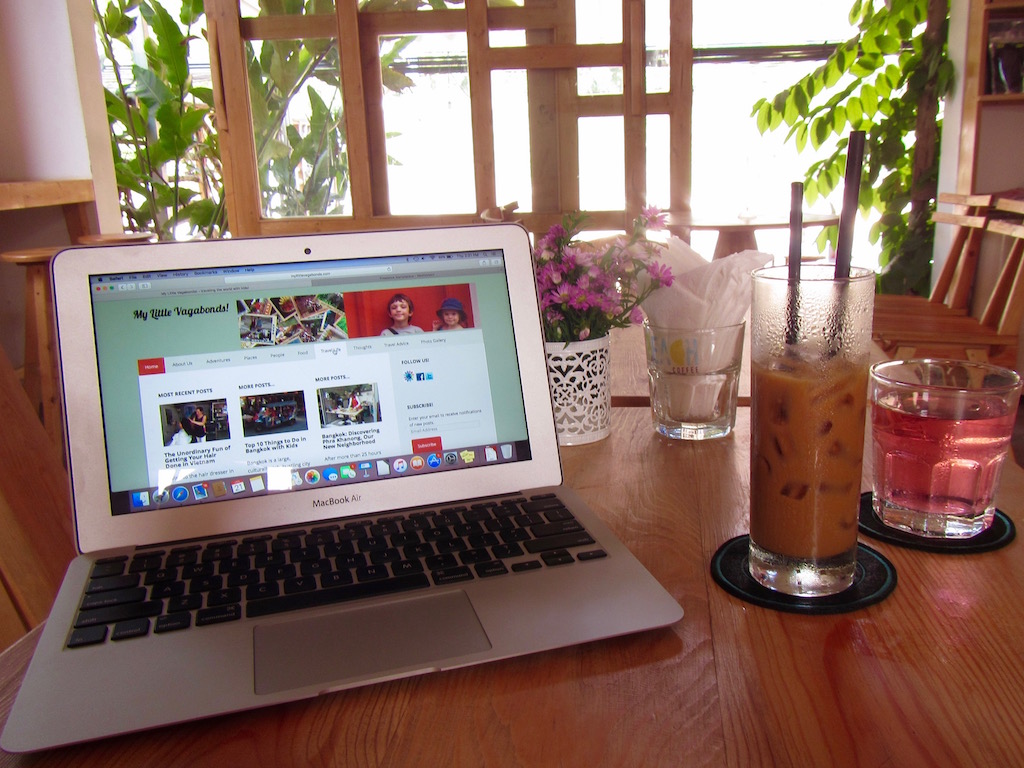 Is it possible for a traveling family to bring too many electronics on their long-term trip? Apparently, not for us.
We discovered on a two-month "test" trip to Thailand that we all want to be on our electronics at the same time, so bringing one computer just wouldn't do. We are a family of four, our oldest is now 10, and for our nomadic adventures, we brought with us three computers (our son has a cheapee one for homeschooling, but for $150, it works great!), three iPhones (our son's has no service; it's just a tool for reading books, playing video games, and FaceTiming friends), one iPad (mostly for schooling, games, and movies for the kids), and one mini iPad (mine, mostly for reading; I lend it out to the kids only when desperately looking for peace). We also brought an HDMI cable, so we can watch our computer-stored movies on whatever TV is available at the places we rent, a nice little luxury.
Aside from that, we have a hard drive for back ups, an old Nikon DSLR camera for more exquisite photos (we can hope!), a point and shoot waterproof camera, and (a last minute purchase on my part, against the better judgement of my hubby), a GoPro.
For convenience, we have also brought with us a short extension cord that allows us to plug in many devices at once (Asian outlets accept both North American and European plugs), along with all the various chargers and adapters needed to keep these systems going.
Sounds ridiculous, doesn't it? I thought so, too! We had given up 90% of our possessions to travel the world, keeping our loads as light as possible, and we were taking with us all these electronics?!?
But in practical use, it turned out to be perfect. The iPads and computers have been instrumental to our mostly Internet-based forms of homeschooling, and for the kids' entertainment over long hauls on planes, trains, and buses. We don't have to pack and carry endless stacks of books or paperwork for either homeschooling or pleasure reading, actually saving us a lot of weight. And Pierre and I have a way to get our work done, take care of admin tasks, polish our pictures, stay connected, and plan our trips without fighting over the one computer we had originally planned to bring.
Really, it's beautiful and works for us. If we could let go one thing, it would be my mini iPad, because, really, I could read on my iPhone. But I already had that, so it came with.
We had to pay to get out of our iPhone contracts in the U.S. to then have them unlocked, but it was worth it. In every country we travel, we buy pay-as-you-go SIM cards so that Pierre and I can call each other or make local travel arrangements by phone, and we use free Wifi for everything else. (We can add a data plan on if/when we need it; they're cheap in Southeast Asia!)
For a list of our other travel resources, see our list here.
This blog post, including photos, is copyrighted (c) 2016 by Cindy Bailey Giauque and is an original publication of www.mylittlevagabonds.com. Please join us on Twitter and Facebook. Happy travels!