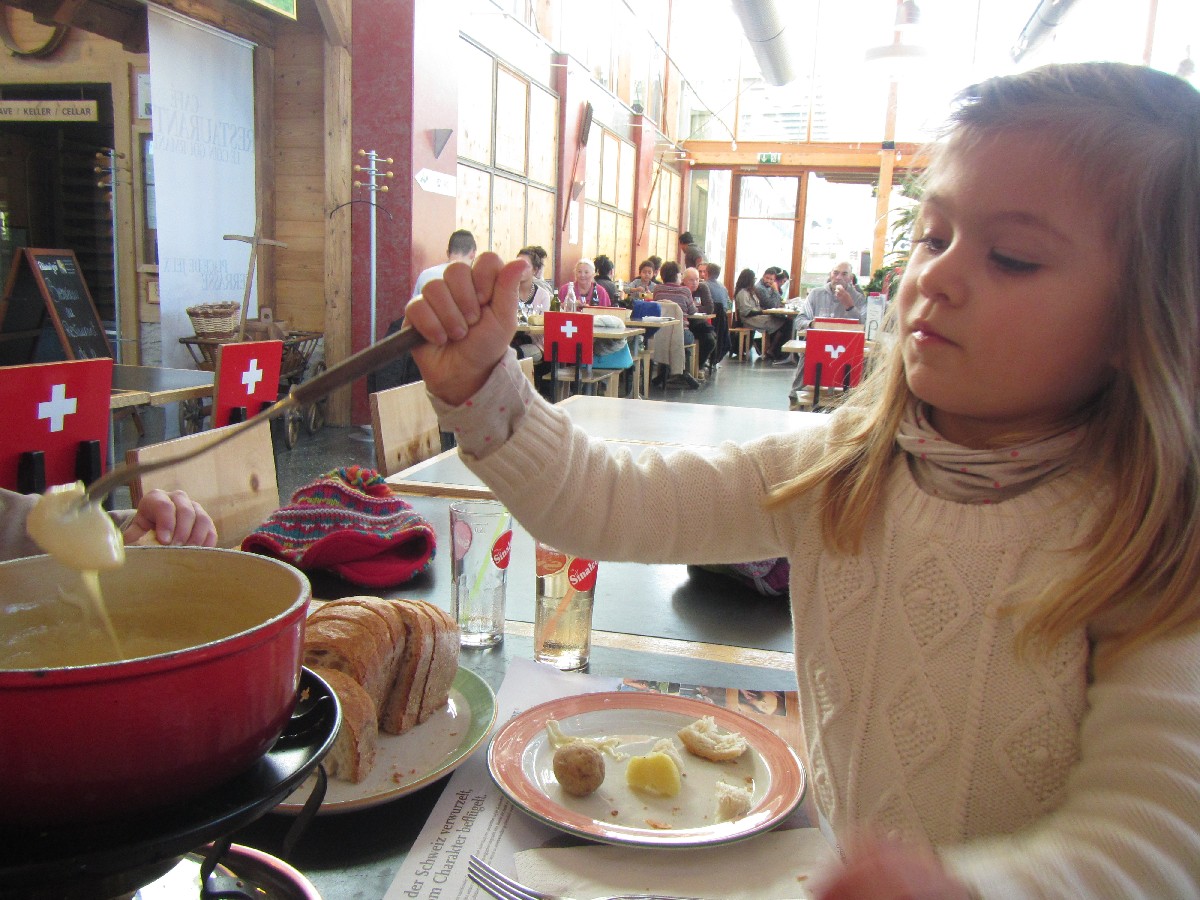 You can't very well visit the land of cows and not eat the cheese. Fondue, after all, is Switzerland's national dish; they're famous for it! So you can bet they do it better than anyone. It doesn't hurt either that Switzerland produces the highest quality milk in the world—the Swiss, in general, are all about quality and attention to detail, from their watches to their cheeses.
Because my husband is Swiss, from the French-speaking part, I've been visiting his homeland for years now. Although my usual diet is mostly dairy-free—and wheat-free, for that matter—when I come to Switzerland, I simply must have fondue. My need is so strong that I'll even eat it in summer, when presumably only tourists eat them. (So what, I am a tourist!) However, I've learned that if you travel into the mountains and take in a day's hike, especially with a small (but heavy) child strapped to your back, then a fondue in summer becomes a perfectly acceptable Swiss reward.
Classically, though, fondues are meant to be eaten in winter, especially after skiing the Alps or snow-shoeing on one of thousands of mountain trails. And it is meant to be eaten with friends.
I was pleased, then, that the first destination on our two-year trip around the world would be Switzerland in winter, and not only because I love its array of totally accessible winter sports, but because it makes more sense to eat hot, melting cheese when it's cold outside.
A Trip to Gruyères
Most fondues in Switzerland are moitié-moitié, which is half Gruyère and half Vacherin Fribourgeois, or if you're in the German-speaking part of Switzerland, it can be half Gruyère and half Emmental (or Emmenthaler). Emmental is the cheese we call in the U.S. "Swiss Cheese," the one with all the holes in it. It's taste is smooth, but not as exciting (to me), and I've heard it can make for a stringy fondue. Gruyère, on the other hand, is mildly sharp, salty and full of flavor. I love this cheese! Before I went dairy-free, it was almost the only cheese I'd eat in the U.S., and I was so happy to pick it up at our local Trader Joe's—although nothing can compare to the versions I get here in Switzerland. Vacherin Fribourgeois is smooth, rich, and also full of flavor.
Within our first weeks in Switzerland, we gathered the kids and headed to the town of Gruyères (I have no idea why the town has an "s" at the end while the district of Gruyère and their cheese does not). We wanted to see how one of the best cheeses in the world is made, and of course to sample the first fondue of our three-month stay. What better place to do that than Gruyères?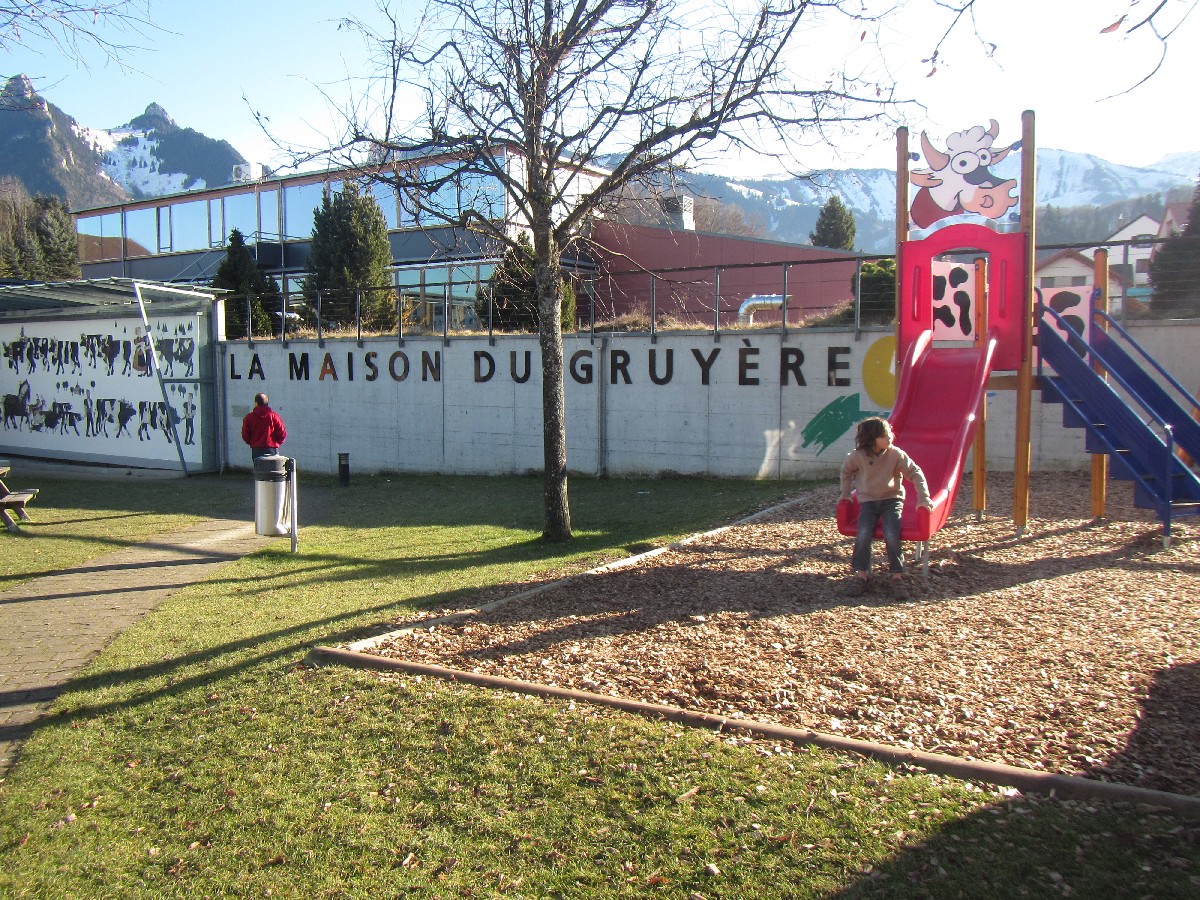 We headed to La Maison du Gruyère, and after an amazing moitié-moitié fondue that even our three-year-old enjoyed, we headed next door to the museum and cheese factory, to see how the great cheese is made. They had a wonderful, interactive exhibit. A headset given out at the start provides a narrative in thirteen languages. Both kids loved the audio program, perhaps more so because "a cow" tells the stories. The exhibit included a sampling of all the smells of the flora a cow might eat, which in turn would make its way into the unique flavors of the cheese.
Among the facts we learned: Cows are milked twice a day, with the morning and evening milk getting combined. In one day, one cow eats 100 kilograms of fresh grass (or hay in winter), drinks 85 liters of water and produces up to 22 liters of milk—very impressive. It takes 12 liters of milk to produce just one kilo of cheese, so you can see why the cows are treated with such love and respect here. Also interesting, the Swiss keep two-thirds of the Gruyère for themselves, only exporting a third of it.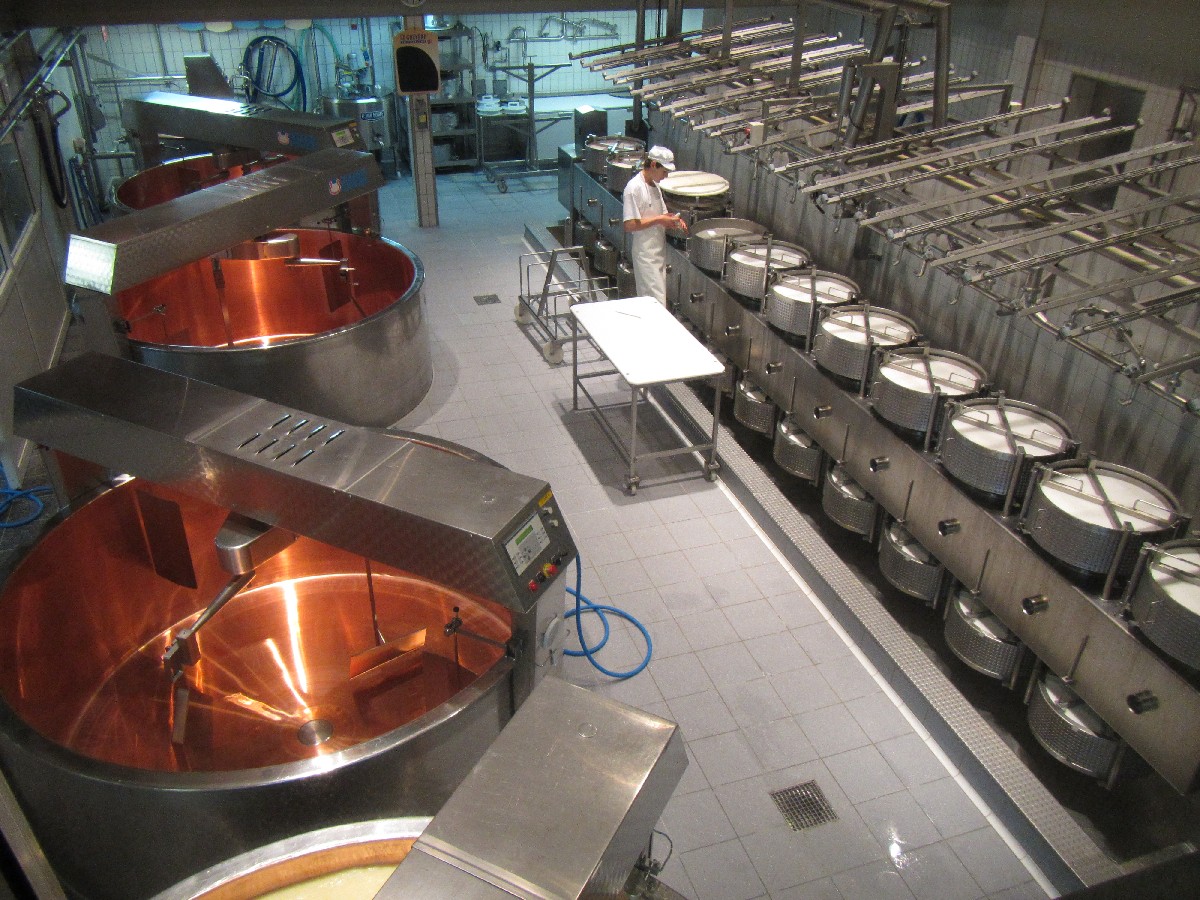 We also watched in fascination as the two workers in the small dairy cheese factory process a new batch of giant wheels of Gruyère. (Up to 48 of these wheels are produced each day.) Part of the process includes curdling the milk using rennet, a natural ingredient made of calf stomach, and pouring it into giant wheel molds, 7,000 of which are stored in the cellar downstairs, below the museum. They are quite a sight! Part of the process also includes soaking the cheese wheels in salt baths and aging them for at least three months. The sample they gave at the museum's entrance included a slice aged at three months, six months and nine months, the last of which was the most salty and, in my opinion, the most flavorful.
The cheese factory is not the only thing to see in the small, quaint town of Gruyères. After the fondue and museum, we walked up the big hill into the town and toward its castle. Its cobblestone streets are lined mostly with picturesque restaurants and cafés. Gruyères has a few museums, among them the famous H.R. Giger Museum, named after the famous Swiss artist who created the creatures in the film, Alien. The museum café, just across the pathway, shows off elaborately created metal decor and offers blood coffee. Hmm… if only we had time to stop there.
Finding the Best Fondue in the World
The fondue in Gruyères was fantastic, but I was told over and over again by various Swiss in the French-speaking part of Switzerland, that the best fondue in the world can only be found in Châtel-Saint-Denis, a village in the state of Fribourg, which also happens to be the home state of Gruyères. I did not think much of this until I met a young, well-travelled hairdresser in Lausanne. In spite of my limited French, we gossiped for over an hour as the roots of my hair marinated in dye. Among the recommendations she made: "You must have a fondue in Châtel-Saint-Denis; it's the best in Switzerland."
That did it. I had to go. I found it no coincidence, then, that our good friend Francois, who lives in Ticino (the Italian-speaking part of Switzerland), wanted to meet us for a fondue on his way home from a business trip in none other than, yes, Châtel-Saint-Denis.
A local publication called, "Guide Gastronomique," stated in French that "the world is divided into two in Châtel-Saint-Denis: those that eat fondue (with Vacherin cheese) at Cercle d'Agriculture and those that eat it at Café Tivoli and elsewhere. This excited me because we were to meet at Cercle d'Agriculture.
The restaurant was large, and full of classic dark-wood tables and chairs, with the décor harking to a traditional Swiss mountain sensibility. Apart from a few workmen at the bar, however, we were, on a Wednesday evening, the only ones in the large restaurant. This suited our kids perfectly, as they could run around without reprimand.
Francois ordered two fondues, one a moitié-moitié, and the other pure, silky Vacherin. Along with the fondues came crusty bread, cut in squares, for dipping into the melted cheese, and also a few boiled potatoes, which Francois indicated were meant for the Vacherin. Also, a small bowl of pickled onions and small pickles accompanied the meal, as is traditionally provided with fondues and another Swiss cheese dish, raclette.
The fondues were superb. Were they the best in the world? Quite possibly. I only know for sure they were among the best I've ever had, and I've had many.
The second delicacy popular in this region is double-cream. Typically, you can get a bite-sized chocolate cup filled with this double-cream. The cream is so rich and thick that you could turn the small dessert upside down and the cream would stay put. Francois was shocked to learn that our restaurant no longer served this. It would not do to go without, so off we went, down the road to the competition at Café Tivoli for drinks and double-cream.
Café Tivoli, located in the center of town, was much more lively. Their space is smaller and more intimate, and people filled all their tables. (We would return weeks later for a fondue, and, well, it wasn't nearly as good as the one at Cercle d'Agriculture, as the Guide Gastronomique had warned.) We had our double-cream desserts and left happy and warm.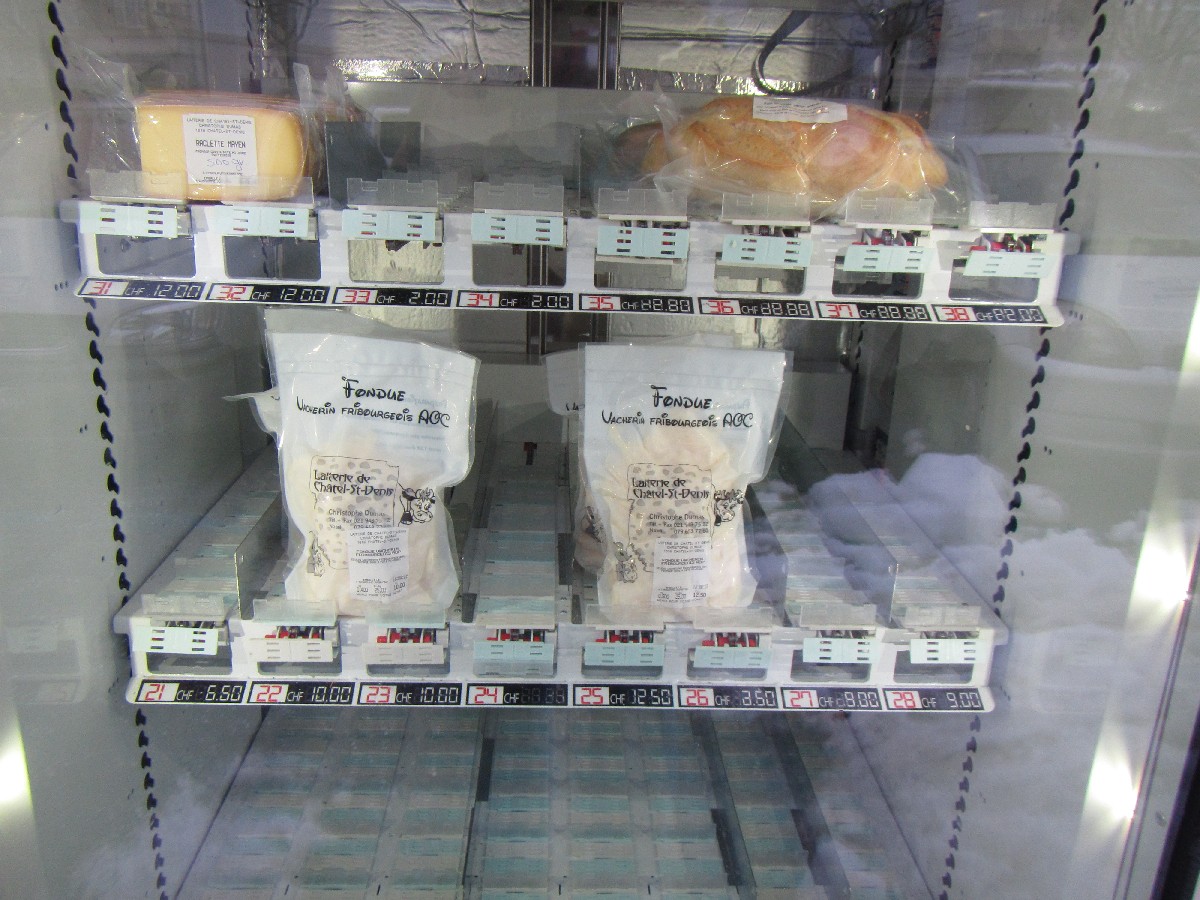 In case you don't have time for a fondue at one of the cafés, however, right there in downtown Châtel-Saint-Denis next to the tourist office, a vending machine dispenses fresh cheese, ready-prepared. I'm still laughing at that one!
Some Final Words on Fondue
If you'd like to try making fondue at home, here's a Swiss recipe from La Gruyère. Don't forget to add in the white wine or Kirsch!
If you find yourself in Switzerland eating fondue, here are a few simple social rules to follow:
When the caquelon (pot) of fondue arrives on the fire at the table and you dip your fondue fork (a very long fork) into the cheese with its square of bread on the end, it's important that you stir the melted cheese around in a circle at least once before lifting your piece out and bringing it to your plate or mouth.
If you accidentally drop your piece of bread into the pot, you are supposed to buy the next bottle of wine, or pay some other penalty. (Some will hold you to it; others will laugh and let it go.)
While eating fondue you cannot drink anything except white wine and hot tea. Anything else, and especially water, will make the cheese in your stomach indigestible. This is not a joke.
It is common to ask for a shot of kirsch (cherry alcohol). You dip your bread in that first and then in the fondue for an extra bite of flavor.
The bottom of the caquelon when most of the cheese is gone is considered the best part. Someone will scrape this dried cheese up and serve to those interested.
Finally, at any time you lift your wine glass to cheer the others know that it is Swiss custom to look each person in the eyes directly when you clink his glass. That means that if you're a party of eight, you will clink glasses and make eye contact with seven others, individually. This custom must absolutely be respected.
Cheers, and enjoy your fondue!
Thanks to Frederic Taugwalder and Pierre Giauque for their valuable input on Swiss cheeses and fondue. The fabulous book, Swiss Watching, also provided additional insight.