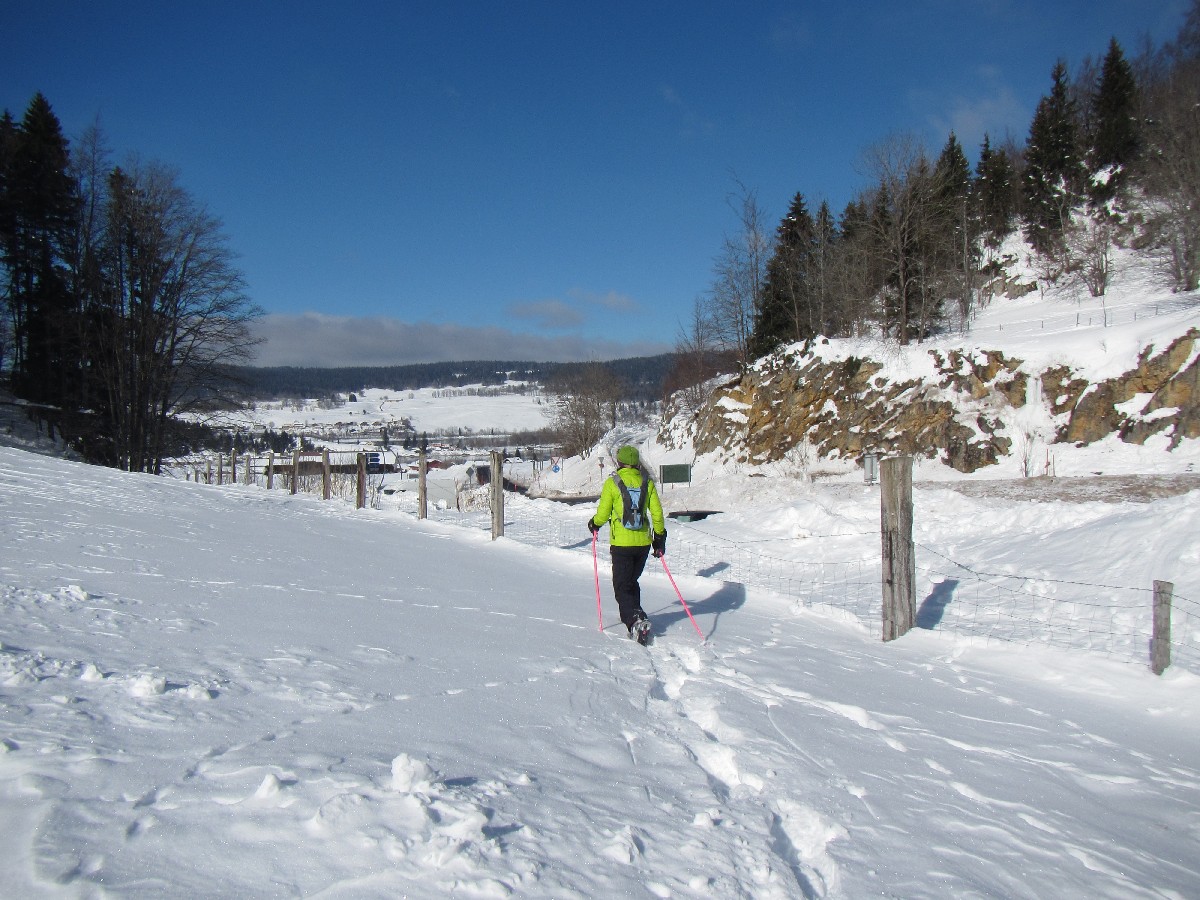 What I love about Switzerland in winter is its easy access to an array of winter sports. No matter where you are, within a relatively short drive up a mountain, you can find a regional playground that hosts all the cross-country-skiing, snowshoeing, sledding and even downhill skiing you can handle.
These mountain sports centers serve more locals than tourists and thus, are less crowded, except perhaps on weekends and holidays when the weather is nice. They also provide a much more authentic Swiss, mountain, outdoor experience—especially if you include a stop at a remote buvette or chalet along the way—than, say, one of the country's upscale alpine ski resorts.
It's that kind of Swiss experience I craved: to get out into nature and breathe in the crisp, clean air while giving my legs and lungs a workout. I wanted to go snowshoeing.
The mountain playground closest to us—just 20 minutes up the road—is Vallée de Joux (Rock Valley), located in the Juras, a mountain range smaller than the Alps that stretches along part of Switzerland and into France. Situated 50 km. (30 miles) north of Geneva or north-west of Lausanne, the region of Vallée de Joux encompasses a number of villages, including Sentiers and Bresurs, as well as a 10-km. (6-mile) lake, Lac de Joux, on which you can ice skate when conditions are right.
Best of all, the region boasts one of the largest cross-country skiing spots in Central Europe, with 220 km. (137 miles) of tracks. Four Nordic centers maintain these ski tracks: La Thomassette and Les Charbonnières, both by the lake , and in the mountains at Le Marchairuz and Le Mollendruz. These areas also include a total of 34 km. (21 miles) of trails marked explicitly for snowshoeing.
The area closest to us is Le Mollendruz, which offers trails through mountain forests. Because I already had snowshoes, borrowed from a friend, I drove past the Nordic center—where you could rent equipment or, if skiing, buy a cross-country ski pass (for 5 CHF)—and, as instructed by my Swiss husband, continued to the next parking lot on the left where a sign clearly advertised a buvette in 800 meters.
Goal: Snowshoe without Getting Lost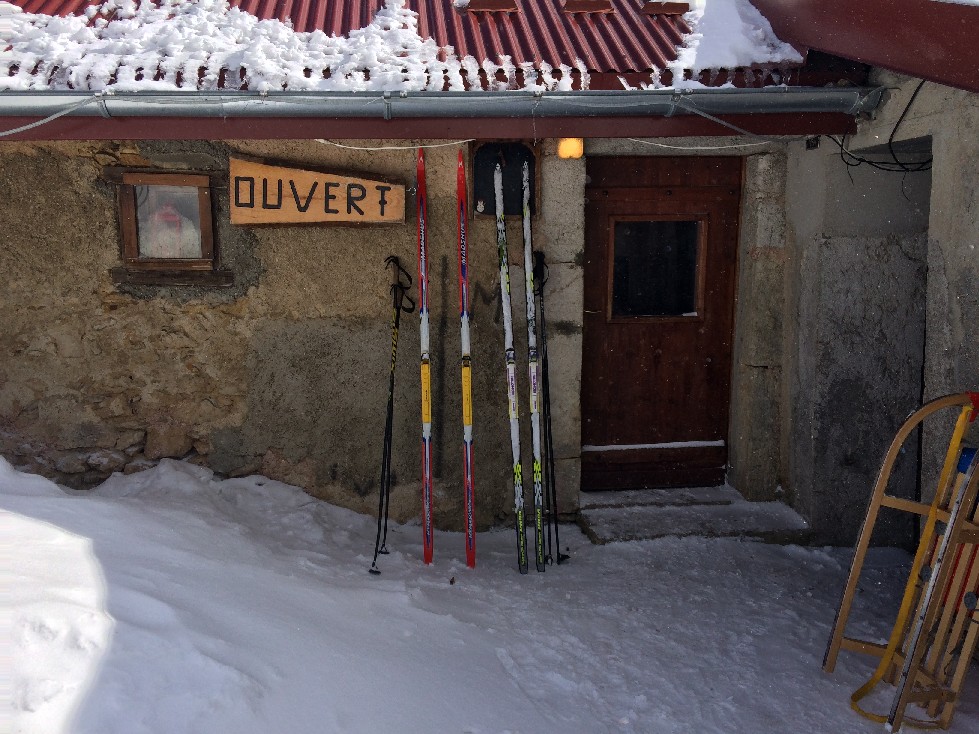 Once at my destination, I strapped on the snowshoes and headed toward Buvette du Mollendruz. As I approached, I could see a group of school children practicing downhill drills on their cross-country skis. They soon headed into the buvette, leaving their skis, poles, and backpacks scattered haphazardly in front. Walking past the buvette, I found the snowshoeing path leading into the forest. It quickly became narrow and, to me, enchanted. With the bright sun of early March spearing through the trees and no one in sight, I felt exhilarated. The only sound came from the scrunch of my shoes on the snow, and there were no kids around to whine or ask me for anything.
I reached the first intersection and studied the map posted there. It seemed that if I followed the pink shoes along the pink line, I could make a loop, from here to the Nordic center and back. I felt assured about doing this until I reached a fork in the path that wasn't on the map.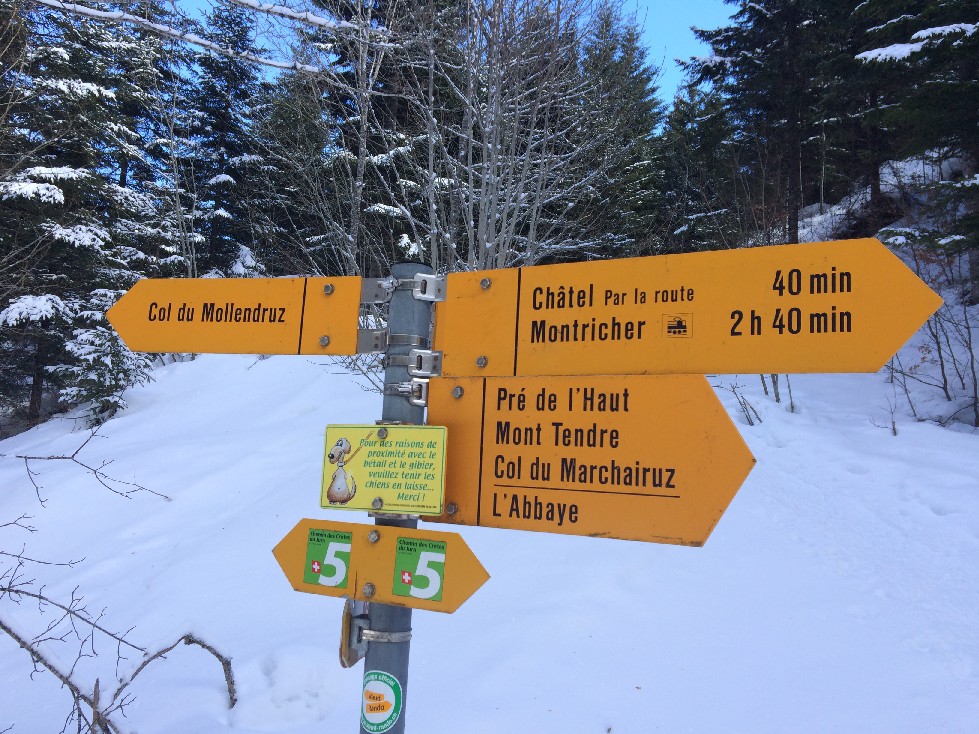 My husband, who understands my fear of getting lost, assured me that I couldn't. "This is Switzerland," he said, "All the trails are marked." I knew what he meant. When jogging deep into the woods, a yellow pedestrian sign would suddenly appear from nowhere and point the direction to various locations. So organized, and so Swiss.
I decided to stick with the main trail. The forest soon opened to a valley, and eventually I came to another pink shoe, which bolstered my confidence.
After 30 or 40 minutes more, I passed three people coming from the opposite direction, and then hit another open space. The path eventually ended at a cross-country skiing trail. The Nordic center must be close, I thought. Where to go next? Up the hill to my left, I spotted a yellow pedestrian sign. But I didn't see a pink shoe.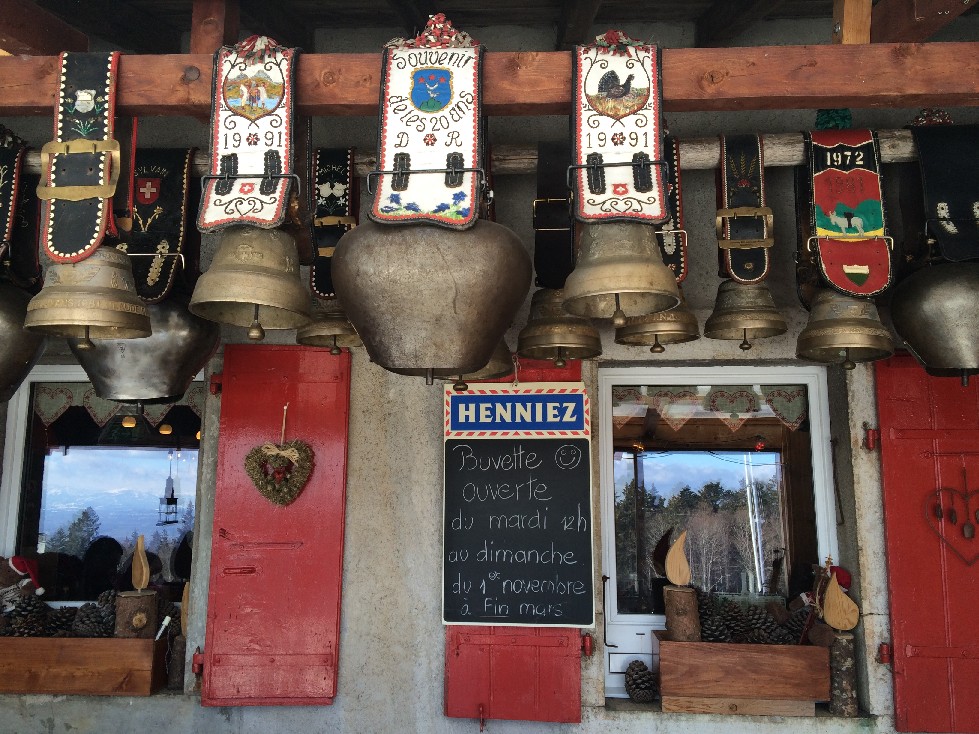 At this point, my fear of getting lost took over and I turned back. Wimpy, I know, but already, I had been snowshoeing for an hour and a half, and I was afraid I might not make it to the buvette before they closed for lunch.
Luckily, the buvette—a classic Swiss chalet with an impressive collection of cow bells—still served lunch at 2:00 p.m. when I arrived. I sat on their covered porch admiring the scenery with a vin chaud (hot wine) and a plate of dry meats and cheeses, typical Swiss fare. The three people I had seen earlier on the trail were just finishing their lunch at the next table. After lunch, I headed home. It was a very good day.
For the Kids, Too!
For the kids, Vallée de Joux offers some great sledding at each of the four Nordic centers, as well as a popular local spot just three or so kilometers up the road from where I snowshoed. A Chalet there, open except on Mondays and Tuesdays, serves hot beverages and the customary Swiss-French foods (Croque Monsieurs, meats and cheeses, fondue), which proved necessary one frigid, windy afternoon to warm up our wimpy California butts.
Snowshoeing, cross-country skiing and sledding aren't the only sports in Vallée de Joux. Four locations also offer downhill skiing, although these are much smaller than the popular alpine ski resorts. However, they are great for families, especially kids, to practice their skills without forking out a fortune in ticket prices. You get to enjoy nature, avoid the crowds and take in some local flavor.
Sports aside, Vallée de Joux is famous for being one of the birth places of the highly prestigious watch industry. High-quality Swiss brands, such as Audemars Piguet, Blancpain, Vacheron Constantin, and Jaeger-LeCoultre, all have factories here, and when you drive through the towns, you can see white-coated workers bent over large magnifying glasses creating their $30,000+ masterpieces. To check these out, or see a museum or take in other more leisurely pursuits, see this website.