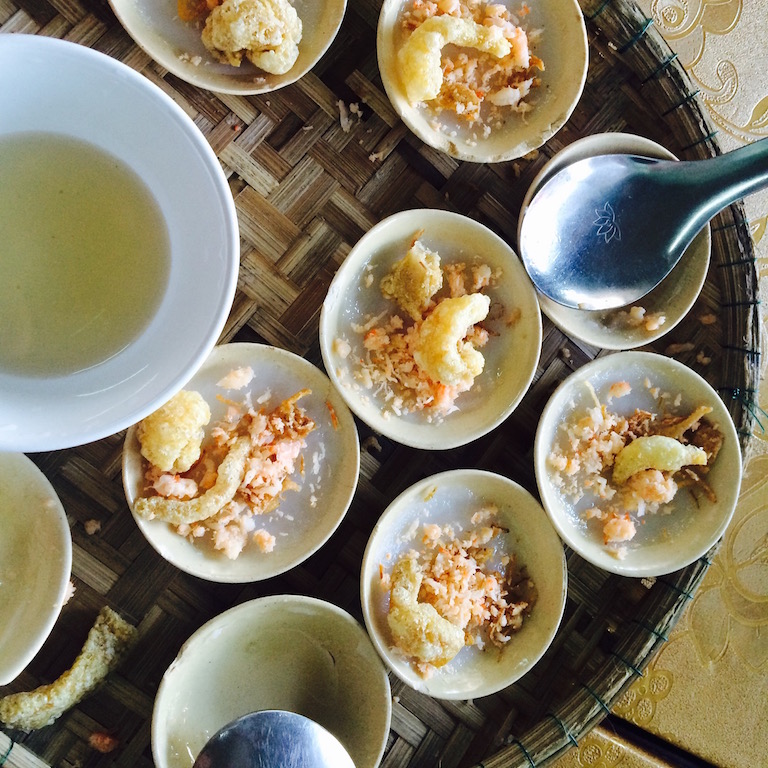 Vietnam is famous the world over for its Phở, a tasty soup made with thin rice noodles called bánh phở, herbs, and thin slices of beef or chicken, and usually served with a bowl of basil, mint, lime, and bean sprouts, which you can add to the soup yourself according to taste. As you might expect, however, there's a whole lot more to Vietnamese cuisine than Phở!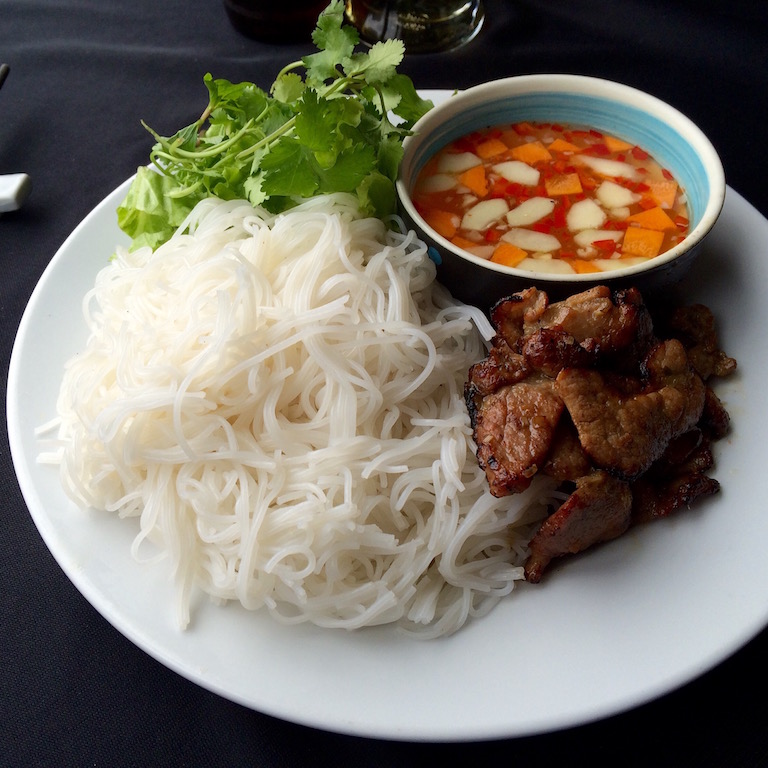 As a long, narrow country that spans 1,650 kms. (1,025 miles) from north to south along the South China Sea, Vietnam has a cuisine that varies distinctly into three regions: north, central, and south. This is in part thanks (or no thanks) to French colonial occupation, which divided the Vietnamese portion of what was then called Indochina into those three regions. A guide in Ho Chi Minh City (formerly Saigon) told us that even today these three regions are very different in terms of attitudes, culture, and food! It makes sense, too, that ingredients and cooking differ, especially between the north, which gets cold enough to snow and is right next door to China, and the south, which stays jungle hot and humid all year round. Crops differ, as well as use of spices. (I like the way this site describes the regional differences under the heading, "Food of Three Regions," although note that it's written by a local and so not in perfect English.)
Healthy Eating with Lots of Rice (or Cơm)
One staple of every Vietnamese meal that spans all regions is its use of rice. It makes sense when you learn that Vietnam is the world's largest exporter of rice, producing 45 million tons per year. They've got steamed rice, rice noodles (of various sizes and consistencies, some of them surprising), rice paper (used in spring rolls), and rice congee, a kind of rice porridge eaten at breakfast.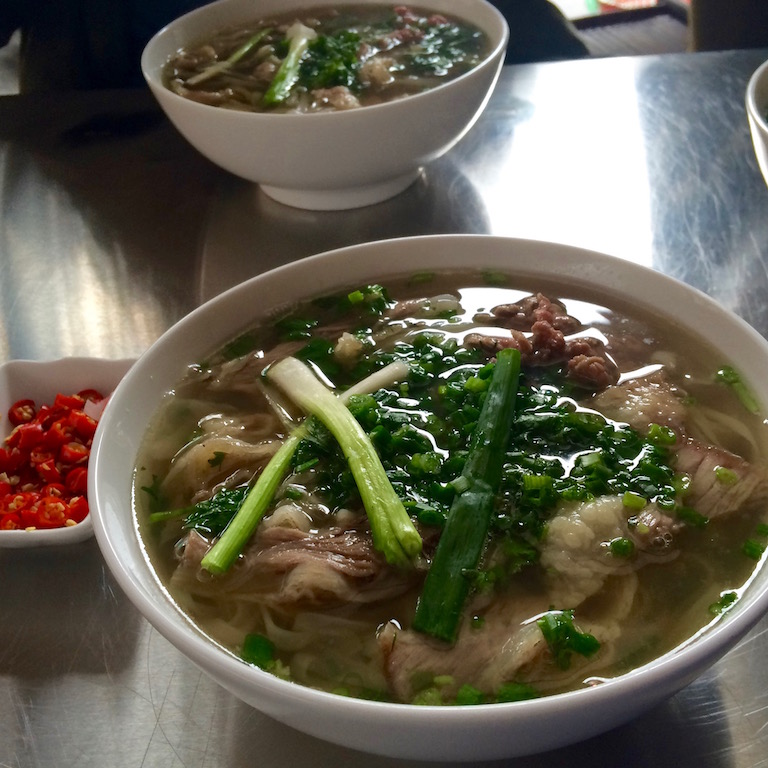 In general, Vietnamese cuisine is also known to be healthy, as they use much less oil than their neighbor to the north (China), and have access to abundant fruits and vegetables, mostly from the south, which they strive to keep fresh in their cooking. To learn more about some of the distinctive flavors of Vietnamese cuisine, see this link.
It seems the country's most popular dishes are those of central Vietnam, which are of course widely available in that region (such as in Hue and Hoi An), and in specialty restaurants mostly in Ho Chi Minh City in the south, but also in Hanoi in the north (although less so).
How to Eat
Before getting into a list of common, favorite dishes, I wanted to share how most Vietnamese food is eaten, at restaurants and in the home. It's "family style." You order dishes, which are placed in the center of the table. Each person gets a small bowl and set of chopsticks, and you place what you want from the shared center into your bowl. Usually (but not always) you are also served iced green tea instead of water. It's either free or there's a small charge. It's part of the culture, so roll with it!
List of Favorite (and Most Common) Foods
After spending three months in Vietnam, here is a list of our favorite (and more common) dishes, in no particular order.
Phở – the aforementioned noodle soup that put Vietnamese cuisine on the map for many. It's a dish from Hanoi in the north, but you can also find it in the south and a differing version of it in central Vietnam. A good bowl of this, especially on a freezing cold day, satiates better than any comfort food I've ever had.
Bánh mì – sandwiches made with the crispy French rolls left over from French colonial times. Unfortunately, on the street they're often filled with cheap, fatty meats. Try to find those that stuff with real meats.
Bún chả – one of our favorite dishes, originating in Hanoi in the north. It's a serving of plain vermicelli with flavorful, grilled pork meatballs, served with a clear, slightly sweet dipping sauce. It is also served with  salad and cucumbers and sometimes sliced spring roles, which you are meant to dip into the clear sauce along with the pork meatballs. Very satisfying!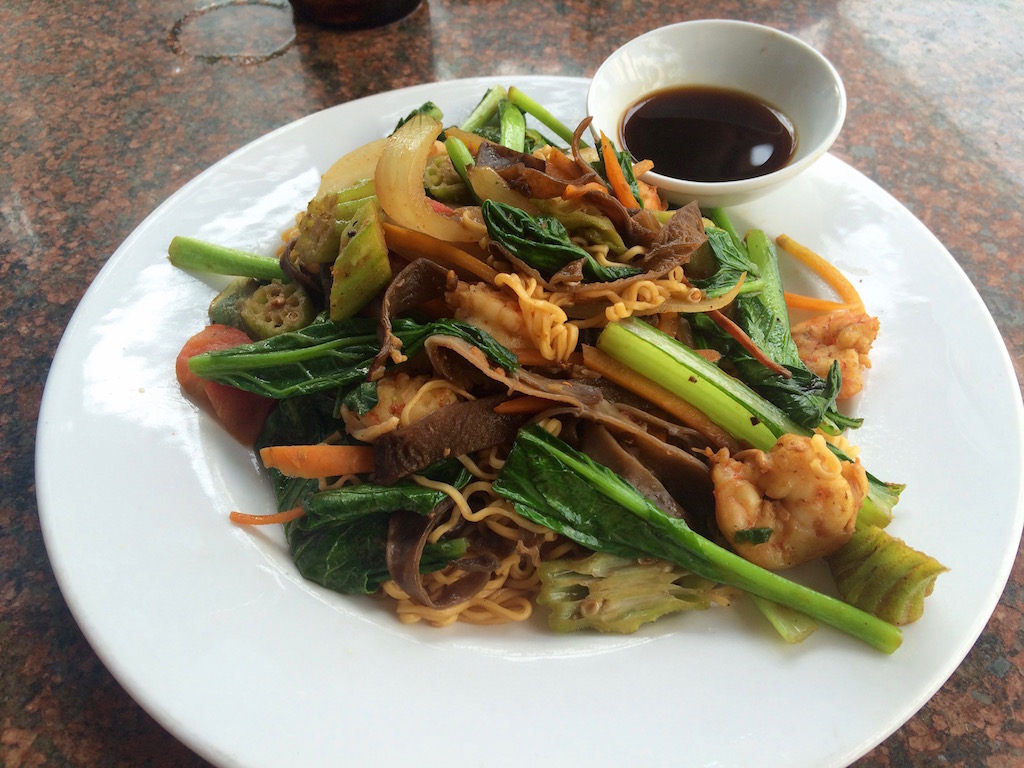 Mì xào (bo or dòn or gà) – this is basically stir-friend egg noodles with beef (bo) or seafood (dòn). You can also sometimes get it with chicken (gà). A simple, satisfying dish, and my go-to meal.
Bún bò (sometimes called Bún bò Huế) – a soup from the central town of Huế, Vietnam's former capital. It's a hot and spicy beef-stock soup with rice vermicelli and lemongrass flavors and pork. (I prefer traditional Phở, but this is a nice variation.) A lot of small street vendors sell this, as well as larger restaurants in central Vietnam.
Bánh khọt – I love, love this specialty of Vung Tau, a beach city two hours south of Saigon in the south, where we spent our Christmas (2015) and New Year's (2016). They are bite-sized, crispy pancakes with either pork or shrimp in the middle. Traditionally, you eat them with leafs of various types of fresh lettuce supplied to your table.
Bánh khoai – A larger crispy, savory pancake that is served with pork or shrimp and lettuce and bean sprouts. Sometimes, the outside comes out greasy from the frying, but it is delicious!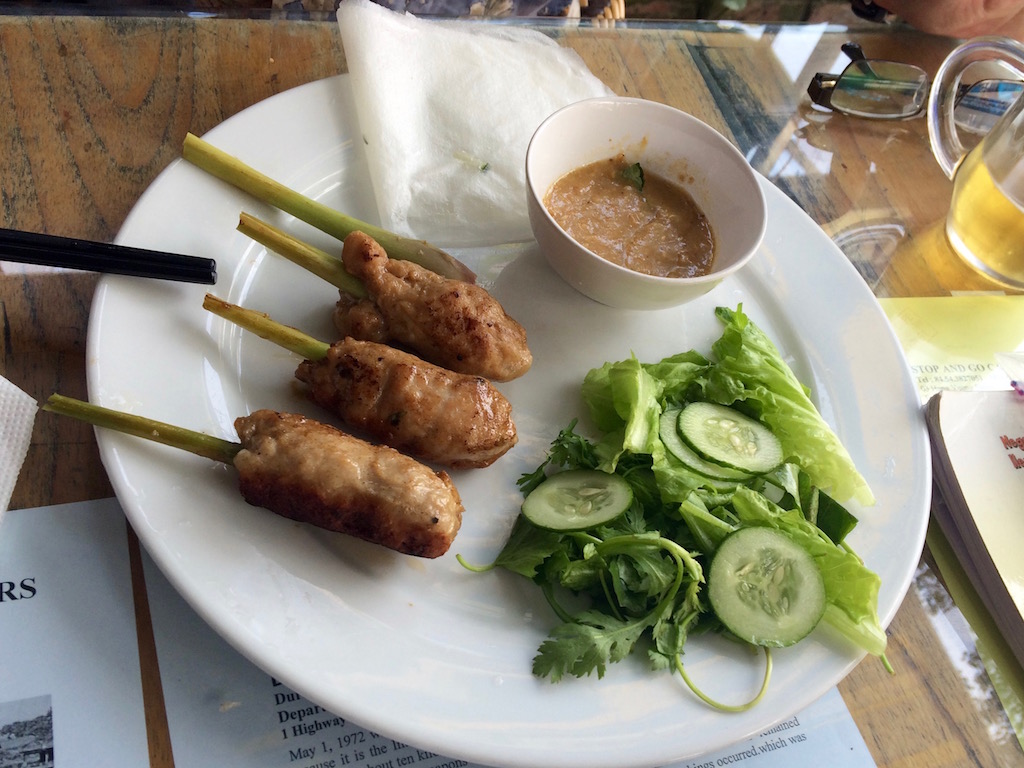 Bánh bèo – little "rice pudding" dishes (see above featured photo for this). They call them rice cakes, but the rice has a gel consistency and they're served in miniature bowls, usually with crunchy pork rinds on top. A dish meant to be shared. Not exciting in flavor, but fun.
Bánh nậm – A dish from Huế in central Vietnam. Flat rice flour dumplings stuffed with seasoned minced pork and wrapped flat into a banana leaf. To eat this, you basically open the banana leaf, then scrape the rice "gel" imbued with flavorful pork and spices off the leaf with a spoon. Tasty!
Bánh cam (name in the south) or bánh rán (name in the north) – this is a deep-fried rice sesame ball filled with sweetened mung bean paste. I am not a dessert person, but still, I loved these mildly sweet balls! I'd buy them once a week from a street vendor near our apartment in Hanoi for 1,000 dong each (5 cents).
Spring rolls (also called gỏi cuốn) – fresh spring rolls made with pork or shrimp with vermicelli noodles and wrapped in thin rice paper. Widely available.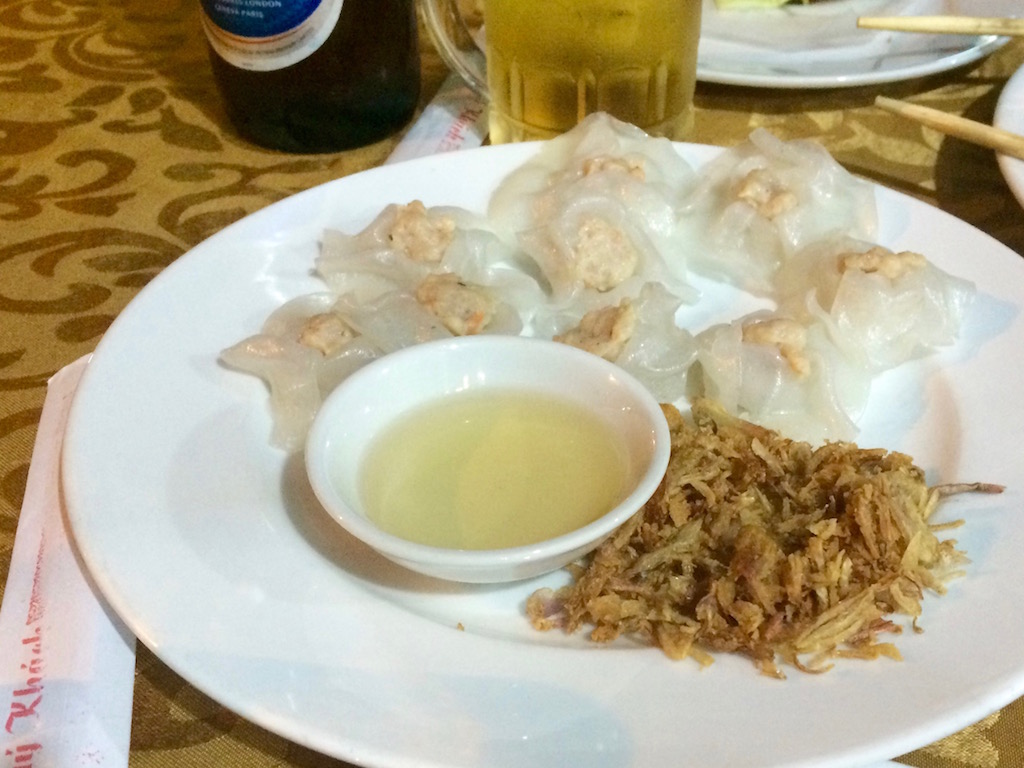 Nem lui – found in central Vietnam, kababs grilled on a stick of lemongrass. So good!
Bánh vac – shrimp rice dumpling specialty of Hoi An in central Vietnam, which is where we ate them. Yummy!
For a more extensive list, see this link. Also, check out this web page for more info (the list of Vietnamese food words at the end is useful!).
Note: Along with others, I admit that Vietnam is "noodle crazy" and toward the end of our lengthy stay I did indeed grow tired of eating noodles in whatever form! Know this phenomenon is less likely if you're in the country for a shorter period of time. Also, it is possible to avoid rice noodles within Vietnamese cuisine, but that requires some creativity.
This blog post, including photos, is copyrighted (c) 2016 by Cindy Bailey Giauque and is an original publication of www.mylittlevagabonds.com. Please join us on Twitter and Facebook. Happy travels!