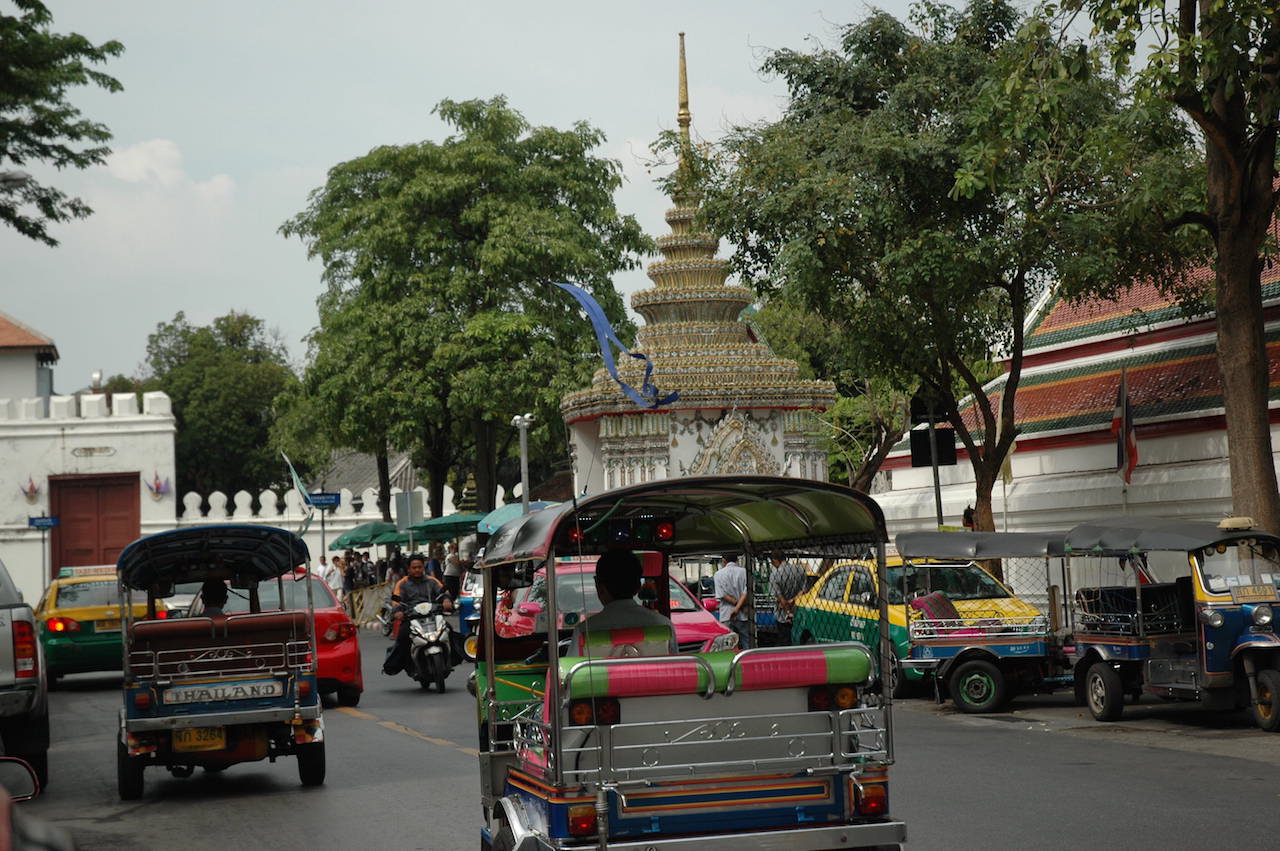 It's actually quite easy (and usually cheap) to get around Bangkok. There are so many choices: you can take one of the express boats that zip up and down the Chao Phraya River, where the most popular tourist attractions are located; you can hop on the clean, efficient BTS Skytrain or the MRT metro system to cross town; the fast-paced commuter khlong boats that speed through the canal are a blast to ride (note: you do need to be fit for them); and you can always take a metered cab, or, if you're not going far, even a tuk-tuk or a motorcycle taxi. I didn't even mention buses, some of which are free.
However, a great way to truly discover a place is to walk its streets. That's how we found the many treasures in our non-touristy neighborhood of Phra Khanong. Sometimes, too, you'll have to walk to get to a place.
Walking here is no easy stroll, though. Bangkok is famous for its congested traffic, and the streets are often polluted, broken, and busy.

Take the small streets, like the ones that lead away from our condo toward the BTS Skytrain station. They're supposed to be two-way, but there is no sidewalk, just a shallow gutter you can trip over, and cars parked on the side, and food stalls positioned there, too. So really, they become two-directional, one lane roads, with lots of scooters and motorbikes thrown in, traveling on whichever side of the road gives them a way through. Sometimes, a vendor is pushing her kitchen on wheels through as well.
When there is a sidewalk, it's often broken in pieces, with large holes and sunken cement slabs and loose wires. Street food vendors fill those sidewalk spaces as well, and stray dogs sometimes park themselves there listlessly, wherever they may fall. When traffic gets exceptionally bad, the scooters and motorbikes move from the roads to the sidewalks, often without bothering to slow down for pedestrians. They might be carrying a passenger with a baby or huge plastic bags of food.
The street traffic is alive! Adventurous! Exciting! The athlete in me admires the sport in it and the challenge of it, although I admit, walking these streets can also be a bit treacherous, especially with young kids. There is a way to do it right, though. It mostly requires that you pay a lot of attention (leave that smart phone in your pocket!) and use common sense. Here are a few tips.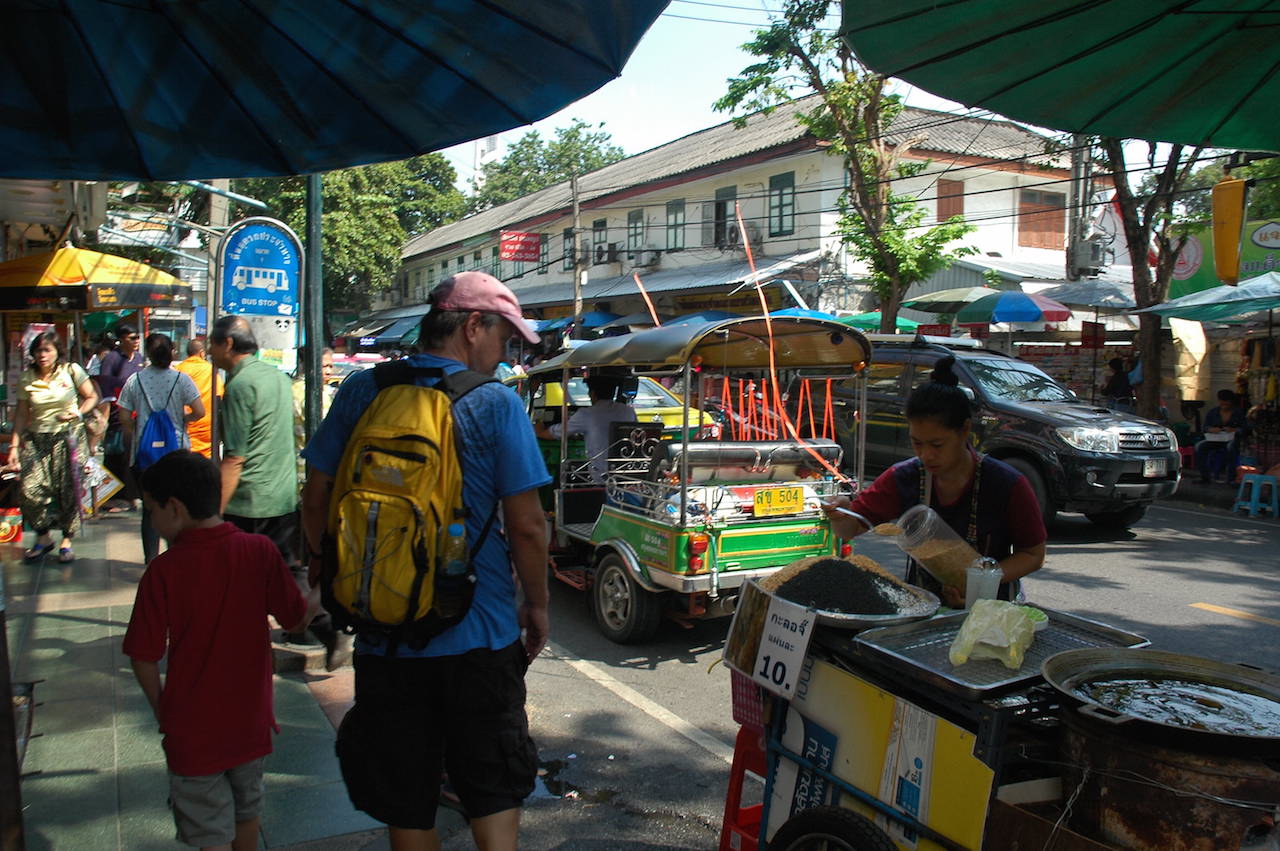 Tip #1: If you're walking down a small road with no sidewalks that is being half eaten by parked cars and street food stalls, do this: Walk along the right side of the road. They drive on the left in Thailand, so by walking on the right, you have a better chance of seeing what's coming at you. If you're walking with kids under 12, hold their hands (whether they like it or not) and keep them on whichever side of you is away from traffic. Use strollers with caution, or not at all. We prefer carriers over strollers. Remember to swivel your head multiple times to see whatever traffic is coming, and accept that you will have to dance in and out of the street (and also across the street) often to avoid motorbikes. When a car approaches, find the closest spot that gets you out of the way and wait there until it passes.
Tip #2: Along major boulevards, such as Sukhumvit Road, the Thais have smartly placed multiple, periodic overpasses so that you may cross the street without risking your life. (Note: These involve a lot of stairs.) Take these whenever possible. I will walk 100 meters out of my way to take an overpass. Do the same, and save a life (yours!).
Tip #3: There will come a time when you reach an intersection with no overpass and you will have to cross the street. Know that doing so is somewhat like entering under the ropes of a double-dutch jump roping game. Keen observation, timing, and rhythm is everything in getting it done right. I strongly suggest picking up any child under the age of five. For all other children, hold their hands, again, whether they like it or not. Then watch. If the traffic appears mostly to be stopped, verify that yes, indeed, they are at a red light. Very carefully, weave through the fifty or so motorbikes that keep sneaking across the intersection line, pause at the halfway point to wait for a break in the flow of cars turning into those lanes, and then bolt across.
Know that even though these people are Buddhists and believe in reincarnation, they are also mostly kind people who believe doing good in their current life will bring them good karma for their next life. In other words, they don't want to run over you, they just don't expect you to be in the road, and they aren't trained instinctively to stop for you. This is not the U.S. or Europe; pedestrians do not have priority on the streets, so please don't play chicken with Bangkok traffic.
(You can also follow these insightful tips, written by an expat. It includes charts from W.H.O. showing Thailand to have the largest traffic fatalities in Southeast Asia. And here's an L.A. Times article about Bangkok's famous traffic, published yesterday. )
Finally, don't let what I've said stop you from exploring the lively streets of Bangkok. Doing so offers its own rewards. Walking from the Nana BTS station to the Nana Nau Pier to catch the khlong boat, we discover the arabic neighborhood of Bangkok, and its many cultural and food offerings, as well as the physical location of the famous Bumrungrad International Hospital. True, longer walks can be tougher on the little ones. Our four-year-old often complains about the heat. If an ice cream bribe at the nearest 7-11 doesn't work, you can always just wave down a cab.
This blog post is copyrighted (c) 2015 by Cindy Bailey and is an original publication of www.mylittlevagabonds.com. Please join us on Twitter and Facebook. Happy travels!