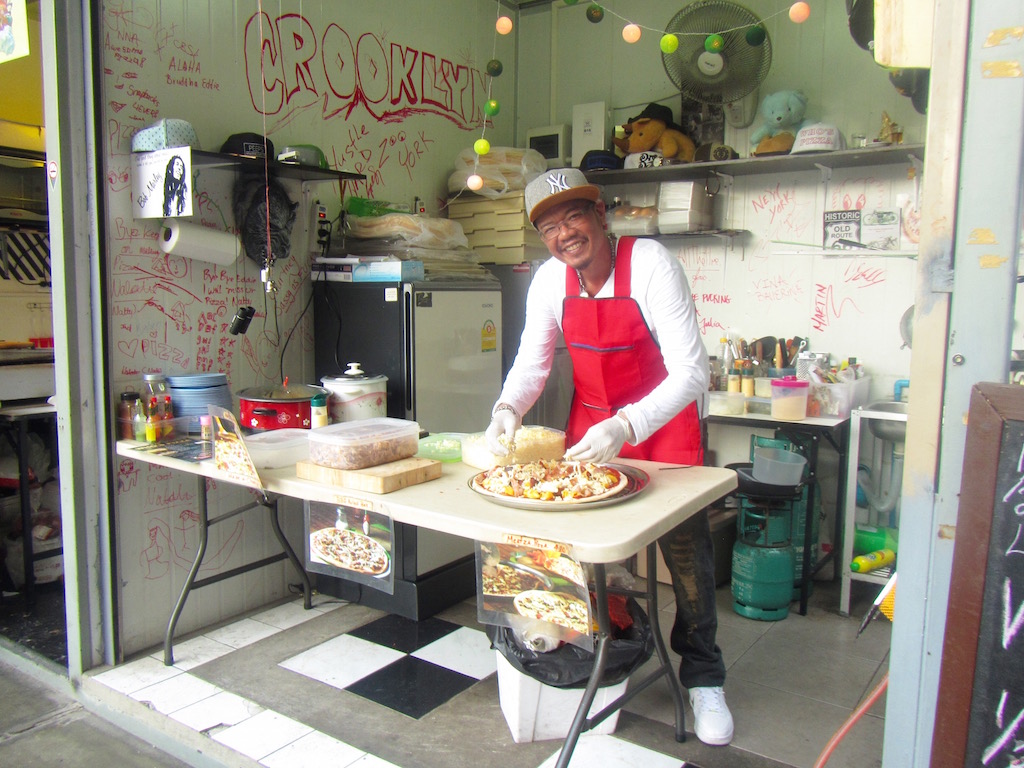 After more than 25 hours of travel from San Francisco, my family and I arrive in Bangkok, thrilled to be starting the next phase of our world trip: Southeast Asia! Outside, the late morning air is thick with humidity, the sky overcast. In the taxi from the airport, fat drops of rain start to hit the windshield. Wallop! Wallop! This develops into a full scale monsoon-like storm, complete with flash flooding in some of the streets. We smile. We expect this weather in late October, and it doesn't phase us. At last, we are here.
As our taxi negotiates the narrow streets toward our condo, hidden at the end in the back, we carefully search the side streets for hidden restaurants. Unlike our last visit to Bangkok two years ago, we aren't staying in a hotel in the middle of the old city with its easy access to popular tourist attractions, from the Grand Palace to the Wang Lang Market to the backpacker's haven of Khao San Road. We aren't staying for a week either. Instead, we are staying for a month in Phra Khanong, a neighborhood populated mostly by working Thais and expats. We thought this a good way to dip right into local culture. If we wanted a bit of the old neighborhood, or tourist attractions, or modern shopping, we could always just take the BTS Skytrain there. Or a cab. It's easy and cheap, as most things are, in Bangkok.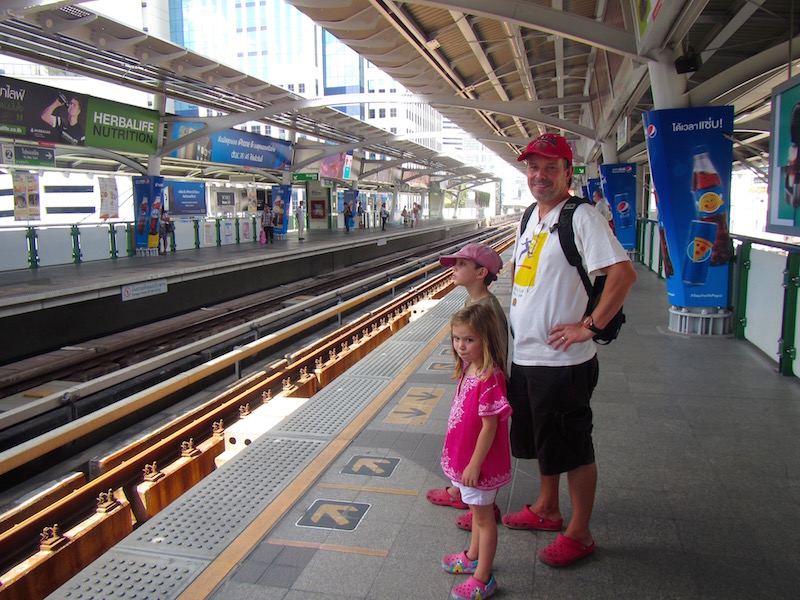 Our condo is a super-clean, modern, furnished, air-conditioned, two-bedroom place with two swimming pools, a playground, and walking distance to the BTS Skytrain. Although I wouldn't call it "luxury," as it was billed, it's nevertheless perfect for us, and at $850 for the month, a great deal too.
When the rain subsides, we take our first jet-lagged walk over a canal and through our neighborhood. We quickly find our local 7-11, the national quick mart chain, and a Tesco-Lotus Express, the mini version of Thailand's main grocery/everything store. At that same intersection, buzzing with local life and motorcycle taxis on standby, we also discover small street food stalls selling grilled pork, fried chicken, and other meats and sausages on a stick. It would take a few more days of wandering alleyways to discover the huge variety of tasty street foods we love and expect from the land of smiles. But we find them!
Here are some of the gems we discover in our neighborhood in the first week:
The W Market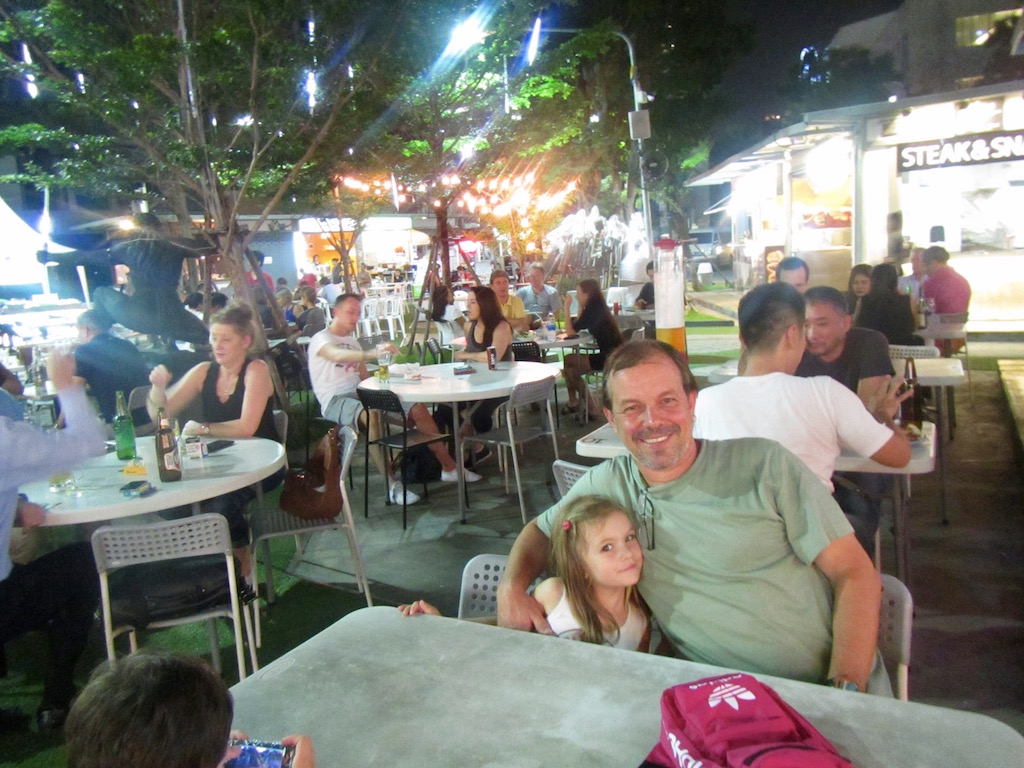 Next to the Phra Khanong BTS Skytrain station is the fairly new, shiny W District, which includes the W Market, a lively, upscale yet casual, outdoor food court that's open daily from 4 to midnight. The food includes plenty of traditional Thai dishes, but also excellent pizza, burgers, hotdogs, pasta, traditional Indian dishes, and even a kabab place. There's also a huge outdoor bar that serves awesome mojitos and other cocktails (discounted to 120 Baht, or $3.50, during Happy Hour, from 6 to 8 p.m.). The outdoor seating area is decorated with strings of lights and various art sculptures. The crowd is a mix of mostly westerners, but also Thai office workers, letting off steam. We would return a number of times, mostly because Julien loves the pizza there! It is amazingly good. For more about this place, also check out this link.
Also in the W District: Tom N Toms Coffee (a sort of Starbucks of Asia, including high prices, but with Asian additions, such as iced green tea with pearls; open 24 hours); Colors Cafe; and the Cielo Sky Bar.
Best Street Food Spot
On Soi Sukhumvit 48, a street off the main boulevard of Sukhumvit Road, we discover what Pierre and I agree is the best authentic Thai food in our neighborhood, and so far the best we've eaten in Bangkok. The Thai couple there offer a huge variety of dishes, all displayed in fat pots on a table right up front. Just point to what you want, and they'll place each dish in its own bloated plastic bag for you to take to go; or, you can point to their seating area in the back, and your food will be served on plates. One evening, we get yellow chicken curry, a spicy green bean dish, mixed veggies, and rice—more than enough to stuff us parents—all for 90 Baht, which is less than $3. We now go there almost every day. There is no name to the place, that I know of. Just walk the short length of this street, and you will find it.
Warning: Spiciness is not dumbed down for westerners at food stalls in this neighborhood. If they say the food is just "a little" ("nit-noy" in Thai) spicy ("pet"), know that could mean it might occasionally leave you with your tongue hanging out, gasping for air.
In fact I had such an incident at a street food restaurant just a few feet away from our favorite one. The woman there watched us carefully and when she saw me suffering, she sent one of her workers across the alleyway to buy fresh cut fruit from the vendor with the intention of helping me cool my tongue.
Surprisingly, my sensitive palate is adapting! This is a good thing, because most of the time, I have no idea what I'm eating. (The street food here goes beyond known Thai dishes, such as Pad Thai, Basil Chicken, and Papaya Salad.) I only know it looks good and the flavor is incredibly rich.
Tesco-Lotus Superstore & Skippy Wonderland (for Kids!)
On a map, we discover that we're only one BTS Skytrain stop (On Nut) away from the giant Tesco-Lotus market, which sells everything from groceries to clothes to toys. From the dragon fruit in the produce area, to the fish in the seafood department, to the huge array of spicy-sweet goodies in the snack aisle, we take great pleasure in shopping here. Note that they do carry some European and American products too.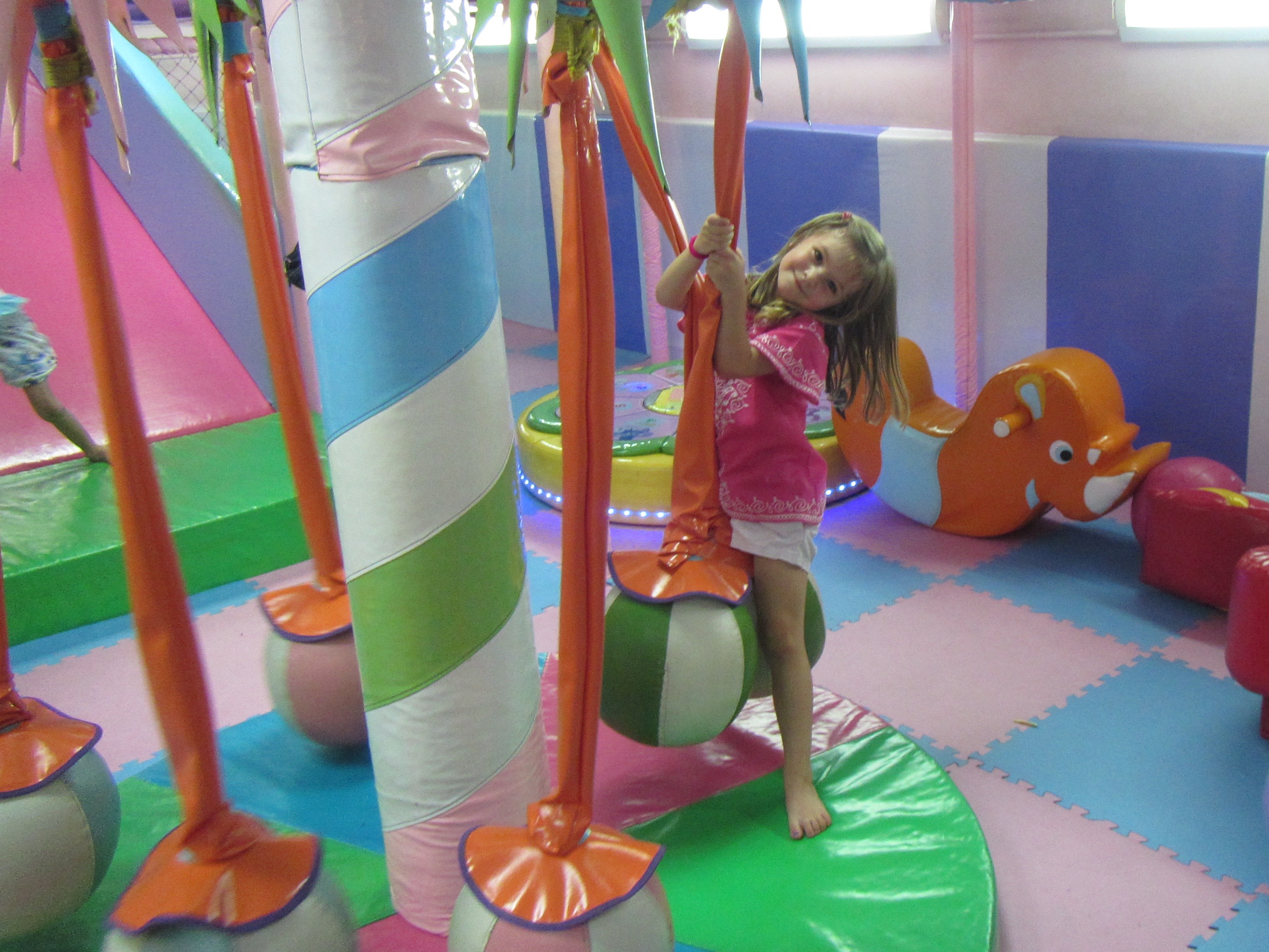 The building also houses several other businesses, including phone stands where we buy SIM cards for our smart phones. It also has two other very attractive features: a large, interior, air-conditioned food-court and an active play area for kids called Skippy Wonderland, which includes a soft play area for younger kids and plenty of video games for older ones. You can have lunch for 60 Baht (less than $2) and let your under six-year-old go wild in the soft play area across the way—45 minutes for 40 Baht (just over $1)—while you peacefully eat or shop. Lily has a blast here!
We come to learn that most large Tesco-Lotus' and large shopping malls have some sort of play area for kids. I would seek these out! Especially if it's the middle of the hot, humid day!
We decide to negotiate the broken, busy, polluted streets of Bangkok to walk to our Tesco-Lotus. By doing this we discover other gems: a couple of those huge, all you can eat buffets, where they bring your meat to the table for you to cook it yourself! And a nice-looking dental office with child-friendly red and white seating. (We all need some teeth cleaning, and Thailand is known for its medical tourism.)
Japanese Restaurants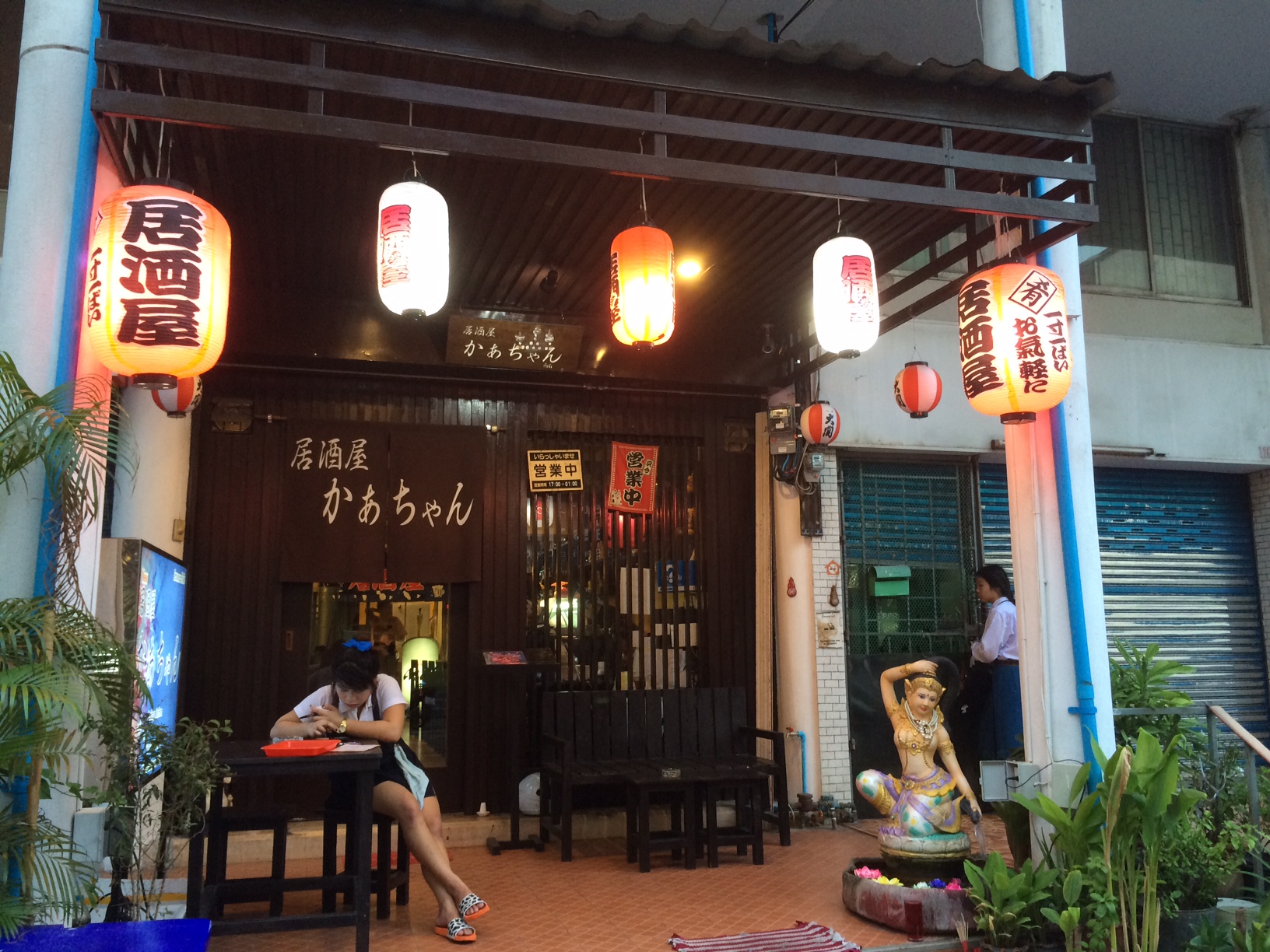 Down an alleyway between our condo and the BTS Skytrain, we discover a couple of fun Japanese restaurants. We eat at one of these (called Izakaya Kachan Plus) on a Friday night, sitting on the floor at a low table, consuming delicious sushi dishes. The place fills quickly with boisterous Japanese customers, most enjoying a glass of red wine with their beer, followed later by hard liquor. Work hard, play hard, I think.
And More…
Being in this neighborhood, we are definitely getting a more authentic Thai experience. Discovering the food is one treat, but there is more. It seems most of Bangkok is an open market: in most places, if there's room on the sidewalk, there's a place for a stall. The stalls around the busy Sukhumvit Road near us are overflowing with vendors selling everything from furniture, to electronic gear, to clothes, to toys—as well as endless options for food. It's a good place for us to settle in for the month.
This blog post is copyrighted (c) 2015 by Cindy Bailey and is an original publication of www.mylittlevagabonds.com. Please join us on Twitter and Facebook. Happy travels!