We've been tent camping in the national parks of the western U.S. for two summer months now and have learned a few things  we thought we'd share.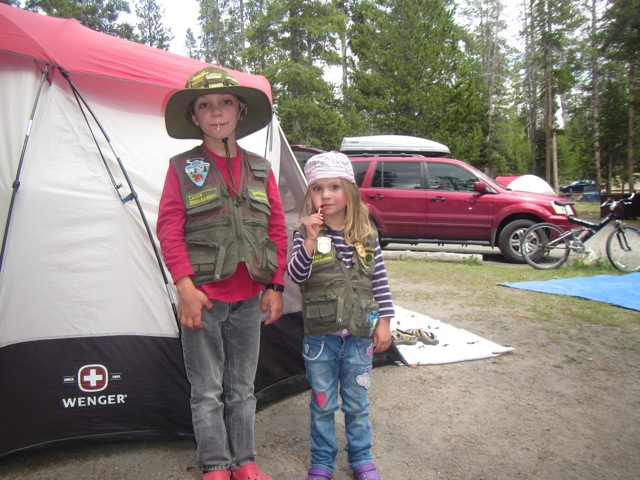 How to Secure a Campsite
We were told getting a campsite in a national park in the height of summer would be impossible (see this post). Not true! But you do need to follow certain guidelines to ensure your spot. Here's what you need to know:
Almost all national parks include some first come, first served campsites—either at a campground that also has sites that accept reservations, or at a first come, first served campground—and those are the ones to go after. Reservations-only campgrounds are booked long in advance, so forget these.
Your best chance of securing a first come, first served campsite is to select the appropriate campground in advance (go online to research and choose) and get there early, ideally between 7:00 a.m. and 8:30 a.m., as people typically vacate their sites first thing in the morning. Even if sites have not yet vacated, but people are packing up, you can take their sites. (See How to Occupy a Campsite, below.)
To ensure you arrive at the campground early enough you may, like us, have to put in a motel stay close by the night before. That way, your gear is already packed and ready; you just need to cut through those early morning dreams and get your butt out the door. Alternatively…
If you are moving from one campground to another, and the two campgrounds are close enough to each other, you may have to do what we sometimes do: occupy two sites for one night. Because it takes us hours to pack up—what with our 10-man tent and all the kids toys, bicycles, kitchenware, and what not—we leave our current site in tact, staying an extra night there, while we secure the new site, leaving our spare "play" tent there until the next day when we can take our time moving to the new site. We prefer not to "hog" sites, so we do this only when necessary.
We also ignore signs that read, "Campground Full," as it can mean that the campground gets so much turnover—as soon as sites are available, they fill up again—that hosts don't bother to change the sign.
It is also helpful, but not necessary, to plan your arrival for a day other than Friday, Saturday, or major holiday. If half the park is shut down due to a wildfire, for example, as it was for us when we visited Glacier National Park, you may want to add this guideline for extra measure.
How to Occupy a First Come, First Served Campsite
Most campers are kind, considerate people who know how to secure a campsite without trampling upon others, yet we've seen mistakes: someone trying to pay for a site that is clearly still occupied; someone moving their tent onto a site that looks empty, but really it's occupied by an RV that isn't there at the moment. So, in case, here are the rules.
1) Occupy an empty site.
This means, find a site that is empty AND has no receipt (payment stub) stuck on its site post, and then place something of yours in it, such as a tent or camping chairs. Ta-da, you have officially occupied a campsite. However, note the following:
If the site has, say, a lamp sitting on its picnic table, it is NOT empty, as lost as the lamp may look. If the site is empty, but the receipt on the numbered site post shows that someone has paid for that spot for this day already, it is occupied.
You can occupy a site that someone is still in the process of leaving. Here's the etiquette for doing so: Just ask those folks if it's OK to take over their spot. If they say yes, then either wait patiently until they pack up and leave before moving into their site, or ask them if it would be OK to leave your camping chairs at the site (to show it's occupied), go pay for the site (see #2 below), and come back later to set up.
2) Pay for the campsite you have just occupied. 
Typically, you have 30 minutes from the time you occupy a site to pay for it. Take care of this as soon as possible so there is no question who has the site. Self-serve pay stations are usually located at the entrance to the campground.
3) Pay for the minimum number of days you will be camping, as there are no refunds.
You can always add more days in case you wish to stay longer.
4) Place the payment stub on the numbered site pole, and place the envelope with your payment into the indicated location at the self-serve payment station.
Notes: Some campgrounds accept checks (made out to National Park Service) or credit cards. When in doubt, pay in cash. If there is no site post available, place in your dashboard.
Campground Choice
When selecting a campground, keep in mind that some have pit toilets and nothing else. Others have flush toilets, running water, and pumped drinkable water. Still others also have showers. Be prepared for the campground you choose. Bring plenty of water if needed.
Most campsites come with a picnic table and a fire pit.
What to Bring
Assuming you are car camping with a tent, you will need the following:
Basics: Tent, camping mats, sleeping bags. It's also helpful to have either a tarp or a shade, to protect from sun and rain.
Kitchen: Cooler, stove, propane tank for the stove, kitchen gear, dishes and utensils, dish soap and sponge, cloths to dry dishes, a tub to wash the dishes in, food, water (plenty of water if the campground has none).
Light and Fire: Camping lamp for the site, headlamps, matches, fire starter fluid, newspaper (or similar) to help get the fire started. (You can usually purchase firewood at the campground.)
Clothing: Just what you need to fit all temperatures: underwear, socks, shoes (sandals, hiking boots, and/or tennis shoes), t-shirts (long and short sleeved), 2 pants, 2 shorts, a skirt or 2 (ladies), a sweater and/or sweatshirt, long-johns, whatever you sleep in, bathing suit, hat, windbreaker/rain jacket, warmer jacket (depending on temps).
Other: Toiletries, at least 1 towel, insect repellent, sunscreen, a first aid kit, toys and books (as needed), a line of rope (to hang clothes to dry), cash to pay for the campsites.
Organized Packing for Camping
Unless you're going backcountry camping, in which you have to carry everything on your back, and especially if you're camping for more than a weekend, the best way to organize and pack for car camping is to use plastic storage bins. They stack, keep water out, and make it easy to retrieve and replace items in it. Here's a web page that shows exactly what I'm talking about.
We use storage bins for my clothes, the kids' clothes, the sports equipment (bicycle helmets, baseballs, etc.), the kitchen gear, the dry food, our homeschooling supplies, and so on.
Two-gallon ziplock bags work great for separating items within a bin, such as pants from underwear, and keeping items dry. Other size zip-lock bags can be very useful.
Fun, DIY Solutions and More Tips
If you're looking for creative, DIY camping solutions, I just love the tips listed on this web page. (Pierre, you'll love #10 for your cooking supplies.)
For more camping tips, see this list. And have fun!!