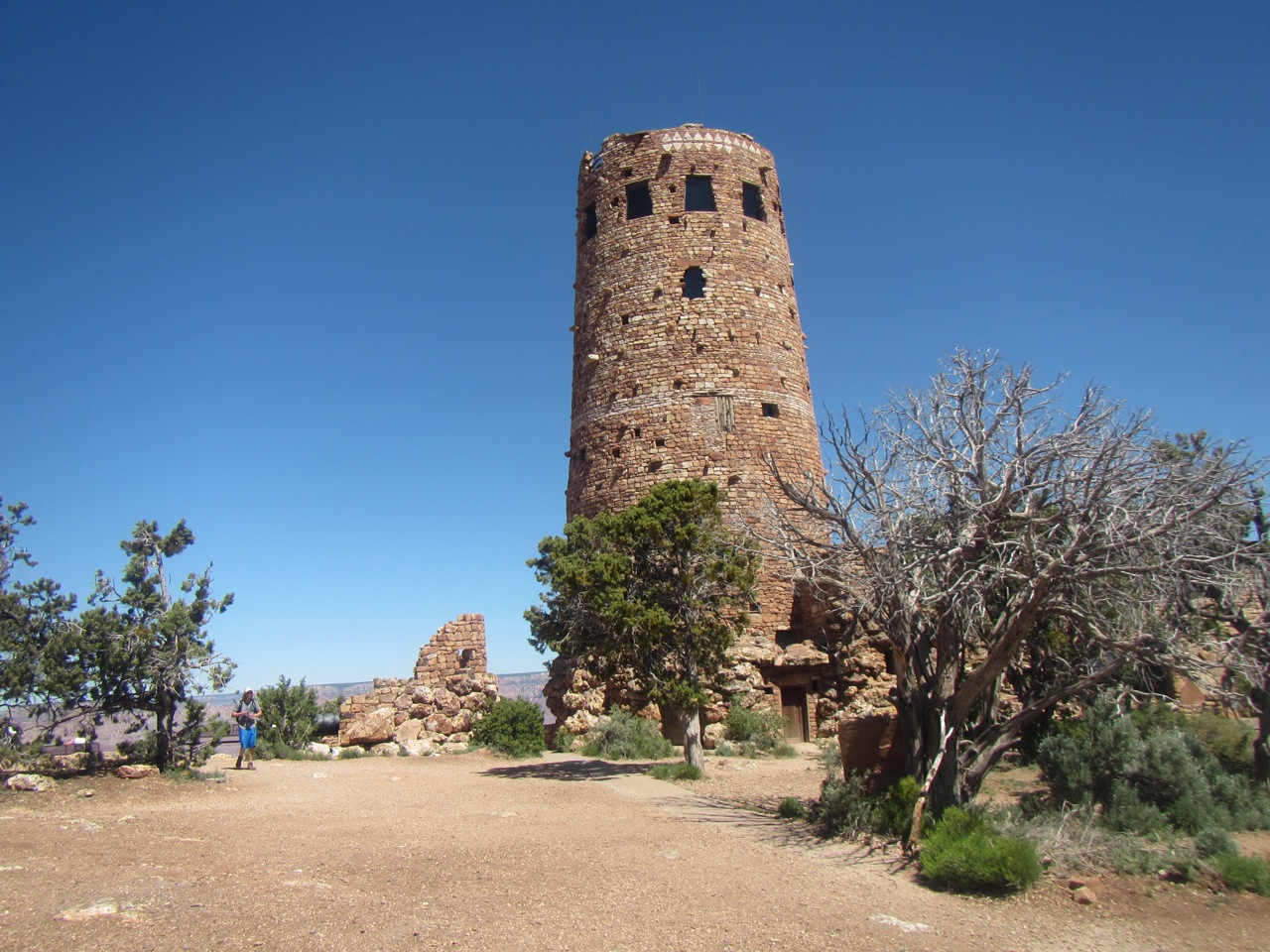 The May, 2015 issue of Sunset magazine listed Desert View campground in Grand Canyon National Park as one of their 12 "all-time favorite campgrounds" in the western U.S. Located 25 miles east of Canyon Village, it lacks the massive crowds found along the South Rim yet promises the same stunning canyon views and spectacular sunsets.
Too bad, though, everyone told us it would be impossible to get a campsite in Grand Canyon. Our host at the KAO Grand Canyon campsite (which is actually in Williams, AZ, 42 miles south of Grand Canyon), told us, "I wouldn't even try." The ranger at nearby Kaibab Lake Park whistled, shook his head, and said, "Not likely." And a fellow KAO camper reported that he had just tried to snag a campsite that morning without luck.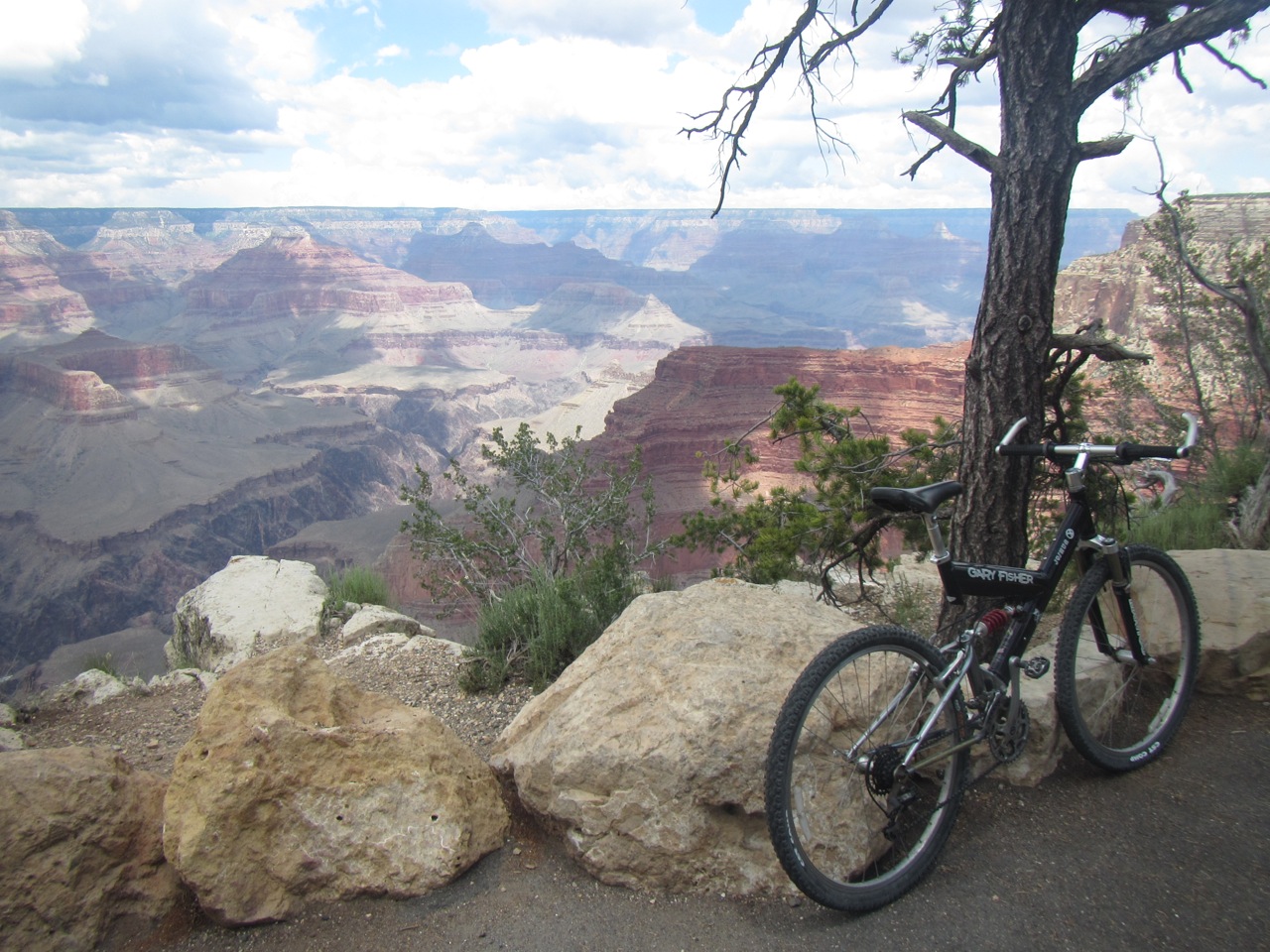 We were determined, though. No way are we going to see the top national parks across the western U.S. from campgrounds miles outside of those parks. Grand Canyon has two campsites within their borders: Mather and Desert View. Located on the South Rim, Mather is reservation-only and is booked months in advance. We had no hope there.
Desert View, on the other hand, is first come, first served. We reasoned that if we got up early enough and drove out there on a weekday, maybe, just maybe, we had a chance of getting a spot.
So, at 5:30 a.m. on a Monday morning, we dragged the kids out of their sleeping bags and drove the 65 miles to Desert View from our KAO campground. It would have taken hours to pack up our gear, so we just left it there, planning to return for it later.
We drove past all the viewpoints, oohing and ahhing at the glimpses we caught of the canyon at sunrise, and arrived at 7:15 a.m. Ignoring the "Campground Full" sign, we entered and frantically started looking for open campsites.
What we discovered confused me. At that hour there were 13 sites available. In fact, the camp host told us that out of the 50 sites, 10 to 15 sites usually open up every morning, but fill by noon or 2 p.m. Of course, the earlier you get there the better pick you have.
So, why did people tell us there would be nothing available? And why did the sign say the campsite was full when in fact it was not?
Lessons Learned
We learned valuable lessons that morning, lessons that would help us snag campsites at other popular national parks for the rest of summer. (You can read about them and other camping tips here.)
In a nutshell, we learned that almost all national parks include some first come, first served campsites. We learned that your best chance of securing such a site is to select the appropriate campground in advance and get there early, ideally between 7:00 a.m. and 8:30 a.m., as people typically vacate their sites first thing in the morning.
We also learned to ignore signs that say, "Campground Full," as it can mean that the campground gets so much turnover—as soon as sites are available, they fill up again—that hosts don't bother to change the sign.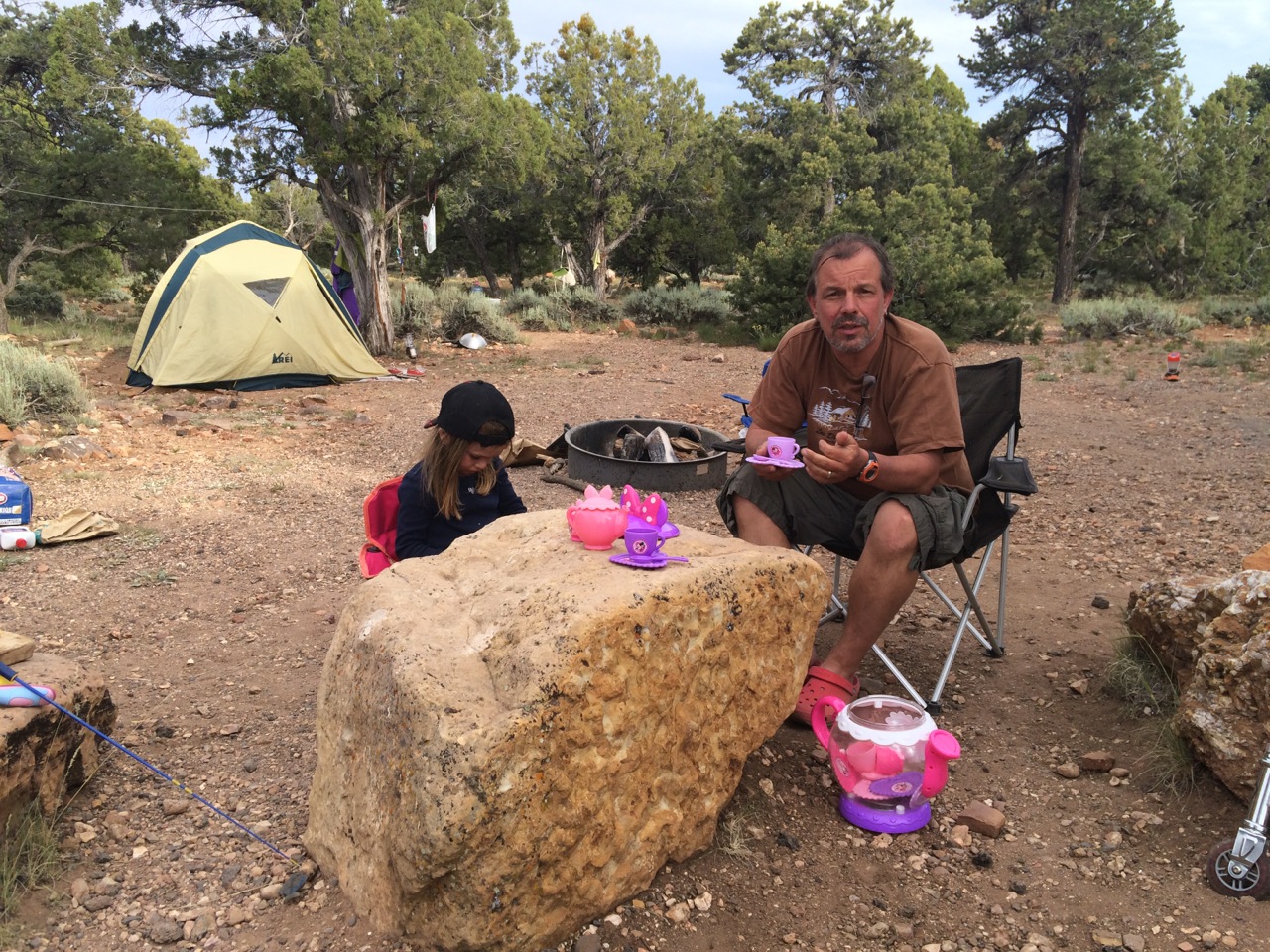 At Desert View, we picked a flat, generous site on the red dirt among the sagebrush and pinyon trees. Perfect! After feeding the kids, who were still in their pajamas, we set up our small extra tent, put a few chairs out, and paid for the site. Our cost for the week: $42 with Pierre's Access Pass (normally $84); still, a much better deal than KAO's $36 per night. We then drove the 65 miles back to our KAO campsite to retrieve our small trailer and other gear, and to close down our 10-man tent. While packing up, I took advantage of KAO's facilities to do laundry, and we let the kids swim in their pool one last time.
We arrived back at Desert View around 7:00 p.m. and had to set up our tent mostly in the dark. Pierre set up the kitchen and fed the kids while I blew up the mats and set out the sleeping bags. After that, we went straight to sleep, exhausted, but happy. We were exactly where we wanted to be, and the Grand Canyon was our back yard. We couldn't wait to fill the following days with adventures.
About Desert View
Desert View fulfilled its promise. It's a gorgeous, mostly flat campground spread across red rocks and dirt and pushed in among the pinyon trees and sagebrush. It's $12 per night and has water and restrooms with flushable toilets, but no showers (you can shower at Mather).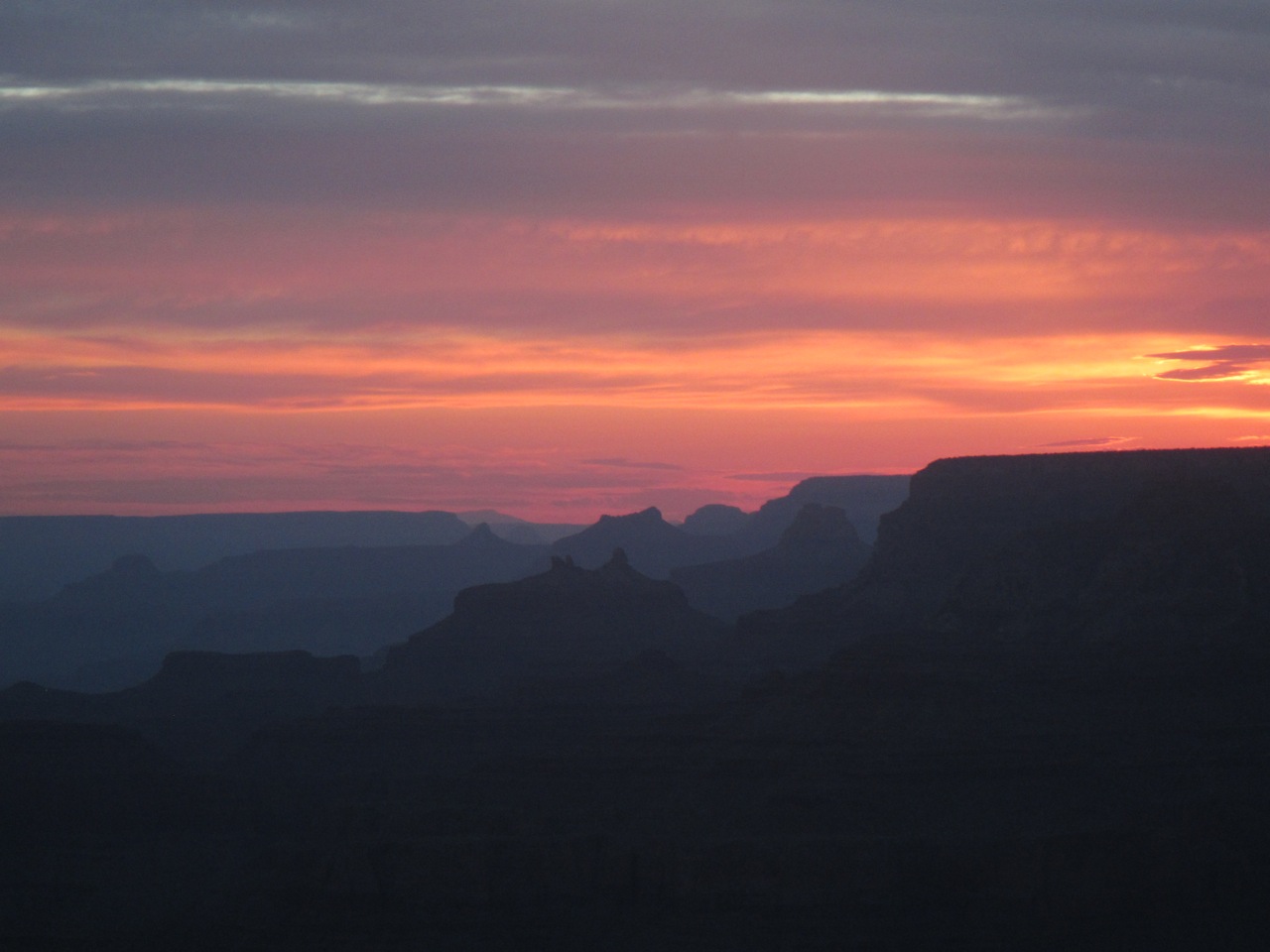 A short walk along a dirt road brings you to the rim at the Watchtower for stunning views of the Grand Canyon, especially at sunset. One evening, we sat at the outdoor amphitheater at sunset, along with others, listening to a ranger give a surprisingly fascinating talk on bats. After this, the kids got sworn in for their first junior ranger badges of the summer, and we all lingered afterwards, breathing in the colorful beauty of the landscape.
Do be warned that the wind can blow hard here, on and off. One night it rattled our tent so forcefully I thought it would break loose and fly away. In the summer, temperatures are reasonable in the early mornings and evenings, around 73 F (23 C), but the middle of the day can get hot at 85 F (29 C), or more. More threatening than the heat, however, is the dryness. The penetrating, hot air feels like someone sticking a straw into your body and sucking out all the moisture. Your mouth, nose, throat, and skin dry up quickly. My fingers constantly felt like chalk, and my nails became so brittle, the ends would snap off without warning. My normally curly hair flattened into thin shafts of straw. Drink plenty of water, as they say, and eat salty snacks. Wear a wide-brimmed hat, cover up, and use sunscreen. The park experts know what they're talking about when they say limit outdoor activity to before 10 a.m. and after 4 p.m. as much as you can. (See these hiking tips.)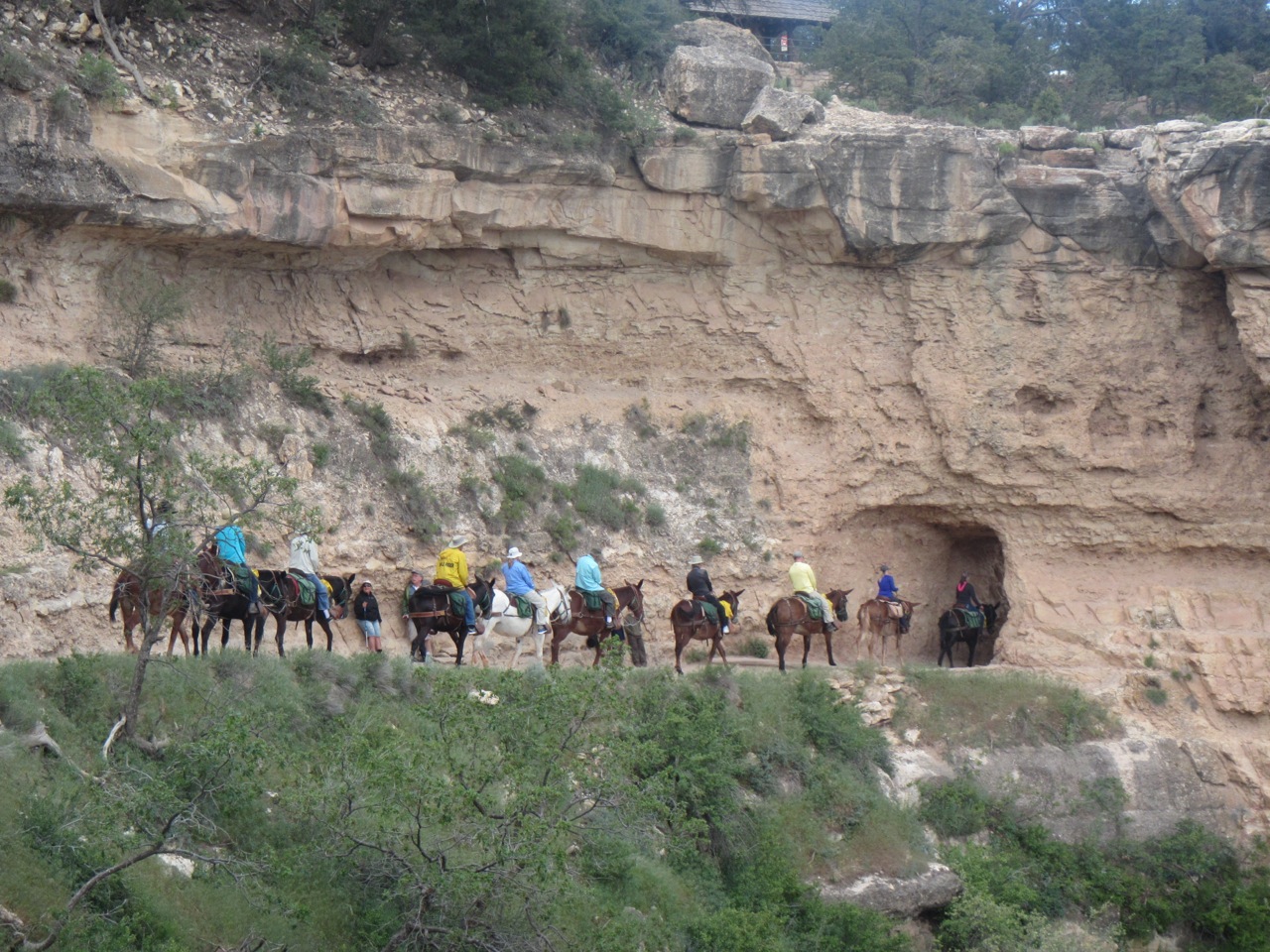 We would go on to have many adventures in the Grand Canyon that week, from taking the kids into the rim on the Bright Angel Trail to taking the free shuttle bus up to Hermit's Point and back (the road is closed to vehicles, but bikes are allowed). The Guide, the park's handout, lists numerous hikes and activities. The most memorable for me will always be the 16-mile hike that almost killed me. For other hikes, check out this page.
Aside from outdoor activities, Grand Canyon has lodges (with restaurants and bars), a General Store, and a community library where you can, theoretically, get Wifi (it's the slowest signal ever, so don't get your hopes up). For things to do in Grand Canyon, see this official list, and enjoy!