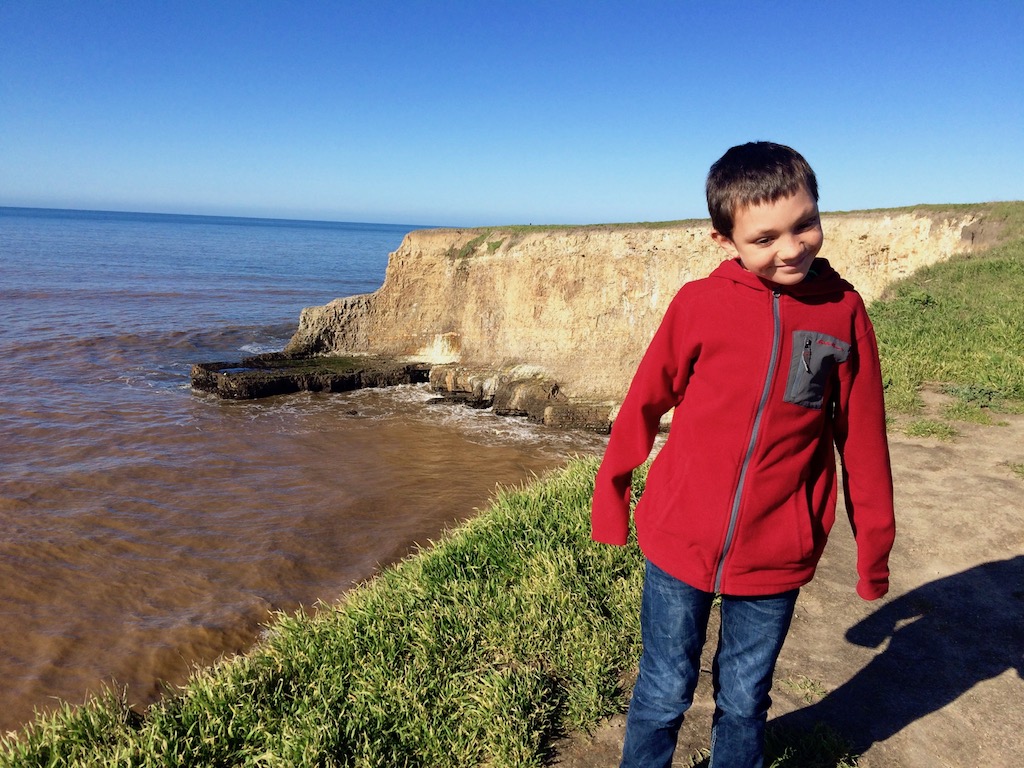 Re-entry to whatever you used to call home after years of world travel can be a bitch. There's no better way to deal with the experience than to just rip it off like a bandaid and hope the wound underneath doesn't re-rip too.
When we left on our great adventure, we had planned and budgeted for two years of travel. We weren't sure what we would do when that period ended. We just sort of hoped it wouldn't. Maybe I'd pick up some digital nomad work. Maybe Pierre would teach English or French somewhere. We got rid of all our possessions before we left, so we weren't obligated to go back to where we started.
As it turns out, though, we were so busy planning the next destination (often last minute!), homeschooling the kids, keeping up with administrative tasks, working on the travel blog, exploring our rich surroundings, and moving on to the next spot that we never got around to figuring out the end.
Or maybe that was just denial.
In any case, when our two-year deadline came, reluctantly, we returned to the San Francisco Bay Area, the sight of our previous home and where we had friends, business contacts, and familiar communities in which to engage our kids (like soccer clubs and art classes).
The idea was to get a temporary house that wasn't wildly expensive, buy a cheap car to get around in, get the kids back in some kind of school (to give them community, and us some time back), and then use that extra time to look for work, all while keeping expenses at a minimum.
We never thought of this move as returning home or settling down. We thought of it as making a fuel stop. As in: we needed to refuel our bank accounts, and ourselves. We loved our travels, but had hit burnout. We needed to stop for a while and rest up.
Refueling or Settling In?
After overcoming sticker shock, we managed to find a reasonably priced vacation rental in nearby, laid-back Santa Cruz, right by the beach. The place made us feel we were still traveling, but perhaps this was just more denial.
It ended up taking over three bureaucratic weeks to get the kids in school, but it happened. The kids love it and we got some free time. But in the first week, we already started to feel sucked into the kind of routine we ran screaming away from. We had to set alarms, make sure the kids got to bed early (no more late movies!), and do the drop-off/ pick-up shuffle. We could no longer take off on a whim, either. We would have to plan adventures around school holidays, like most everybody else. We began to feel a squeeze on our precious autonomy.
Surprisingly, we adjusted to our new schedule quickly, maybe because it was new! Yet, we still worried about what would happen once we started working. More than anything else, we feared going back to the way things were before we left: our lives drowning in a perpetual onslaught of work, school, errands, obligations, routine. We feared our old, suburban juggle.
What I failed to consider, though, is that we are not the same people we were when we left. Our travels have changed us. We've learned and grown and adopted a new perspective. We know better now than to put up with a miserable situation (life is too short for that!), or to sweat the small stuff, and we are tangibly aware of how lucky we are to have what we do. So, our lives couldn't possibly go back to the way they were, not exactly, anyway. It's like that quote at the end of the classic film, Thelma and Louise, when Thelma says, "…Something's, like, crossed over in me, and I can't go back."
Who Are We Now?
In the meantime, though, who are we supposed to be? Where do we belong? And where do we go from here? In this new world, between our nomadic lives and this more settled phase, it can be easy to feel lost.
As Pierre and I respond to work leads and go on interviews, we realize that we're simply in an adjustment period. We have to balance between the things we need to do (to survive and provide for our kids and secure our own aging asses) with the things we want to do, the things that light us up and bring us passion, and we have to accept that it may take some time to find our sweet spot. We'll need to reinvent ourselves. Again! This time, though, we're going to have to dig deeper and closer to our purpose. It can be exciting and thrilling, as long as we don't allow it to be too frightening.
Change is uncomfortable. It just is. I try to remind myself, though, that we're just on another journey, and if we could find a way to give up our possessions and travel the world for two years, then what's to stop us from achieving the next dream?
Routine and obligation has its place, but not to the point of suppressing our more creative, free lives. We recognize that we all need community, but then, there are many ways to create it.
For the first couple of months back in the U.S., I kept hearing in my head the song by The Clash, "Should I Stay or Should I Go?" I think it's all a matter of lifestyle design. And gratitude in knowing we have choice. Many do not.
This blog post, including photos, is copyrighted (c) 2017 by Cindy Bailey Giauque and is an original publication of www.mylittlevagabonds.com. Please join us on Twitter and Facebook. Happy travels!