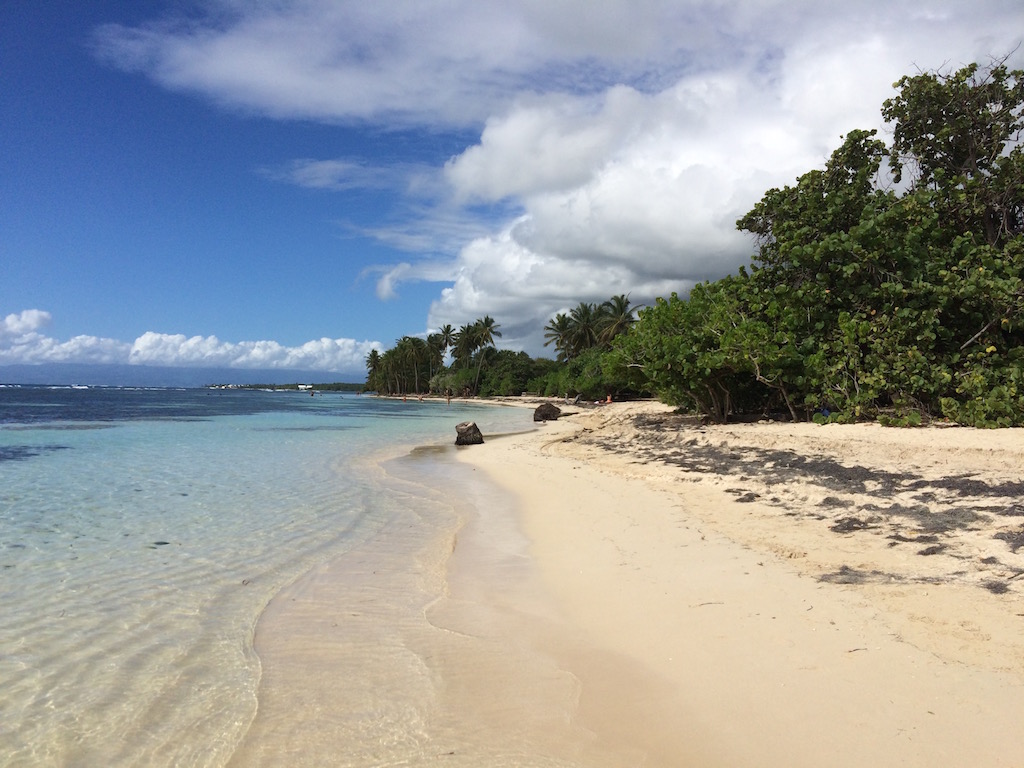 The French Caribbean islands of Guadeloupe are not a tourism-focused, party destination, which is one reason they're great for families, especially active families. Instead of all-night dance clubs or riding jet skis (which are hard to find outside a handful of high-end resorts), you'll get a much more authentic experience!
This group of five islands, owned by France, is best known for its stunning natural beauty, which includes an abundance of the most gorgeous, uncrowded beaches you'll find anywhere in the world, lush rainforests, beautiful waterfalls, and one volcano (called Soufrière). Visitors—who are mostly French along with a handful of Canadians and sometimes Americans—come to hike (there are trails everywhere!), bike, surf, scuba, snorkel, kite surf, windsurf, sail, and paraglide, as well as nap in hammocks, sit on beaches, and soak in thermal bath waters.
The islands also offer an abundant opportunity to dip into local culture, which is a blend of French and African-Caribbean Creole. This means baguettes, the French language, use of Euros, and restaurants that serve food only between 12 and 2, or after 7, as well as creole food, lively creole music, steal drums, Caribbean spices, and a wide selection of quality rums. Local drinks include the Ti Punch (strong-ass rum with a swirl of sugar syrup) and the Planteur (a fruit punch cocktail made with, yep, very strong rum).
Grand Terre and Basse-Terre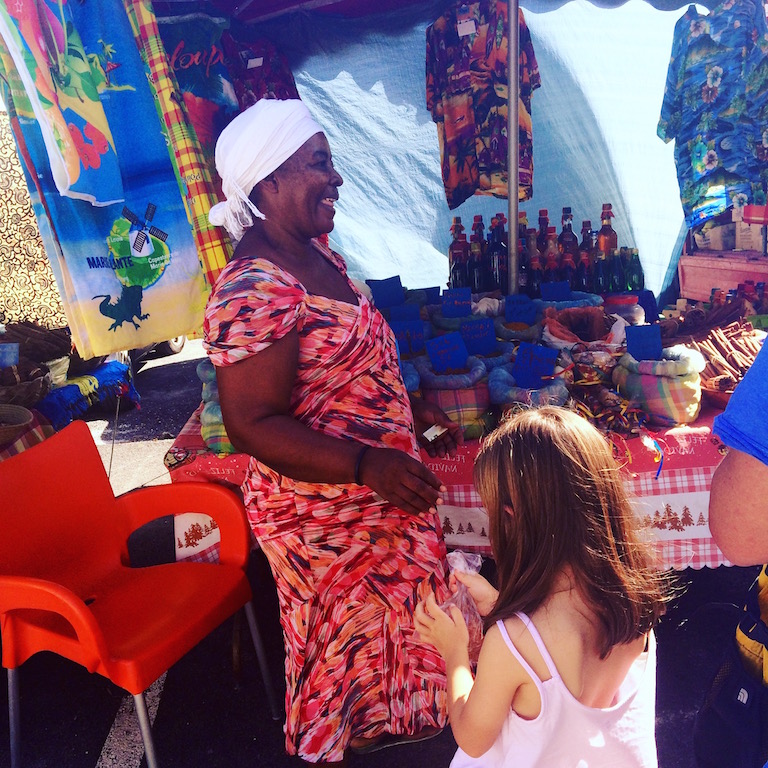 Most visitors stay on one of the two large islands of Grand Terre or Basse-Terre, which are so close to each other that a highway connects them over a bridge. On Grand Terre, in addition to its idyllic beaches, you'll find the more touristy towns of St. Anne and St. François, which have shopping, open air markets, and beachside restaurants. Le Moule, where we stayed, also has a few lively restaurants; a busy, quaint down-town; and some of the best surf spots on the islands.
The more low-key, nature-oriented Basse-Terre offers hikes through its massive national park and up to its volcano (called Soufrière), as well as more gorgeous beaches and the Jacques Cousteau Marine Reserve, for scuba and snorkeling.
Best Beaches
Here's our list of the best beaches on on Guadeloupe's two main islands. I also include information on hiking trails, if the beach has one. (Note: "Plage" means "beach" in French.)
#1 Plage de Bois Jolan (Grand Terre)
It's hard to call one beach your favorite, but this is it! (See cover photo!) Located between St. Anne and St. François, this beach is a dream: soft, white sand; calm, clear, turquoise waters; palm trees swaying. Just idyllic. Here are other reasons that make it great: an offshore reef breaks small waves to provide a shallow, protected area for swimmers, which is especially great for kids; there are plenty of leafy trees along the beach for shade and privacy, and to hang your hammock; and it's a very long beach with plenty of dirt road access, so room for everyone. And also, not crowded.
Jogging/ Hiking Trail: I also like it because it has a great dirt-beach trail that starts at the beach of Grand Sable, goes up over a hill, through a tropical forest, and then along the beach seemingly forever.
#2 Caravalle Beach (Grand Terre)
I'll make this confession straight up: Caravalle Beach is the only beach on this list that we never made it to, but many told us to go there, so I'm including it. Club Med has set up on this beach, and it is purported to have the whitest sand, be the prettiest beach on Grand Terre, and be excellent for kids. It's also located right next to St. Anne, which has a slew of beachside restaurants and an open market selling souvenirs, Caribbean spices, rum, fruits, and more. It includes amenities: toilets and restaurant stands nearby.
#3 Pointe des Chateaux (Grande Terre)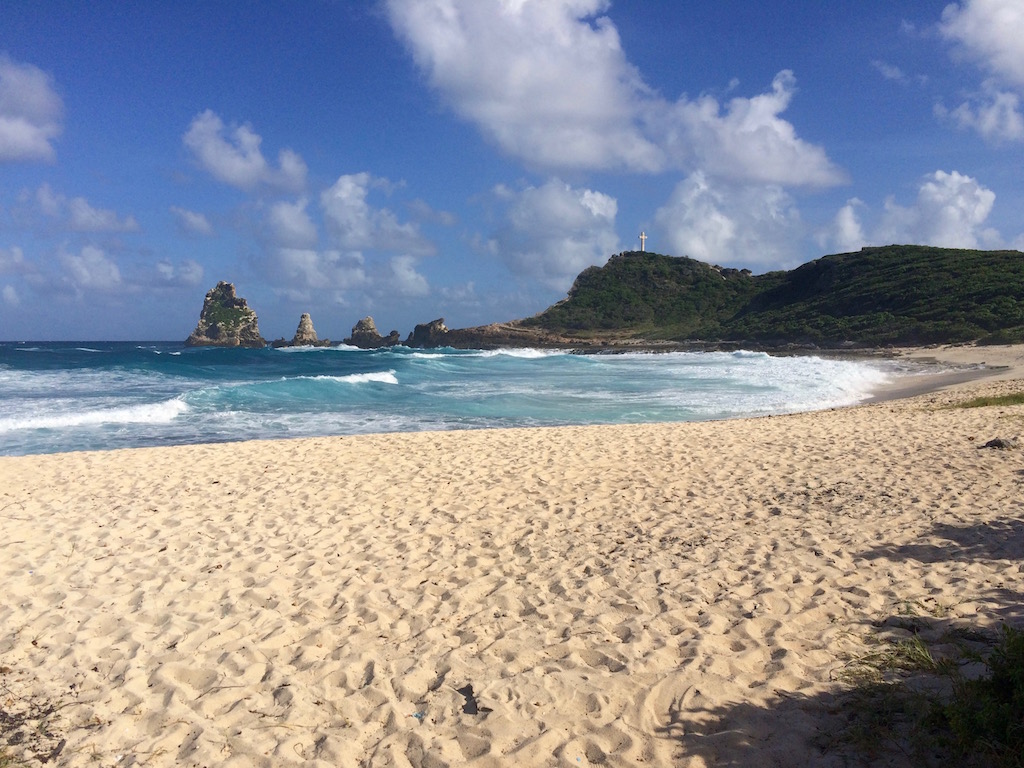 This is more of a point of interest on a beach, but what a stunning one it is! Located at the very easterly tip of the island, you park, then take a short hike up to a large cross on the top of a steep hill and prepare for those stunning views: craggy rocks and large waves crashing and rolling over white sands. Back at the parking lot, there are a number of kiosks selling food, drinks, and homemade coconut ice cream. If you walk along the beach in the northwest direction, you'll hit a stretch of beautiful beach with mild waves, perfect for swimming, and if interested, some OK snorkeling. If you continue walking that direction, you'll hit another of our favorite beaches: Anse à la Gorde see below).
Jogging/Hiking Trail: There is a path along the shore from Pointe des Chateaux to Anse à la Gorde.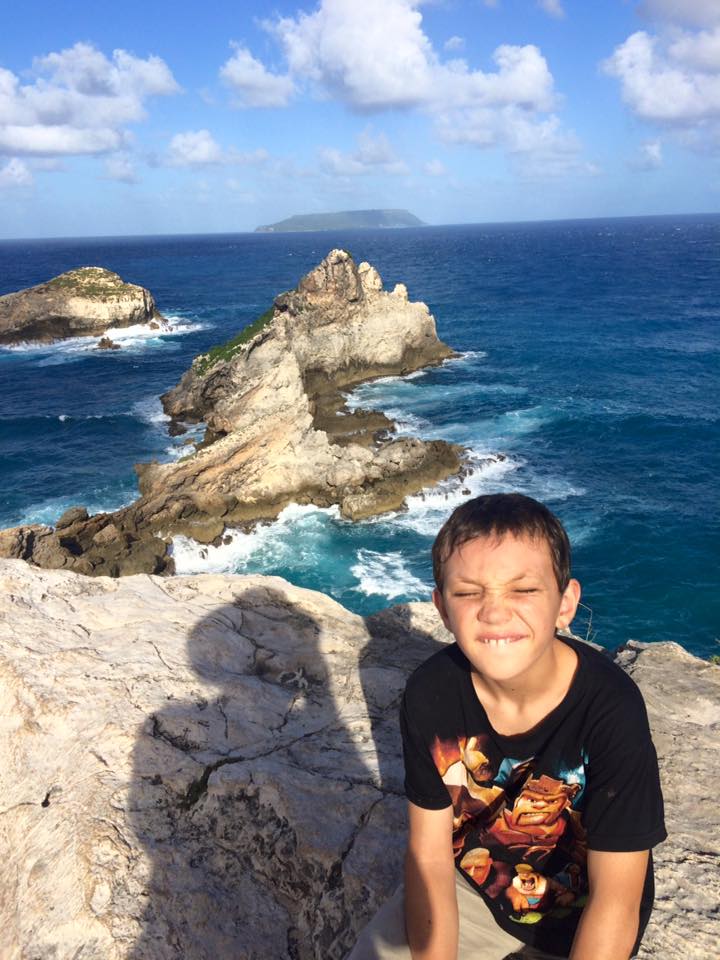 #4 Plage Malendure (Basse-Terre)
This popular, lively beach located near the town of Bouillante on Basse-Terre has a lot going for it. Although it has darker, almost black sand (from the nearby volcano), its very soft on the feet and there are no corrals or rocks to negotiate when getting in the water. The beach is located in a large, wide bay, which makes the waves gentle for swimming and offers plenty of snorkeling. If you head to the far north area of the bay, you're almost guaranteed to see turtles, feasting on grass at the bottom.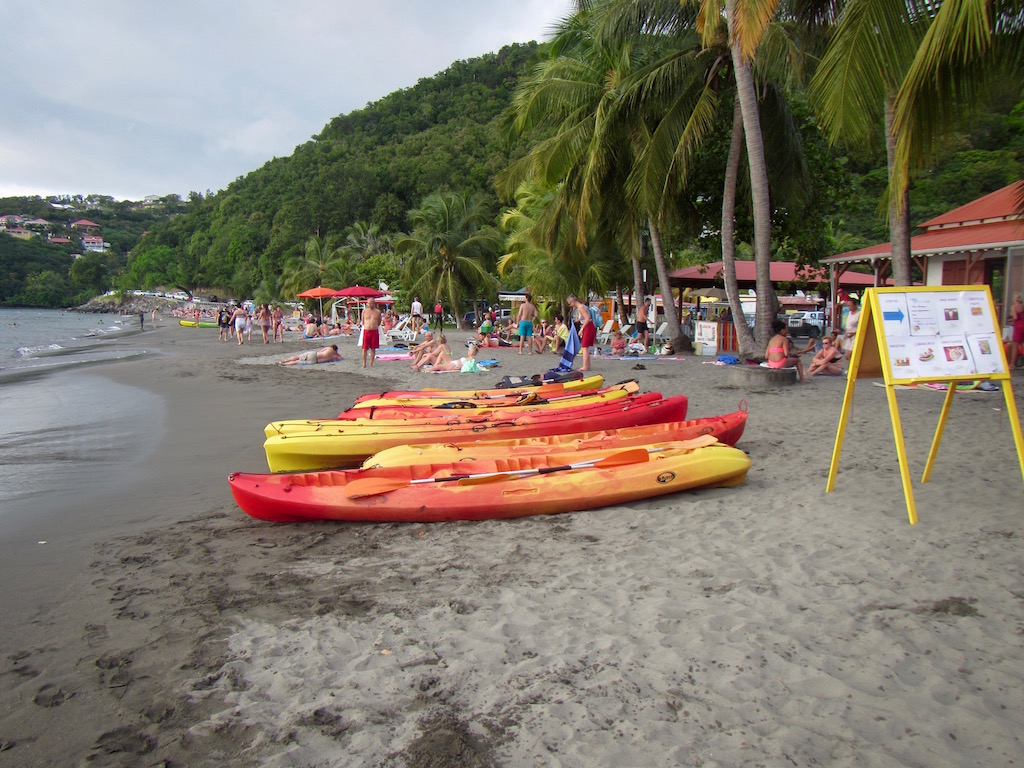 This beach is also across from the nearby Pigeon Islands where the Jacques Cousteau Marine Reserve is located. There are three beachside scuba diving companies that offer both scuba and snorkeling trips out there three times/day, the best one being PPK. We paid 18 Euros each, including equipment, to take the boat and snorkel the reserve for a little over an hour. The staff watched our kids when they tired out ahead of us.
On the beach itself, you'll find plenty of food stands, beer and cocktails, souvenir stands, and kayak rentals (it takes about 20 minutes to kayak out to the Pigeon Islands). Toilets there too.
#5 Anse à la Gorde (Grand Terre)
You can drive directly to the dirt parking lot for this beach located on the north-east side of the island. Light, rolling waves, plus a small area protected by rocks/reef that is ankle to knee deep (depending on the tide) and perfect for toddlers and young kids. I also like that on in the parking area there is a restaurant/tiki bar, where you can get snacks and order drinks, which you can take to the beach. It is a relatively popular beach (maybe because of the bar), so you won't be alone here, but it's not too crowded either.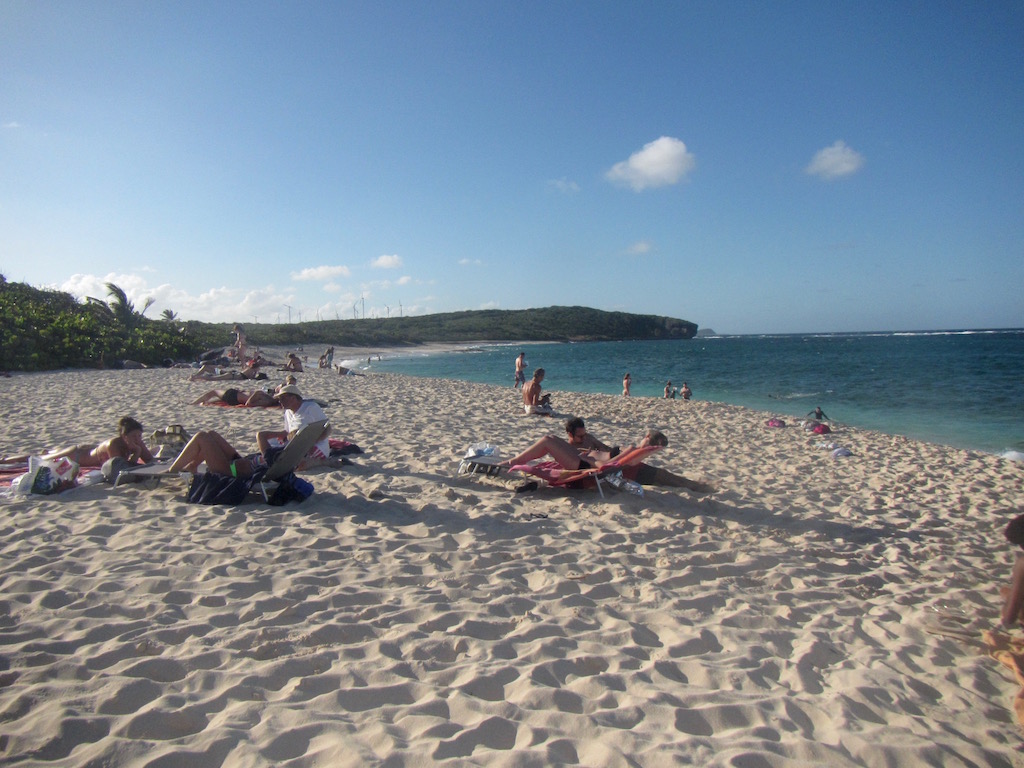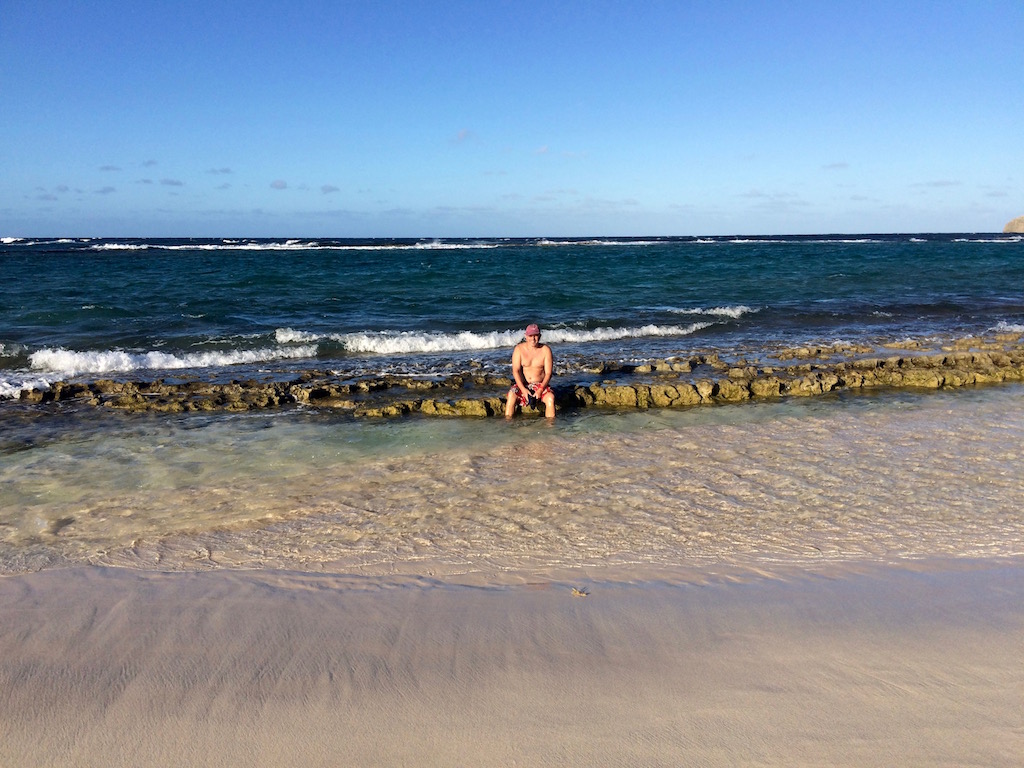 #6 Plage des Alizés (Grande Terre)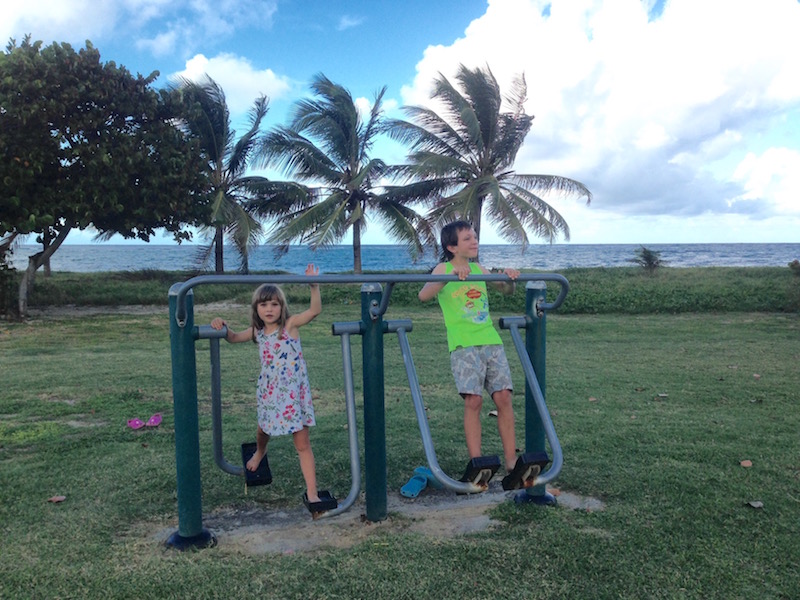 This small, local beach is located right next to L'Autre Bord beach (which has deeper turquoise waters and kite surfers) in  Le Moule, the town where we stayed for a month. Plage des Alizés is not a large beach and not many tourists know about it, but like so many, with its white sand and turquoise waters, it's gorgeous. The reasons we love it: 1) Before the beach is a flat lawn with outdoor exercise equipment that our kids love to play on! 2) Easy swimming. You'll find the beach toward the end of the stretch of lawn, where there's an open-air house (a roof only). You can only really enter the water in the one area that has a sandy bottom, and once you're in, you've got a swimming pool-like area (with sandy bottom) to swim in! A wall of reef protects you from the waves, and the water doesn't get deeper than shoulder level. 3) Plus it's quiet, peaceful, tranquil, and you can sit and watch the kite surfers and wind surfers that flock to this area, mostly on weekends.
Jogging/Hiking Trail: A beautiful, diverse, mostly flat trail runs from this beach area all the way to Porte D'Enfer. It goes by the beach, over black, craggy rocks, past a cow pasture and up over a hill in the rain forest. I jogged it almost daily.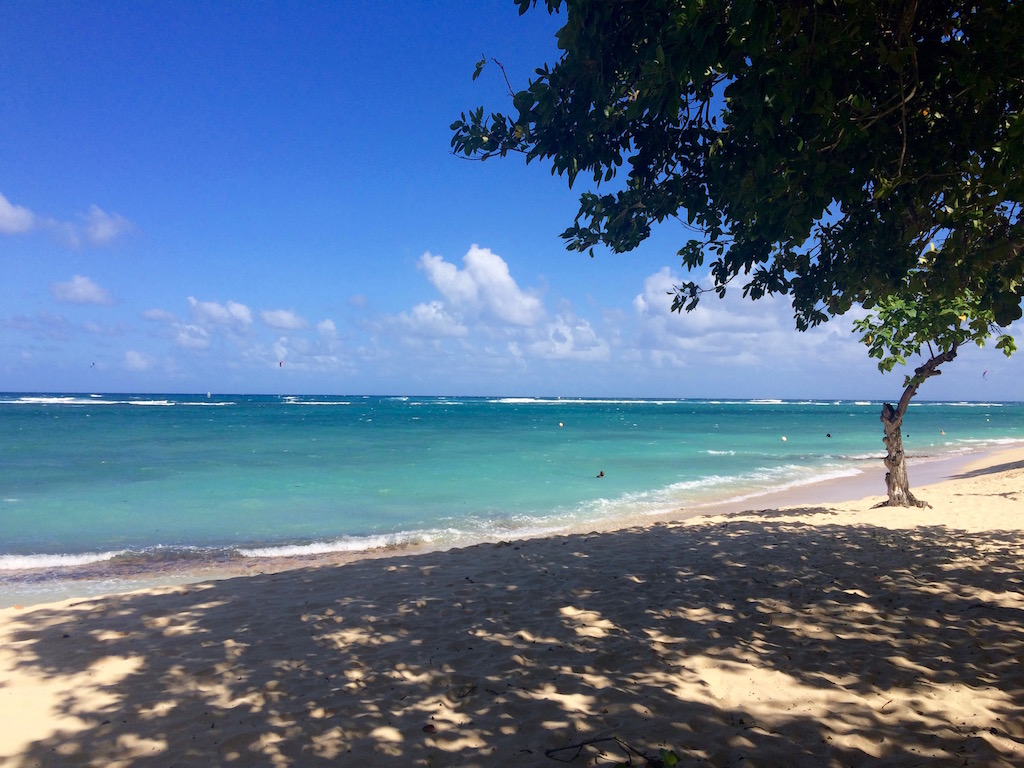 #7 Plage de Cluny (Basse-Terre)
This gorgeous, expansive beach with its light yellow sand, clear, turquoise waters, and mild waves is located near Sainte Rose in the north part of the island. A few locals rested and played here, along with a handful of tourists. Peaceful, quiet, natural. No facilities.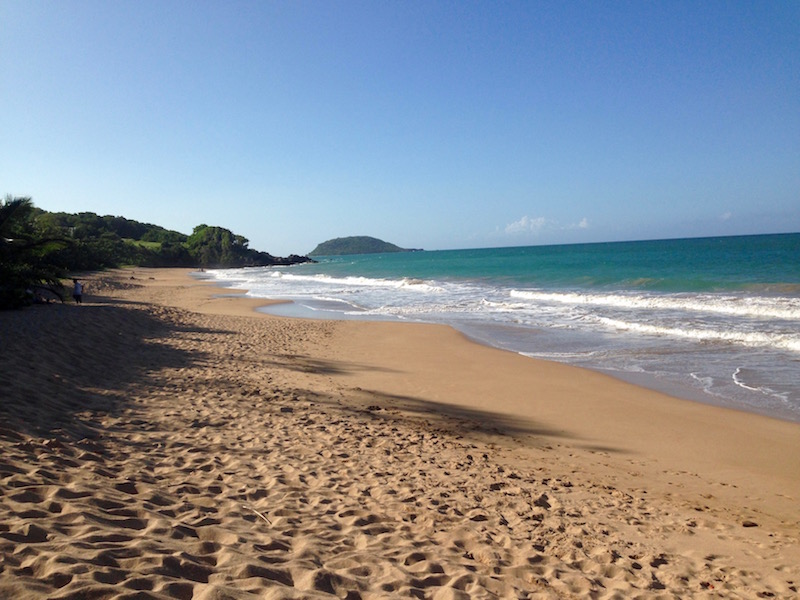 More on Hiking
Pick up a Trail Map: Guadeloupe has over 100 hiking trails, near beaches, past waterfalls, through rain forests, and up to their volcano top. You can pick up a map that shows over 30 trails on Grand Terre and Basse Terre at any Office of Tourism.
Hike Soufrière: If you're into hiking, I highly recommend a hike on Soufrière, the volcano, which offers amazing scenery along the diverse, steep, rocky trail and stunning views when the clouds aren't fogging things up. You don't have to take the trail to the top of this 4,800-foot volcano; there are other options. Kids can do it too, although the last 10 minutes to the top becomes very dicy, with high winds, drizzle from the constantly passing clouds, and slippery rocks you have to climb up and over (so that was our turn-around point).
For more information on hiking, see this web page.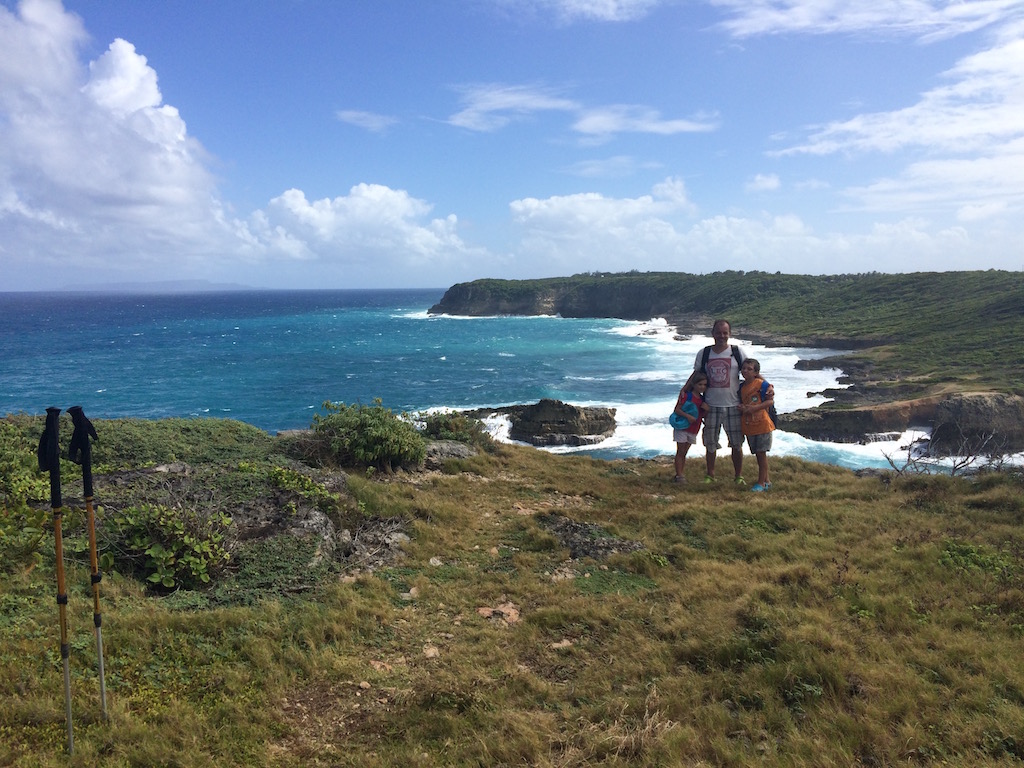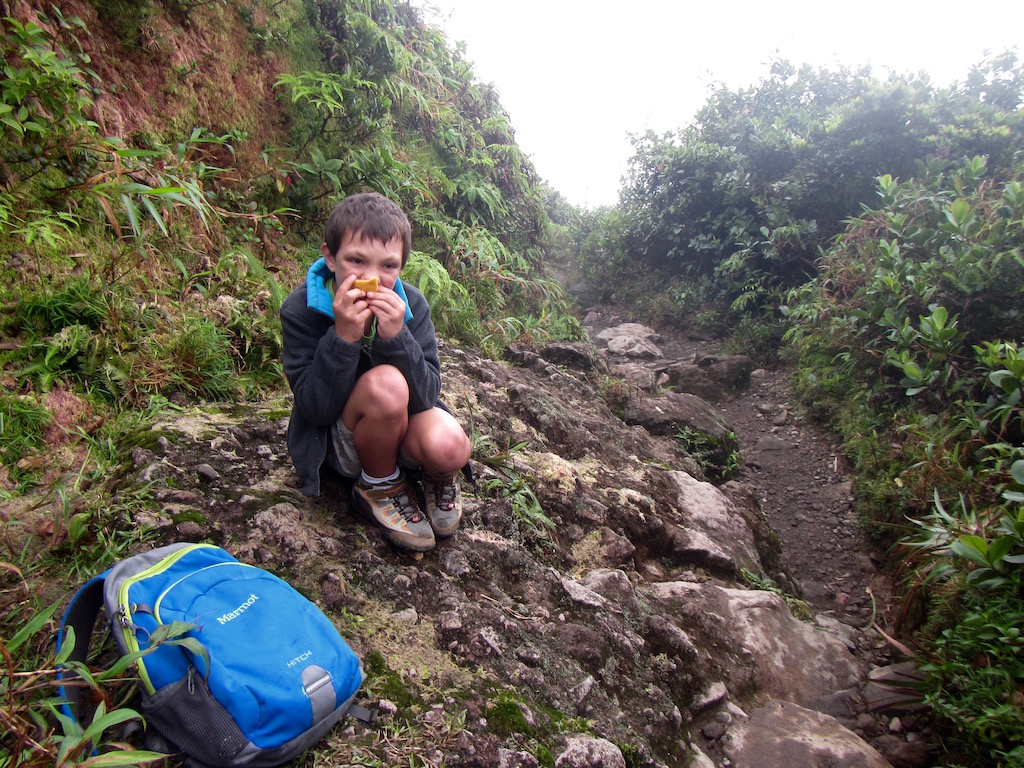 This blog post, including photos, is copyrighted (c) 2016 by Cindy Bailey Giauque and is an original publication of www.mylittlevagabonds.com. Please join us on Twitter and Facebook. Happy travels!