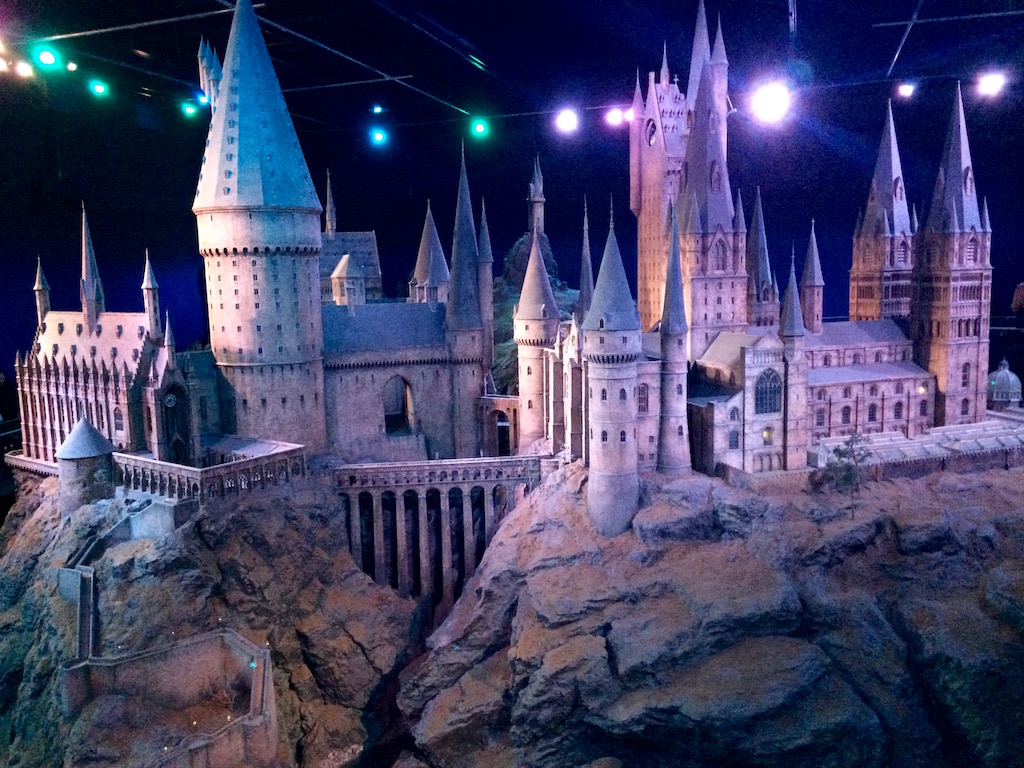 If you visit London with kids, you must go to the Harry Potter tour at the Warner Bros. studios just outside London, even if you are not a fan! This is the actual place where all eight Harry Potter films were made, and witnessing the incredible craftsmanship and cinematic secrets that went into the making of those movies is nothing short of magical!
My 10-year-old son is the rabid fan, not me. And yet I was enamored with the experience: the behind-the-scenes stories; the plethora of detailed props; the elaborate settings; the green screen magic; the thousands of models, art works, designs, and animatronics; the Knight Bus, the magical flying car, the house on Privet Drive, Diagon Alley, the broomsticks on which visitors can catch a ride through London themselves… It was all there, and wonderfully laid out for visitors.
But I'm getting ahead of myself. Why don't I just take you through the tour?
Tickets – Get Them Early!
First, get tickets online, weeks in advance! I had planned a five day mother-son trip to London, and only the week before did I think to look into tickets. I got lucky! There was one time slot left on the last day of our trip!
When you buy tickets, you choose an available day and time slot, which can range from 10 a.m. to 6:30 p.m., and the tour lasts an average three hours. Ticket prices vary depending on the package, but it's about £ 30 to 40 pounds per ticket, with children under 4 free. Know in advance there is a cafe at the entrance/exit to the tour and about half-way through the tour as well. Bathrooms (or toilets) are everywhere as well.
Arriving
The Warner Bros. studios are located in Leavesden, which is a good one to two hours from central London, depending on traffic, so plan in advance, because if you miss your time slot, they can't guarantee you another. You can either drive, take the train, or a shuttle bus to get there. For more information, see options here.
We drove, and parking at the studios is free. Parking attendants direct you; you just need to show a copy of your online tickets.
At the outside entrance to the studios, you are greeted by three huge statues. "Those are the chess pieces from the movie!" Julien told me. And so the excitement begins! Still outside, you will need to go to a teller or use an automated machine to print out actual tickets, then enter the building.
Note: Your bags get checked (see arrival info here). Know that you are allowed to bring in food and drinks, and there is a designated area between studio buildings where you can stop and eat.
Inside the Lobby, Waiting
In the lobby, you'll see the flying car and life size portraits of the characters on the walls. On the right is the studio shop, and on left is a cafe, serving sandwiches, salads, desserts, and drinks, including beer and wine.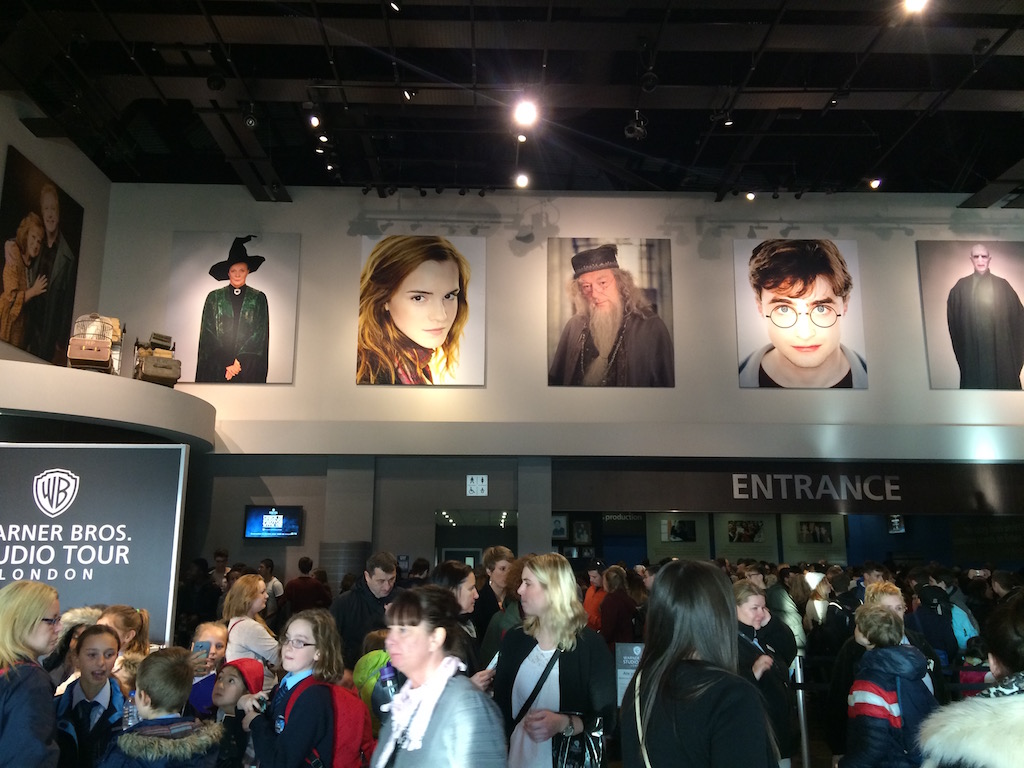 We arrived early, at 3:15 for our 4 p.m. time slot, which was great because it gave us time to peruse items in the shop before our tour, from scarves for all the houses in Hogworts to trinkets, and the piece de la resistance: the magic wands of each character.
At £ 27, these fancifully carved sticks are not cheap, but every kid (and many adults) want one. My grown cousin, whom we visited the night before, himself had a Snape wand, and he became Julien's favorite uncle when he let Julien hold it and make spells while watching a Harry Potter movie on his big screen. In the end, Julien talked me into getting him one as an advance on his birthday present. As we had the last tour of the day, the shop was out of wands for Harry, Ron, Snape (very popular), and Sirius (which Julien wanted). Julien settled for Hermione's wand, which we were told would sell out soon too. They come in their own velvet lined box, like jewelry.
Entering the Tour
We finally got in line at 3:45, which got us in first room of the tour at 4:25. (Note: The staff don't let people into the official line until at least 10 minutes before your time slot.)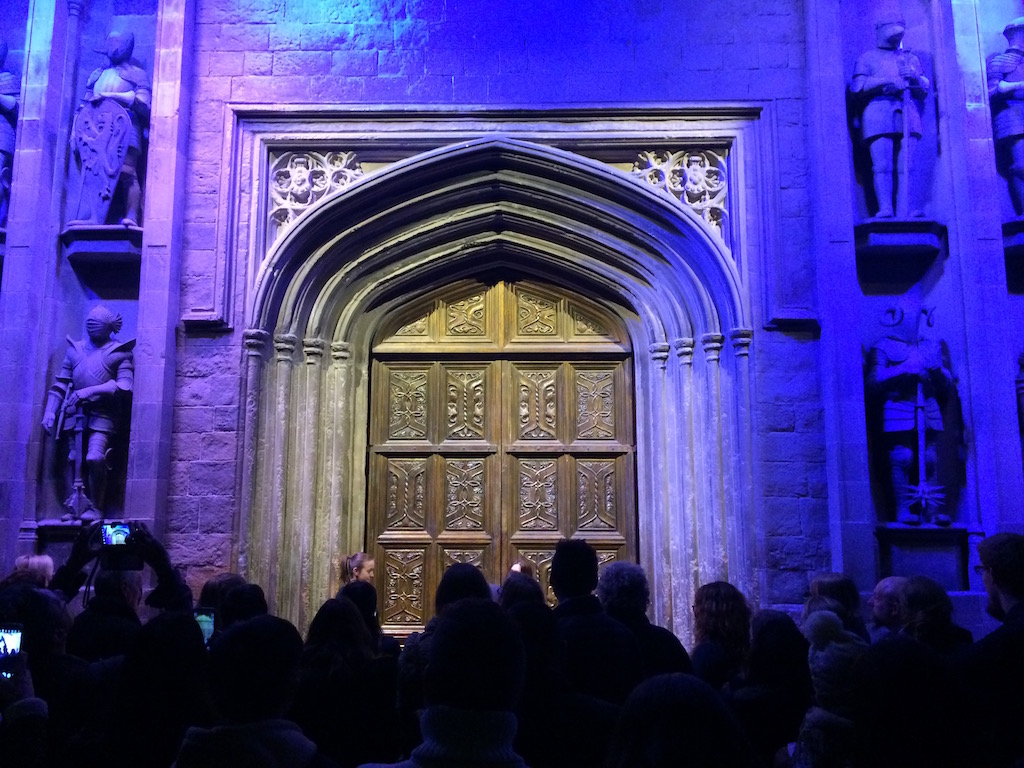 The staff let about 100 people at a time into the first room, closing the doors behind them. It's basically standing room only and all four walls show video of Harry Potter films and behind-the-scenes footage while a tour operator engages the audience by asking where we're from. She lets us know that in the next room, we'll learn a few rules about the tour, and then doors open to the next room, which is a theater with seating and a big screen. There we hear about how the tour works, a few rules, and then watch a short film about the making of Harry Potter movies, told and narrated by the three main actors: Daniel Radcliffe, Emma Watson, and Rupert Grint.
Afterwards, the magic began, as the lights in the theater came on and the movie screen lifted up off the floor to reveal behind it: the giant double doors that lead to the great dining hall of Hogwarts. That was a surprising, magical moment!
The Tour Itself
For the remainder of the tour, you are free to move from one giant room or studio space to the next at your own pace, taking as many photos as you like. And there is plenty to see!
Although it was busy, it was never too crowded to get your picture in front of anything, and to take a close look at the exhibits. Some stand outs include Dumbledore's office, the inside of Hagrid's house, the fully animatronic bird, Buckbeak, the animatronic version of Hagrid (used when Hagrid is filmed with others, to show his large size), the train that carries kids to Hogwarts, and an impressive full scale model of Hogwarts used for filming long shots. It fills a whole room and appears about ten feet tall! A fast-motion camera captured its construction, which took 80 days.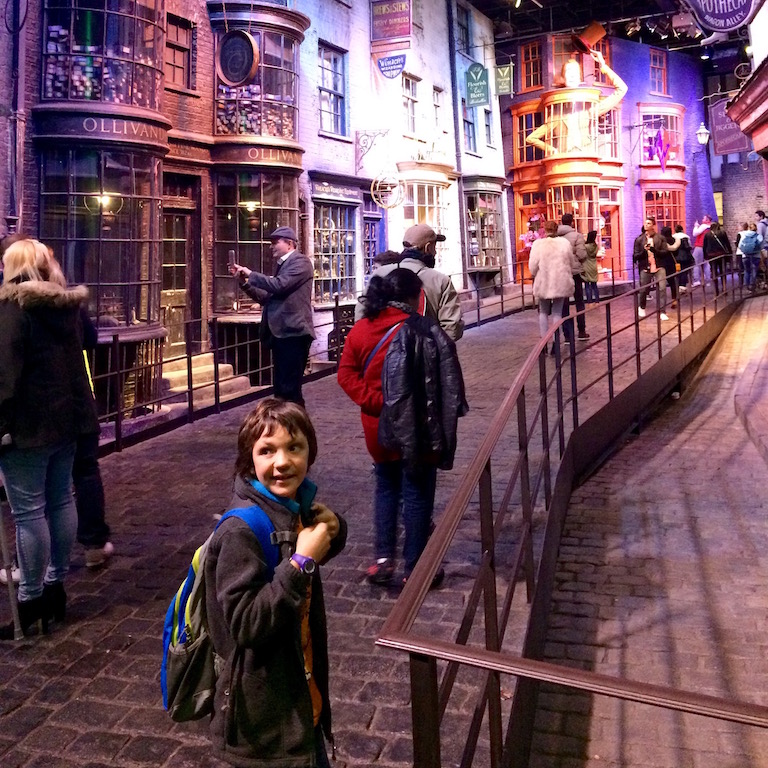 Julien also loved riding the broom against a green screen, so that it appeared he was riding through London. (Note: They don't allow pictures for this, I supposed because they sell their own photos of you for £ 14 pounds!) Julien also loved the booth where a video teaches you how to hold a wand and the three physical positions for casting spells. He loved getting into the magic flying car and  stepping onto the Knight Bus.
Our tour eventually finished at the shop near the lobby entrance at 6:15, so we went through the tour in about two hours, but I could see others taking longer. Afterward, Julien and I slipped into the cafe off the lobby and had ourselves a light dinner before heading to our hotel in the area (a Holiday Inn Express with a lovely British breakfast included).
The Harry Potter tour is very well organized and displayed, and there is so much to look at, to see, and to learn, especially about how special effects are created and how movies are made. It was like spending two hours in a fantasy world, which I think is the point! Next time we're in London, I would go again, and perhaps take more time at different exhibits.
For more information, visit this page. See below for a few more photos of the tour!
This blog post, including photos, is copyrighted (c) 2016 by Cindy Bailey Giauque and is an original publication of www.mylittlevagabonds.com. Please join us on Twitter and Facebook. Happy travels!