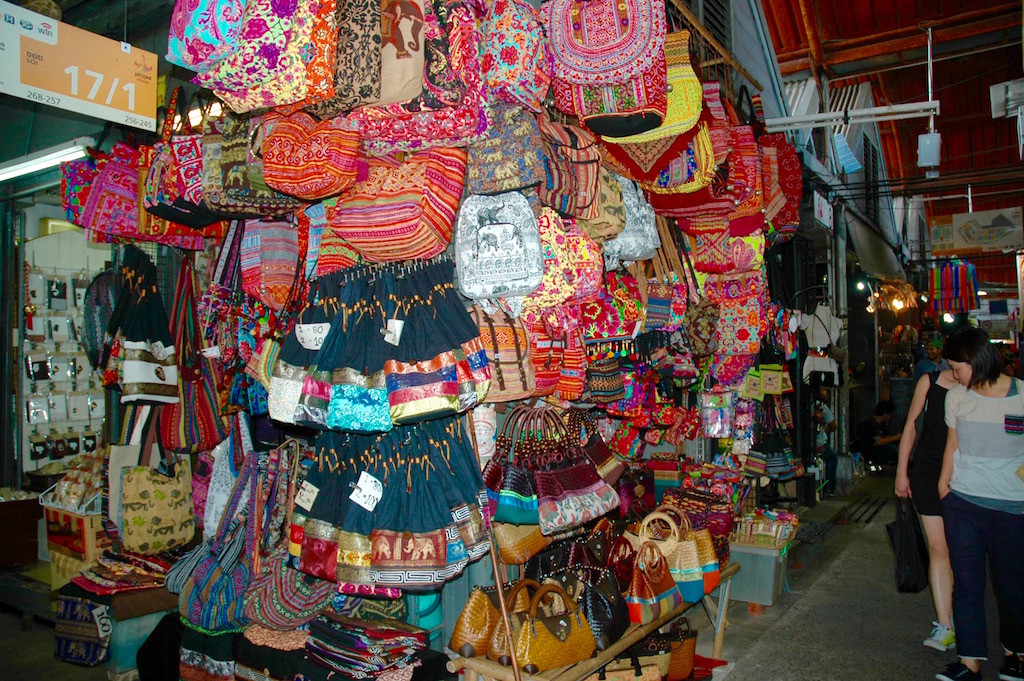 If you like shopping for exotic items in open air markets and love deals, the markets in Southeast Asia really deliver! Items are often (but not always) cheap, and bargaining is part of the game.
After almost a year traveling through Southeast Asia, I've come up with my list of top favorites, based on variety of offerings, size, and atmosphere. Although all major cities and towns in Southeast Asia have at least one market catering to both locals and tourists, a few stand out as world-class favorites. The first three on this list are in that world-class category.
#1 Night Bazaar in Chiang Mai, Thailand
This is my favorite market in the world, and the place to shop in Thailand for exotic, unique, handcrafted items. First, it's huge! Second, you'll find a large variety of culturally distinct products, such as embroidered, silk cushion cases; jewelry; colorful, stringed lanterns; Thai silk scarves; wood-crafted objects; and so much more. More standard items, such as T-shirts, shoes, and cheap sunglasses are also here. Because Thai handcrafts and souvenirs are made primarily in this northern region, markets in Chaing Mai tend to have a larger variety of them than elsewhere in Thailand. Indeed, one year I purchased 10 beautiful silk change bags, all for $1, at this market—and they were everywhere there! Two years later when we came to Bangkok, I wanted more but couldn't find ones like the ones I had bought in Chaing Mai.
This market also includes plenty of food stalls and restaurants with sidewalk seating, and it's just so buzzing and alive! If your main purpose of travel is to shop for exotic souvenirs, come to Chaing Mai. This culturally rich city boasts a large number of street markets.
For more information on the Night Bazaar in Chiang Mai, including open hours and location, see this link.
#2 Chatuchak Weekend Market in Bangkok, Thailand
Following as a close second, is this world famous weekend market in Bangkok. As I've included it on my list of top 10 things to do in Bangkok, I'll just repeat what I said there:
This huge, diverse market, that is only open on weekends, is not to be missed. Not only can you find a huge selection of clothes as well as ceramics, antiques, souvenirs, shoes, art/paintings, and more, but there are also a variety of sit-down food stalls, both fancy and basic, hidden in the depths of the place. One place on the main strip plays upbeat D.J. music and serves paella and cocktails for when you've had enough of shopping. For more information, see this link. For a map, see this link. Note: The Chatuchak Park with a playground and the Children's Museum are both right next door, in case you want to send one parent off with the kids.
#3 Pasar (Market), Ubud, Bali, Indonesia
This daily, two-story, mostly open-air street market in downtown Ubud across from the Ubud Palace offers a wide variety of local products and souvenirs in addition to being colorful and lively. It sells brightly colored sarongs, elaborately designed batik materials, beaded sandals, ceramics, housewares, paintings, and much more.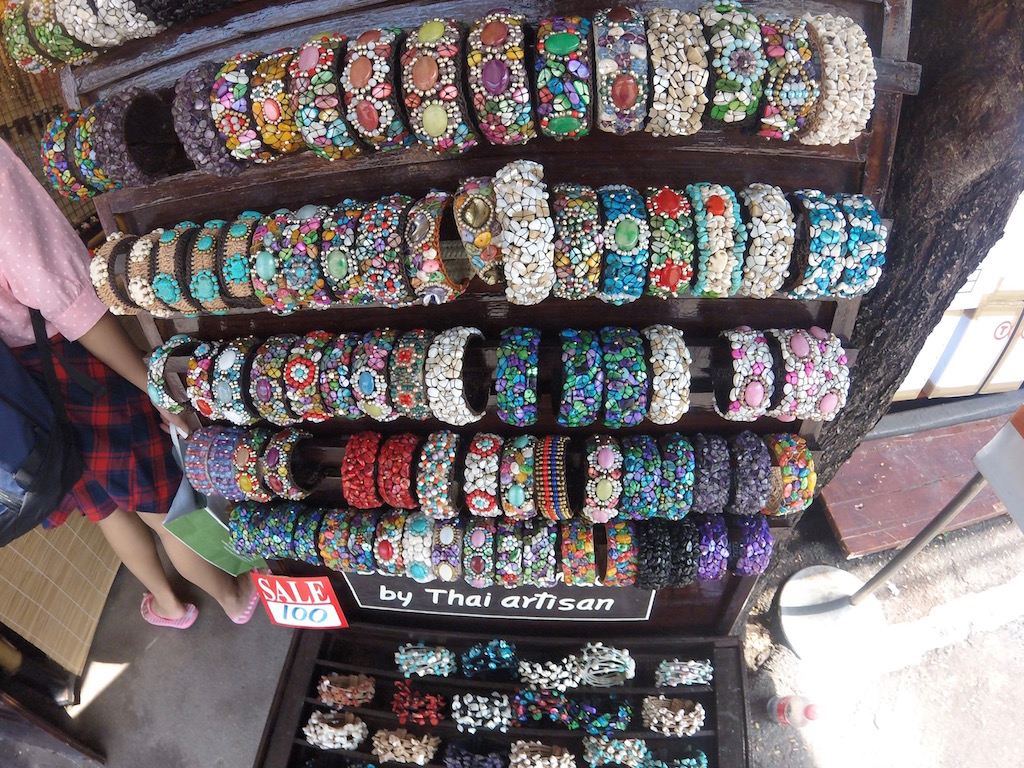 Ubud is known as a center for culture, art, new age mentality, and, I would have to add, yoga (lots of yoga being practiced here!). This quaint town with its boutique shops and restaurants, tucked into a tropical forest is very popular with Western tourists and expats alike (we loved it, too). Because of this, prices quoted at the market tend to run very high compared to other Indonesian markets. So, when bargaining, feel comfortable to start with at least half of the quoted price. Because we had been traveling through Indonesia for more than a month, I had a good feel for the "real" prices for certain items, which were often one-forth of the prices merchants in Ubud quoted to me. I mostly stuck with my prices and often got items for what I asked, or for a bit more.
Other Craft Shops in Ubud…
The other great thing about shopping in Ubud is that there are a ton of craftsmen businesses in the area, especially for wood carvings. So if you want a six-foot, hand-carved, totem-pole face for your home, this is the place to come! You'll be able to get quality work at wholesale prices. The place to shop for wood carvings, furniture, ceramics, and other crafted items, is along Jalan Raya Andong (street), east of Ubud up to the terraced rice fields of Tegallalang. There is shop after shop after shop.
#4 Central Market in Phnom Penh, Cambodia
Housed in a huge, domed, French colonial building, this market sells everything from clothes to souvenirs to jewelry to electronics, and lots of it all. This is the place we bought a replacement iPhone 4 (for $80) for our son, who lost his at the park in Saigon. (He had to help pay for it!)
Open Mon-Sat., 7 a.m. to 6 p.m. More info at this link.
#5 Ben Thanh Market in Saigon, Vietnam
Located in the main area of District 1 in downtown Ho Chi Minh City (the downtown is still known as Saigon), this market not only sells Vietnamese souvenirs, such as lacquer-painted coconut shells or plates, silk paintings, ceramics, conical hats, and T-shirts, along with more practical wares, such as jewelry, shoes, and clothes, but it also has a fantastic section of food stalls, serving some of the best Vietnamese food along with its famous coffee (ask for Ca phe sua da for a traditional iced coffee).
Vietnam is more aggressive in their bargaining techniques than any other SE Asian country (they are not beyond giving you a different price in the end than what you agreed upon), and thus, this is the one place that you also have to bargain for your food (often, bargaining is reserved for goods). Use pen and paper to write out agreed upon amounts, or even get out bills to show vendors. Then enjoy delicious food and fruit smoothies for a very good price.
For more info, see this link.
#6 Pasar (Market) Beringharjo in Yogyakarta, Java, Indonesia
This is a less touristy but very dense/crowded market filled with plenty of souvenirs, sarongs, batik clothes and bags, plus food stalls, and more for excellent prices.
#7 Central and Night Markets in Hoi An, Vietnam
Hoi An, with its beautiful hanging lanterns, the winding alleyways of its UNESCO, ancient town, and fishing village along the Perfume River, has a wonderful, if very touristy, market. The night market along the river comes alive with people and colorful, bright lanterns. Excellent central Vietnamese food is served at restaurants along the market's path, and vendors offer plenty of bargains.
#8 Cho (Market) Dong Xuan, Hanoi, Vietnam
This huge indoor market is a great place to get basic, practical items, such as colorful, fluffy down jackets for between only $8 and $20 a piece (which we badly needed when we arrived in Hanoi two months earlier than planned). But this is not the place for tourist souvenirs; instead, find here more practical items, such as hats, coats, sweaters, shoes, household, electronics, watches, toys, and more.
For tourist items in Hanoi, hit the streets of the Old Quarter. Plenty there!
#9 Floating Markets in Bangkok, Thailand
Most are targeted to tourists these days, but that shouldn't take away from the unique experience of riding a boat and shopping at one of these. For a list of the top five, see this link.
#10 Little India/Chinatown Markets in Bangkok, Thailand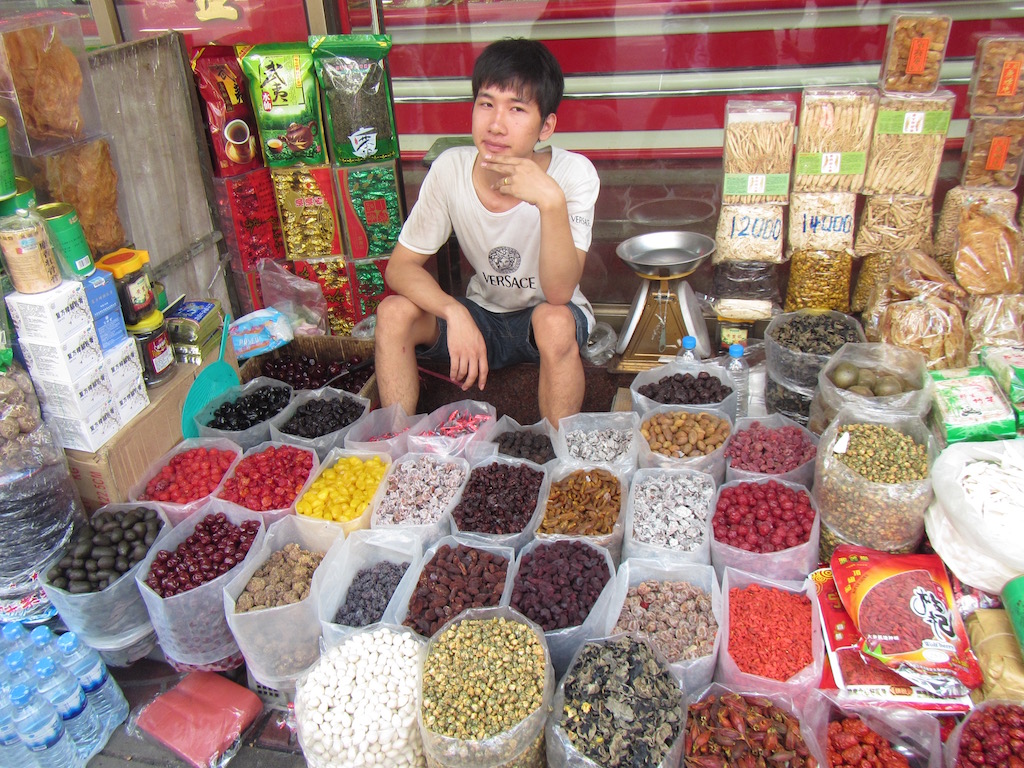 These huge markets that are right next door to each other consist of endless, narrow alleyways and tables overflowing with souvenirs, bags, T-shirts, and anything you can imagine. I loved seeing dark-skinned Barbie dolls in complete Indian sari outfits.
Best reached by ferry on the Chao Praya Express boat; get off at pier N5 or N6.
This blog post, including photos, is copyrighted (c) 2016 by Cindy Bailey Giauque and is an original publication of www.mylittlevagabonds.com. Please join us on Twitter and Facebook. Happy travels!