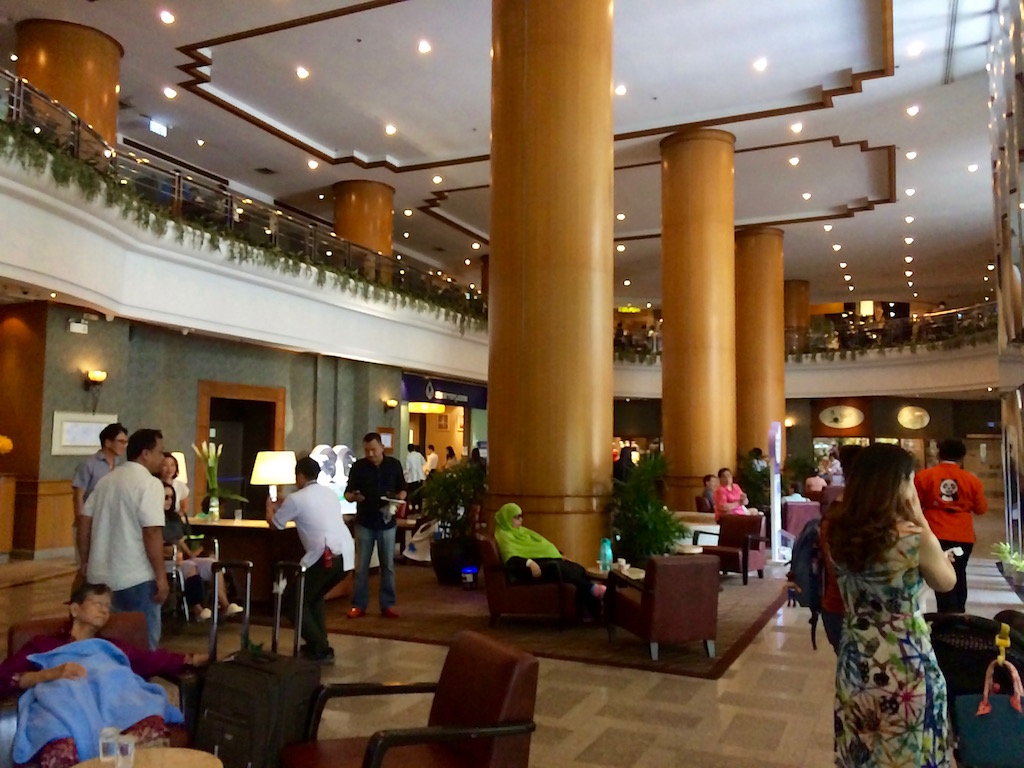 That's right, I was a patient at this internationally famous private hospital, located in Bangkok, Thailand, but arriving there, I felt much more like its hotel guest. 
I had first heard of it from a friend in the U.S. who had lived in Bangkok and mentioned that it was the hospital to go to if you are there and need one. I didn't know, then, that patients travel there from around the globe for all kinds of procedures, from cosmetic to life-saving, either because their own countries offered no such service, or you could get the service at Bumrungrad for a fraction of the cost you would have paid in your home country. I didn't know, then, that it was a darling in the world of medical tourism.
At the time, I just needed the name of a decent hospital in the area so that I could be prepared in case of an emergency. It's part of my trip-planning with kids.
Fortunately, we had no medical emergency. However, it was time for my bi-annual skin cancer screening and I needed a place I could trust to have that done. When you're traveling long-term, you can't really wait until you go "home" for medical care, especially when you don't really have a home anymore (and your world health insurance doesn't cover preventative care anyway). Instead, you look ahead for destinations that have a decent medical reputation and reasonable pricing (that is, anything less than the exorbitant prices for health care in the U.S.).
Research told me that Thailand had a very good reputation for quality health care, so I planned to have my screening while in Bangkok. When Bumrungrad Hospital popped up in my search, I remembered my friend's mention and decided to go there.
Making Contact
Now, I'm going to sound like an ad, but really, from my first initial contact through to an email follow-up, I had an overwhelmingly smooth, positive experience. These people are well-organized, and they really know what they're doing! Granted, though, I didn't have anything major done.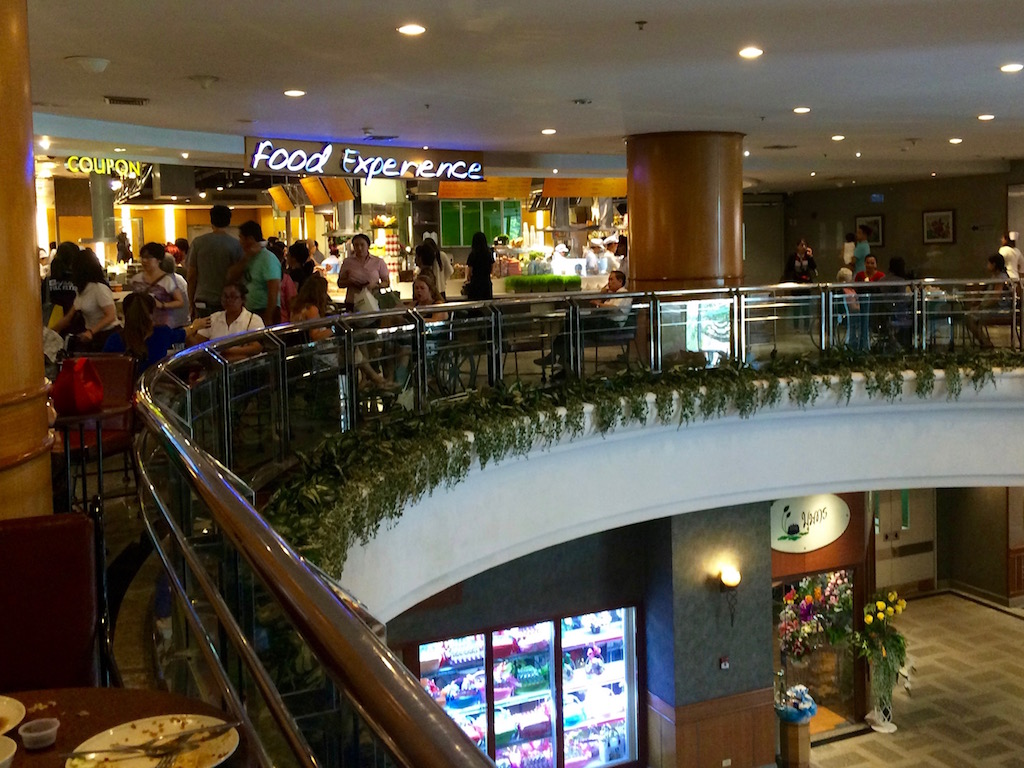 First, I searched their extensive online database for a dermatologist. For each doctor, their credentials, degrees, specialties and available hours are listed, along with a photo and the languages they speak. (All speak English, along with Thai, but many other languages were represented as well). Although mostly Thai, many of the doctors are board certified in the U.S. or have done fellowships or residencies there.
I ended up selecting a doctor who had done a fellowship in southern California, where there were a lot of blue-eyed, pale-skinned people like me who had gotten way too much sun, and then I just called the hospital. The operator who answered greeted me in Thai. I asked if she could speak English. In English, she said that she would take down my name and number and have someone call me in ten minutes.
Five minutes later, someone called and gave me an appointment, along with detailed instructions. As it was my first time at their hospital, I would need to go early to register.
Walking Into the Hospital
Bumrungrad International Hospital is centrally located near the Nana BTS Skytrain stop and, curiously enough, right next to a red light district (Soi 4). Walking along Nana street from the BTS, a sign tells you where to turn left into the hospital grounds.
I took this left and saw a long line of taxis leading up to a couple of tall, modern buildings. I stopped to re-check the directions on my phone's GPS. Yes, that was the hospital, its associated outpatient clinic, and in the back, its residence building (for medical travelers). As I got closer, I noticed a wide assortment of passersby: casually-dressed Westerners, well-groomed Asians, wealthy Muslim families, moms pushing strollers, kids, people with glossy shopping bags, others rolling wheeled luggage, and one tall Western man in a crisp, button-up shirt bouncing past me on crutches. Taxis let people in or out, including two in wheelchairs, in a constant, crowded flow of motion.
Is this a hospital or a busy airport's international terminal?
I entered one of the buildings, and a friendly greeter re-directed me to the building next door, the main hospital, where I needed to register.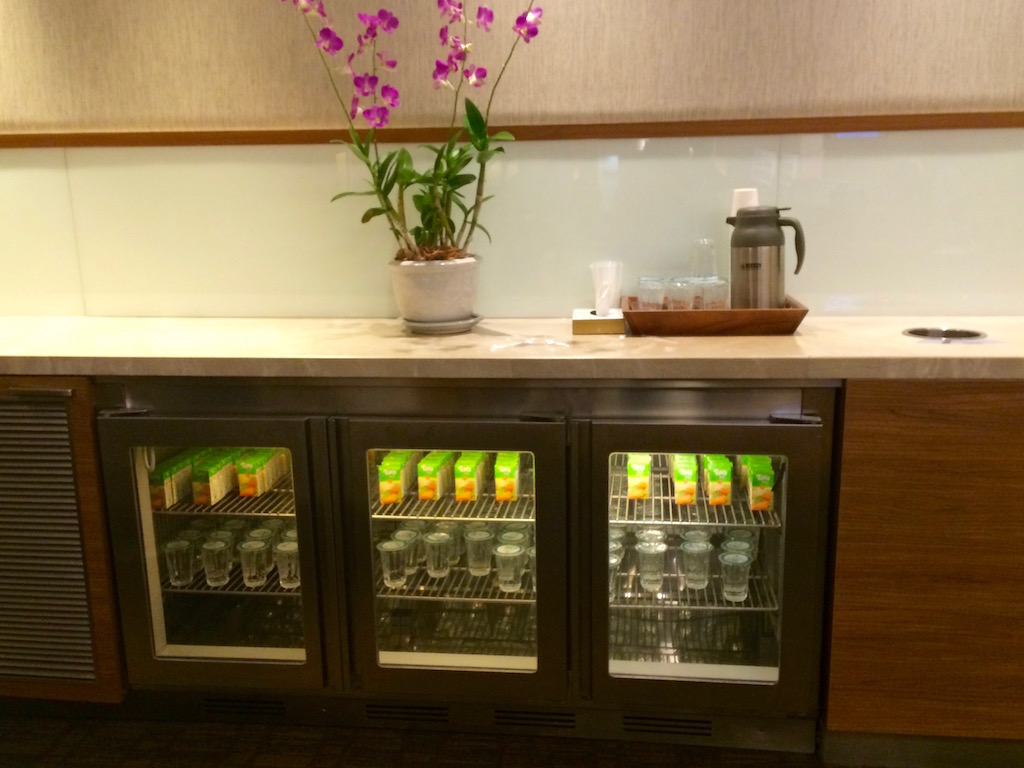 When I entered the hospital, I stood there a moment to take it in. In the middle of this high-ceilinged lobby was a marbled fountain. All around the carpeted floor were wooden tables with soft, cushioned chairs, most occupied with people, and along the wall was a Starbucks humming with activity. Looking up, I could see the railing for the second floor and a number of neon signs.
Taking the escalator up there, I saw that the signs were for a fancy Japanese restaurant, a MacDonald's (clearly the most popular), an Au Bon Pain bakery, and a large food court offering Asian specialties.
This hospital was like no other I had ever seen. On the way to the registration counter, I passed a couple of waiting rooms surrounded by half glass walls. Near the check in counters were refrigerated glass cases displaying free packages of orange juice and water.
Seeing the Doctor
At registration, I filled out forms, had my photo taken, and soon received my very own Bumrungrad International Hospital ID card. I then headed to the Skin Center in the building next door. There, I was efficiently checked in and saw the doctor almost right away.
Although Thai, she spoke English with a perfect American accent and clearly knew what she was doing. She removed a small mole because although it appeared benign, it was new, and I didn't feel like "watching it." She replaced it with two stitches. She also burned two small AKs from my face (a common condition for light-skinned people who have spent a lifetime outdoors in strong, bright sunlight without a hint of sunscreen).
Afterwards, the assistant took my email address in order to send my lab results (benign, as expected). I was also given an itemized list of services in English and sent to the cashier area to pay. At about US $300 for everything (doctor's visit, minor surgeries, and lab work) the bill was not cheap, but still far less than what I would have paid in the U.S. with our previous high deductible health insurance.
Visiting a Public Hospital
Two weeks later, on the recommendation of a local expat, I walked into a public hospital down the street from where we stayed on the island of Koh Samui to get the stitches removed. This place looked like a true hospital, filled with locals, mostly in flip-flops and some with no shirts, along with the occasional Westerner. Nevertheless, I experienced a similar organized efficiency as at Bumrungrad.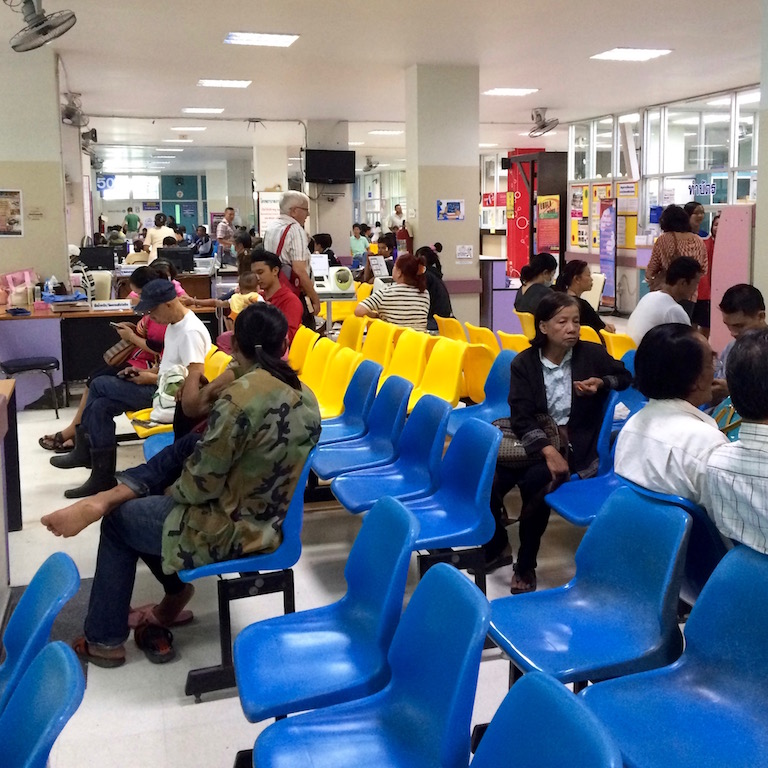 A kind woman who spoke no English showed me how to use the blood pressure machine which was part of the self check-in process, and then I was sent to window #5, where I indicated I needed stitches removed. Within a few minutes that was done. The bill: US $2. Now that's my kind of doctor visit price!
If you have to visit a doctor on the road, don't be afraid. Just do your research ahead of time so you know what to expect. Also, be sure to get world travel insurance that includes a medi-vac option should you need it! (Ours is World Nomads.)
To learn more about the prestigious Bumrungrad International Hospital, check out the following links:
This blog post, including photos, is copyrighted (c) 2016 by Cindy Bailey Giauque and is an original publication of www.mylittlevagabonds.com. Please join us on Twitter and Facebook. Happy travels!