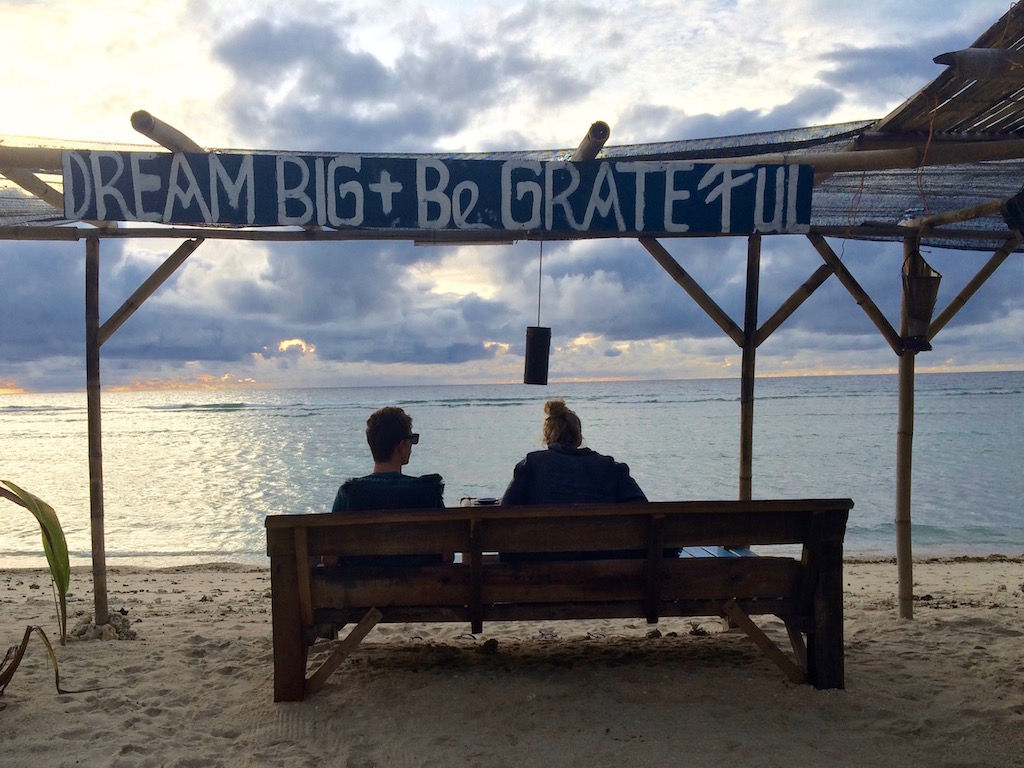 About two days ago on the tiny island of Gili Air in Indonesia, I walked down a set of concrete steps that led from our beach bungalow's restaurant to the ocean and slipped–flying into the air, cartoon-style, and slamming into the edge of a step with the back of my head. POW!
I landed with my butt in the sand, my back against the stairs, and one hand grasping against the sharp pain in the back of my head just above my neck, my goggles and fins floating away from me in the water.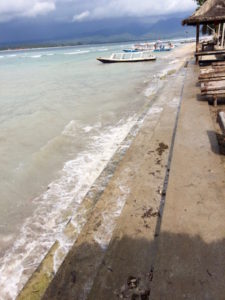 It felt serious, so I shouted out, "I fell and hit my head," to anyone who might hear me and then closed my eyes until the pain subsided. When I opened them again I saw a mother and her grown daughter approach me with a glass of ice, asking the waiter for a towel as well.
"Oh, thanks," I said, taking the ice while also plucking my goggles and fins from the water. "I don't need a towel."
The woman checked my head for cuts but found none. "You're OK," she said.
I thanked her and sat icing my head for 15 minutes before I decided it was time to get on with it. As I could see, speak, and balance myself, I figured I was fine and went on to swim out to join my family, who were playing on the paddle board in the distance.
I found it interesting that I had just told my kids they couldn't walk down the last couple of steps because they looked too slippery; they had to go all the way around. I avoided them too, but not completely. I took a shortcut. Why did I think I was immune to my own advice? You can't outsmart an accident, after all.
I knew I had hit my head hard, but decided to take a 24-hour wait and see approach before considering help. Biking around the island, I had come across a sign that read, "Clinic, 24 hrs." and behind it stood a beat-up shack. Thank god we don't need that, I thought! If I needed medical attention, we would have to go to south Bali, which at least had a decent tourist clinic, although getting there would take at least five hours. If my injury turned out to be more serious, we did have our med-evac insurance (which everyone who travels the way we do should have!).
But I wasn't sure if any of that was necessary. First, I checked with Dr. Google (the Internet), which confirmed that I likely had a concussion. I had had one of those before, when I lost control of my rollerblades on a bike path in Los Angeles. My head, in fact, actually bounced off the pavement. But that was 20 years ago when I was young and invincible. My symptoms were mild and gone in less than two days.
This time, I'd have to wait and see…
Gratitude
As we begin to wrap up our time in Southeast Asia, where we've been traveling for the last eight months, we feel we've been fortunate. We've had the experiences of a lifetime, and yet, none of us have gotten dengue fever, malaria, or any other serious illness. Although Lily almost pulled a motorbike on top of her, and motorbikes drive anywhere they want, including on sidewalks, we managed not to have any traffic-related accidents. I held my breath at waterparks, perpetually shouting "don't run!", but we've had no problems there, either. (It helps, I believe, to plan ahead, use common sense, and be hyper-vigilant when needed.)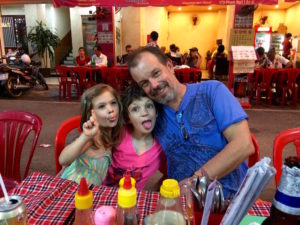 The only problems we've had are "small" ones we could handle, such as getting conned by taxi drivers in Vietnam, or accidentally getting the dates wrong on our visa application, or arriving at an Airbnb place with no sign of the host or the key, or coming home to find our beach rental house full of dead winged termites. We've also had to deal with super dirty bathrooms, a bat that got stuck in our room, heat rash, random power outages, and rooms with no hot water or AC. But we can handle all that.
Thankfully, we have not had a medical emergency, and I'm confident my fall won't create one for us either. It has caused us to change our plans, though. We wanted to explore Lombok for a few days before heading back to Bali and then on to Penang, Malaysia. Instead, we'll just head back to Bali, where there's a clinic, just to be safe. (Even though, in the time I've taken to write this blog, in the stop and go manner made necessary by kids, my symptoms, gratefully, have improved!)
You do all you can to keep yourself and family healthy and safe, and if something does go wrong, you just have to be flexible and ready to deal with it—just as you deal with everything else that comes up when you travel. You roll with it.
This blog post, including photos, is copyrighted (c) 2016 by Cindy Bailey Giauque and is an original publication of www.mylittlevagabonds.com. Please join us on Twitter and Facebook. Happy travels!