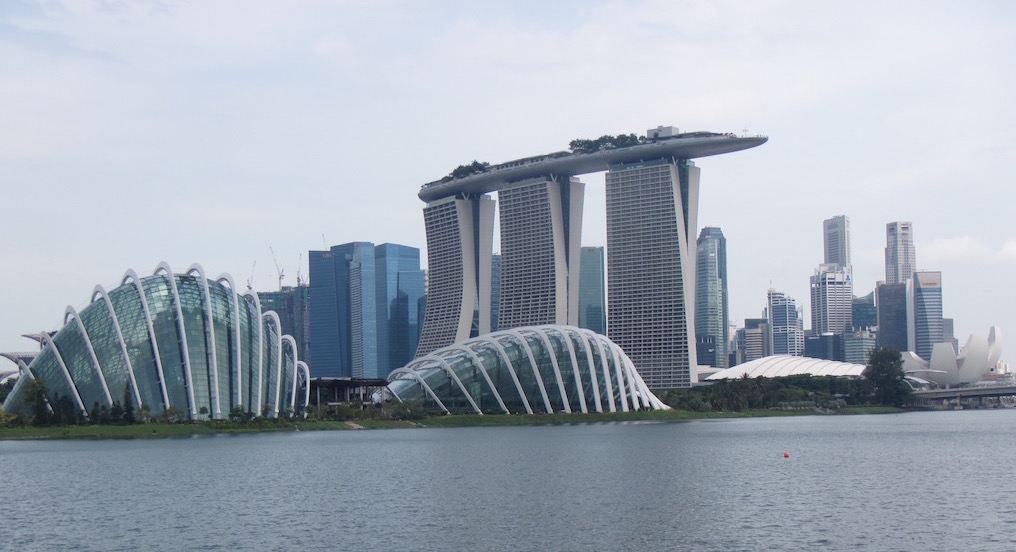 Ah… being in a first world country again (in this case, Singapore) after almost eight months in third world (developing) countries has been surprisingly refreshing! No haggling over price with the taxi driver (or anyone else, for that matter); no throngs of noisy scooters and motorbikes coming from all directions and filling in every possible gap on the roads; and no sign of trash anywhere, not even so much as a stray candy wrapper on the ground. Instead, we found clean, wide streets with actual traffic lights and cars that actually stop at those lights, and sidewalks! Tidy, flat sidewalks with nothing on them but trash bins (yes, actual trash bins!). No street food vendors or motorbikes squeezing out the sidewalk space; no uneven or missing tiles or large, gaping holes or abandoned coils of wire to avoid; and (again) no trash!
We didn't have to struggle with the language either, as Singapore's official language is English, and second to that, Chinese. It has been an unexpected relief to approach the counter at a restaurant or store and simply ask in English for what we want. No speaking in broken words with abundant pantomiming, or resorting to our less than perfect Google translator on our phones.
Also, whatever we wanted we could find. In fact, I came armed with a short shopping list of items that I hadn't been able to (easily) locate in other Southeast Asian countries: cotton underwear for our growing kids, a pad of lined paper, clear scotch tape, good quality pens, leave-in conditioner for my hair.
Whatever food we wanted was also available, and the selection and quality was incredibly amazing. As 74% of Singapore's population is Chinese, followed by indigenous Malay, and then immigrant Indian, this mutiracial, multicultural city/country offered a huge selection of dishes from all over Asia. With a large number of Western expats, we could also find plenty of Western favorites as well, if we wanted them.
Singapore is known to be very expensive, though! Nevertheless, friends we stayed with showed us another side of the city, one that dished out great quality food at affordable prices (U.S. $2 or $3 a dish). One example is the fantastic food court at Satay by the Bay, where I was overwhelmed with the options, mostly for Chinese dishes, but also plenty of Indian, Thai, and Indonesian choices. Many restaurants in their neighborhood of Joo Chiat Road as it nears East Coast Park (the Katong area) had a number of affordable restaurants and British-style pubs, along with more high-end options. At the Katong Mall, I found great sales deals too.
Oh, and we could use our credit cards again! Almost everyone accepted them. A convenient break from the cash economies and the paper bills with so many zeros in them.
Singapore is very strict about its rules, too. Shoplift so much as a banana and you will likely end up in jail. Which causes one to think twice about committing a crime. Which motivates people to better self-regulate. Which makes us feel more safe.
After a long five-day weekend of not having to be hyper-vigilant about ensuring our kids don't get run over or we don't get ripped off, we felt rested, as if we had spent the day at the spa, and we were ready to return to places where, although things (like plumbing) don't work so well, are nevertheless beautiful, culturally-rich, and have much to offer the traveler. Today, we arrived back in Jakarta, where the Muslim prayers over the loud speaker will wake us at 4 a.m. and the shower in our condo leaks, but the food is awesome and the people are kind. We are refreshed and ready to roll with it all again.
This blog post, including photos, is copyrighted (c) 2016 by Cindy Bailey Giauque and is an original publication of www.mylittlevagabonds.com. Please join us on Twitter and Facebook. Happy travels!