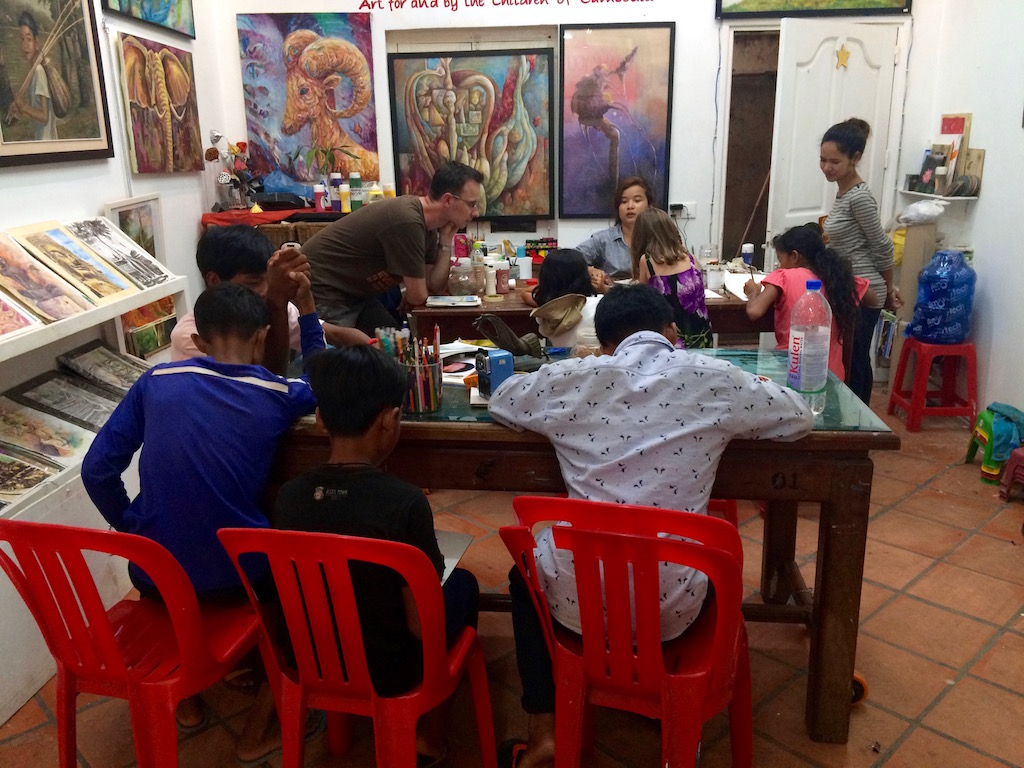 Any story about Cambodia needs to start with the killing fields, at least in context. For those who don't know or remember, about 3 million of Cambodia's 8 million people (UNICEF's estimate) were mostly tortured and viciously executed in a massive genocide in these fields. The leader, Pol Pot, and his Khmer Rouge party had abolished education, religion, health care, marriage, family, money, markets, and more, as part of his questionable plan to create a classless society of working peasants (who could be "yes" men), and began wiping out anyone with any critical thinking—intellectuals, teachers, doctors, professionals, artists, foreigners—along with their whole families, including infants.
To get a better snapshot of that time, here is a quote from Pol Pot's obituary in the New York Times, by Seth Mydans, April 17, 1998:
In the name of a radical utopia, the Khmer Rouge regime had turned most of the people into slaves. Husbands were separated from wives, parents from children. Holidays, music, romance and entertainment were banned. Dictatorial village leaders and soldiers told the people whom to marry and how to live, and those who disobeyed were killed. Children informed on their parents; many other youngsters who did not bend to the political mania were buried alive, or tossed into the air and speared on bayonets. Some were fed to crocodiles.

"…Thousands died from malnutrition, thousands from overwork. Thousands were jailed, to be tortured and die. …Above all, though, were the mass graves and killing fields uncovered after the Khmer Rouge defeat."
This didn't happen back in the 19th century. This happened between 1975 and 1979. So, as you might imagine, today's Cambodia has a lot of healing to do, as well as a lot of work to bring back their rich culture, traditions, art, and education.
Art Will Save the World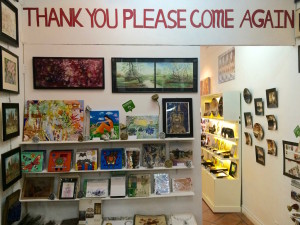 Many organizations, large and small, as well as individuals have stepped in to help where they can. One such individual is Bill Gentry, an American artist who first traveled to Siem Reap, Cambodia in 2001 and discovered that in spite of the area's rich artistic history, most children there didn't have access to art in any way. So, in 2003, he opened Colors of Cambodia, an art studio and gallery in the heart of downtown Siem Reap. His purpose: To provide art materials and classes to children in the area. His motto: Art will save the world.
He probably never imagined it would become what it is today. Teachers provide free art classes to children every day at the studio, as well as to thousands of students in public schools throughout the area, among other programs. More importantly, I believe, his studio/gallery enables students to exploit their talents and fulfill a passion, bringing in confidence, pride, and hope where, in many cases, there might not otherwise be any.
Visiting Colors of Cambodia
During our recent visit to Siem Reap, we learned of the art studio from another family at the hotel where we were staying. Gary and his Thai wife have been visiting Siem Reap for years, and when they come, they have their now 11-year-old daughter, named Aom, participate in the free daily art lessons. She does impressive work in watercolors!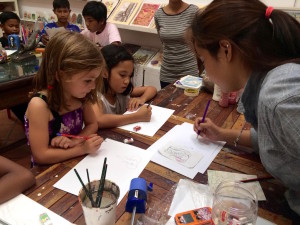 On one of those days, I tagged along, bringing our four-year-old, Lily, who was interested in an art lesson. Also joining us was Anna, an eight-year-old visiting from England with her family, along with her dad, David.
Classes start at 3:30 p.m. We all hopped in a tuk-tuk at our hotel, us two adults with the three girls, and headed to Colors of Cambodia down the street. The studio/gallery is located right next to the Khmer Kitchen restaurant (where we ate some of the best food we've ever had in our lives, no kidding) and across from the Beatnik Speakeasy bar in the heart of this cute, dusty, touristy little town.
The place is not only a studio, but also a gallery, displaying works from both artists and students. Here's how it works: you can buy any of the paintings displayed, and when you do, 50% of the sale goes to the artist while the other 50% goes back into the organization to support its efforts. I love that! They also sell useful items, such as artistic coasters and books.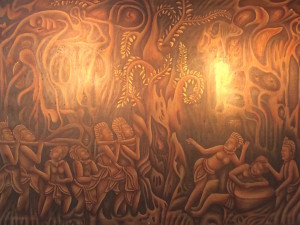 We arrived late and already at one of the two tables in the back were four Cambodian boys, seriously working on their art projects. With a quick glance at their sketch pads, I was thoroughly impressed. And they were proud of their efforts.
We took up the second table with artist/teacher, Phany. She had been a student of this place for two years herself before coming to work here as an art teacher, which she has been doing for five years now. Her paintings on the wall were stunning.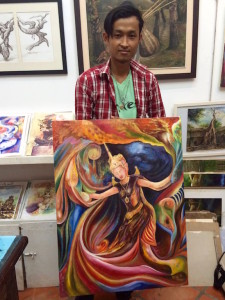 Aom immediately went to work on her latest watercolor, a scene of the temples near Angkor Wat, while Lily and Anna worked with the teacher on a line drawing of an elephant.
While there, Soukoun arrived. He had been a student here for five years and has now been a teacher for one year. His paintings, also displayed in the gallery, were also impressive. He immediately went to work mentoring the Cambodian boys. One was working on an exquisite portrait of his uncle, another on a beautiful, surreal scene.
I was impressed with Lily's line drawing of the elephant, which she did herself under the direction of the teacher. I only wished I had snapped a photo before she colored it in with pink, purple, and red colors. The girls had fun, and the studio felt like a sanctuary to anyone who wanted to come and learn.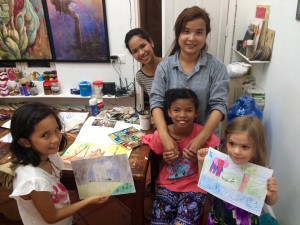 To learn more about Colors of Cambodia, please visit this link. To donate, volunteer, or sponsor, please see this link.
This blog post, including photos, is copyrighted (c) 2016 by Cindy Bailey and is an original publication of www.mylittlevagabonds.com. Please join us on Twitter and Facebook. Happy travels!