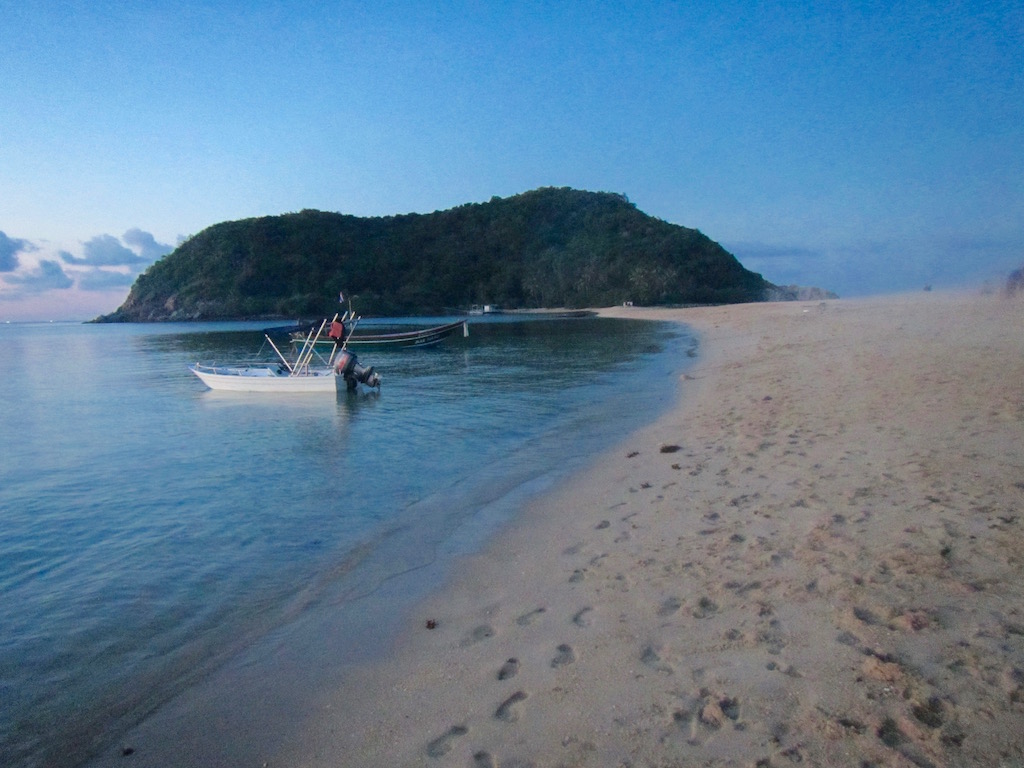 We've been to Koh Samui twice, staying almost a month each time, and love it. It's a beautiful island with a number of stunning, world-class beaches, a wide variety of great restaurants, a hopping nightlife, and a number of activities, including island tours, waterparks, elephant rides, and even paintball and go-kart races, if you're into that. (Note: elephant rides in Koh Samui are overcrowded and over-touristy. If your travel plans include a trip to Chiang Mai or Koh Chang, take elephant rides there; it's a much more authentic experience.)
Koh Samui is certainly more popular and crowded than nearby Koh Phangan, but you can still find plenty of quiet beaches with serenity and peace. Plus Koh Samui has all the amenities you might need: In addition to numerous small markets, the island has large malls, too, such as the modern Central Shopping Center in Chaweng Beach and Fisherman's Wharf in Bo Phut. You can find groceries, SIM cards, and much more at the large Tesco-Lotus malls (two locations) or the Big C. And if medical tourism or an unfortunate accident is in your picture, have confidence: the island has four quality hospitals.
Here's our list of the top things to do:
#1 Visit Ang Thong Marine National Park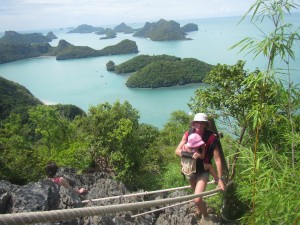 The popular Samui Island Tour can take you on an all-day excursion to this gorgeous, world famous national park. You can snorkel, kayak, and best of all, hike the steep jungle trail to the top of a small mountain with the help of a built-in rope, which I once did with 22-month-old Lily strapped to my chest. The resulting spectacular views are reward enough. Keep in mind this park is closed in November and most of December. You can sign up with almost any travel agency you find on the streets of Koh Samui.
#2 Spend the Day at Paradise Park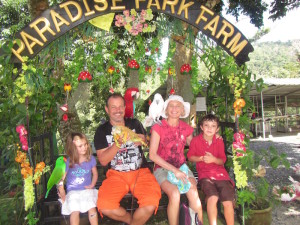 This park is located atop a hill with an impressive view of the island below. Kids love it because you can feed the birds and pet the iguana. There used to be a couple of monkeys to pet, but they were taken to the zoo. They have a nice restaurant and an infinity pool, all good for a fun, lazy day. For added adventure, skip paying extra for a tour operator in favor of renting a scooter or two and finding your own way there via CityMaps2Go.com. There isn't much traffic en route but some of the hills are steep (up and down).
#3 See the Big Buddha Temple (Wat Phra Yai)
This temple is impressive and fun. Be sure to check it out!
#4 Coco Splash
This is our son's #1 favorite thing to do in Koh Samui by far. It's a fun, adventurous waterpark located in the Lamai Beach area, and works well for kids of all ages.
#5 Visit Bo Phut and Fisherman's Village
This alleyway along a gorgeous, white-sand beach is packed with restaurants and colorful souvenir shops that are mostly French-owned or inspired. Bo Phut a great place to eat, shop, and if so inclined, ride a jet ski.
#6 Lamai Beach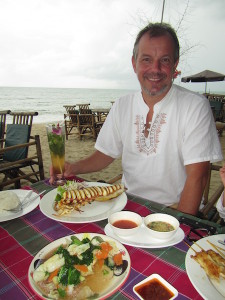 This is simply a gorgeous beach, flanked by large, beautiful rocks. It is also the second most popular beach in Koh Samui after Chaweng, but a little less touristy and busy. They also have amazing restaurants. We loved the delicious seafood served up at Bamboo, an on-the-beach restaurant where we could watch the kids play in the waves while we sipped our cocktails.
#7 Hike to a Waterfall
There are a number of scooter or taxi-accessible waterfalls in Koh Samui. The humid, narrow jungle trail from the entrance to the falls is a family adventure! Even our four-year-old could get into the hike. Do wear strong mosquito repellant, though.
#8 Take the TK Snorkeling Tour to Koh Tan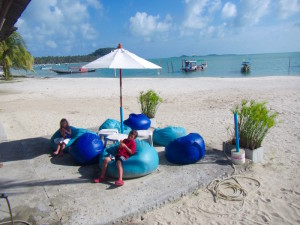 There is a tiny island called Koh Tan, located spitting distance to the south of Koh Samui. It has white sand beaches and perfect snorkeling–which is great because the rest of the island is not really made for snorkeling. (See #10 for better snorkeling options.) Unfortunately, we never made it on this tour, but we really wanted to, even eating at the TK restaurant and watching the tourists leave for the island, which we could see and almost touch, on a long-tail boat. If we could have a do-over, we'd do this.
#9 Visit Nathon, the Capital
Nathon, the capital town and main port, is great for food and shopping. It has a casual, backpacker's feel with a large collective of souvenir and T-shirt shops. When cruise ships park on Koh Samui's shores, this is the town in which the passengers get deposited for the day. Really good restaurants include Mumthong Restaurant (my favorite!), Lucky's, The Jit, and Sunset Restaurant, with its white sand beach coming up just to its edges.
#10 Take a Trip to Nearby Koh Phangan or Koh Tao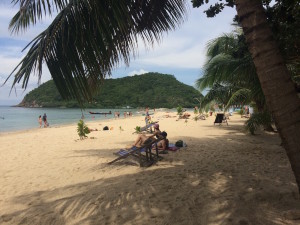 Koh Samui is great, but if you want something quieter, or you want to go scuba diving or snorkeling, take either a day trip or—as we did—an overnight side trip to either Koh Tao or Koh Phangan. Koh Tao is considered to have Thailand's best diving, and Koh Phangan, with its prized, serene beaches has both great snorkeling and diving. We recently spent three amazing days at the Island View Cabanas on Mae Haad Beach on Koh Phangan, where we could walk outside our doors onto the sandy beach and have immediate access to the island's best snorkeling! Highly, highly recommended!
 This blog post, including photos, is copyrighted (c) 2016 by Cindy Bailey and is an original publication of www.mylittlevagabonds.com. Please join us on Twitter and Facebook. Happy travels!