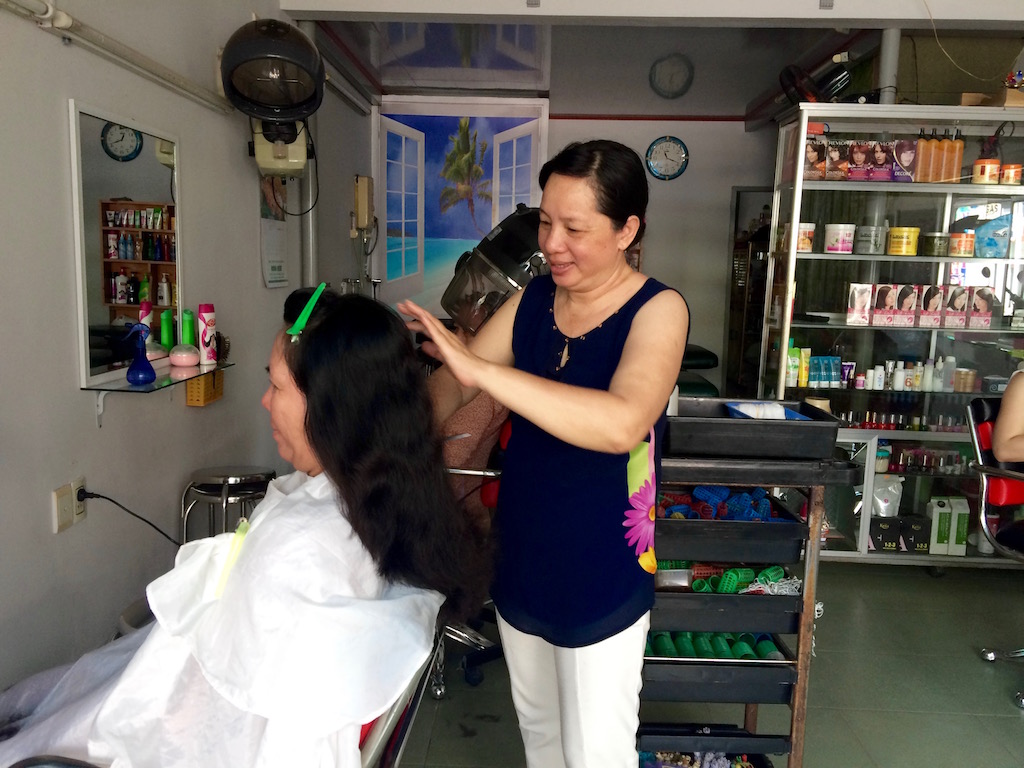 A visit to the hair dresser in Vietnam is a whole other-worldly experience, one you might consider adding to your sight-seeing list, as in "eat Pho, visit Cu Chi tunnels, get hair done." I had to get my hair done. That's what happens when you travel the world nomadically. Certain maintenance tasks, such as getting your annual skin cancer screening or dying the roots of your hair, have to be done wherever you are, and where we are now is Vietnam.
After two months in Thailand, my gray roots looked appalling. I tried to find a hairdresser in Koh Samui, but not only is blonde hard to come by, as you might imagine in Southeast Asia, but I couldn't find a hairdresser who spoke enough English for me to explain what I needed. I decided I'd just have to do it myself.
And so began the search for a simple box of blonde hair dye.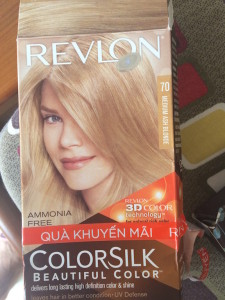 After arriving in Vung Tau, Vietnam, I searched all three grocery stores and five pharmacies before I finally saw it: one lonely box of blondish hair dye sitting on a shelf among over 30 options for brunette and auburn. Revlon #70 Medium Ash Blonde. It didn't match my color, but it was close enough!
After that, the box sat for a week in our apartment because I had no idea how to dye my own hair; I'd never done it before! Then I met My Huong Le, the amazing woman who works miracles for kids at the town's orphanage. After I interviewed her for a story, she showed us around Vung Tau, as she had some days off. At one point she said she was getting her hair dyed, and I said, "Oh, I need to do that! Can I come?"
"Yeah, of course. You just bring your own hair dye and they'll do it for you," she explained, 'because they use awful chemicals here." And then she added, "I love getting my hair washed. I like it more than getting a massage."
More than a massage? That made me wonder what goes down at a hair salon in Vietnam.
The next morning, My Huong picked me up on her motorbike and we headed to her regular salon, Phuong Hong, a fairly nondescript neighborhood salon; someplace, I assumed, working Vietnamese ladies would go.
First, the hairdresser sat me in a chair to discuss what we needed to do, with My Huong translating for us. The hairdresser noticed the color in the box was not exactly the same as the one on my head, which was also different than the color of my roots.
I didn't tell her it was the only box of blonde I could find in all the land. Instead, I explained: "My hairdresser in California told me to put the dye on the roots and in the last 10 minutes of wait time pull it through the rest of my hair."
My Huong and the hair dresser discussed for a couple more minutes when finally My Huong said, "You just have to do it the Vietnamese way, which is just sit down and let them do it." After a pause she added, "Don't worry, she knows what she's doing."
And so, I sat down and let the hairdresser do her job. After all, it was only hair. Soon, my hair was soaked in dye, marinating, and then it was time to wash. OK, I thought, let's see how this can top a one-hour massage.
Oh, but it did.
First, one of the other girls rinsed and washed my hair, giving my scalp and face a massage in the process. Then she put conditioner on my hair, and while we waited for that to soak in, she massaged my face further and spread something cool and lumpy on it, something that smelled and felt like oatmeal. Oh, I thought, a facial! Eventually, she rinsed that off in a gentle, soothing manner, and then she spread another substance on my face. While that one set, she deeply massaged my neck, shoulders, and upper back. Then she slowly, carefully rinsed off my face and tended to my hair, rinsing it out with another mild scalp massage.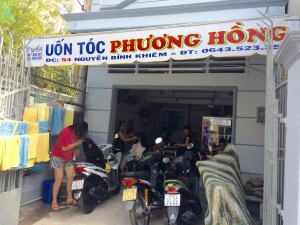 Oh, but we weren't done yet. For the third time, something thick and cool was spread on my face, and I was left on the table to doze off. Finally, I was given another upper body massage and my face was rinsed off again, with a final facial massage.
How absolutely lovely. No wonder Vietnamese women were streaming in one after the other on this Sunday morning (and likely every Sunday morning) to get their hair washed or styled: it's a whole, gratifying spa experience.
I left relaxed and pampered, and my hair looked great. I loved the slightly new color. I don't know how much it cost, as My Huong insisted on paying for me, but based on the cost of like services, I imagine it was about 200,000 VND or US $ 9–or less. It also took about two and a half hours and I knew my husband was wondering what I was up to while he was left alone with the kids.
Now all I have to do is try to find another box of the same exact dye for a touch up, as we plan to be in Southeast Asia for another year. It doesn't matter if I find it, though. Like everything else in our lives these days, I'll just have to roll with whatever happens and allow myself to be happily surprised.
This blog post, including photos, is copyrighted (c) 2016 by Cindy Bailey and is an original publication of www.mylittlevagabonds.com. Please join us on Twitter and Facebook. Happy travels!