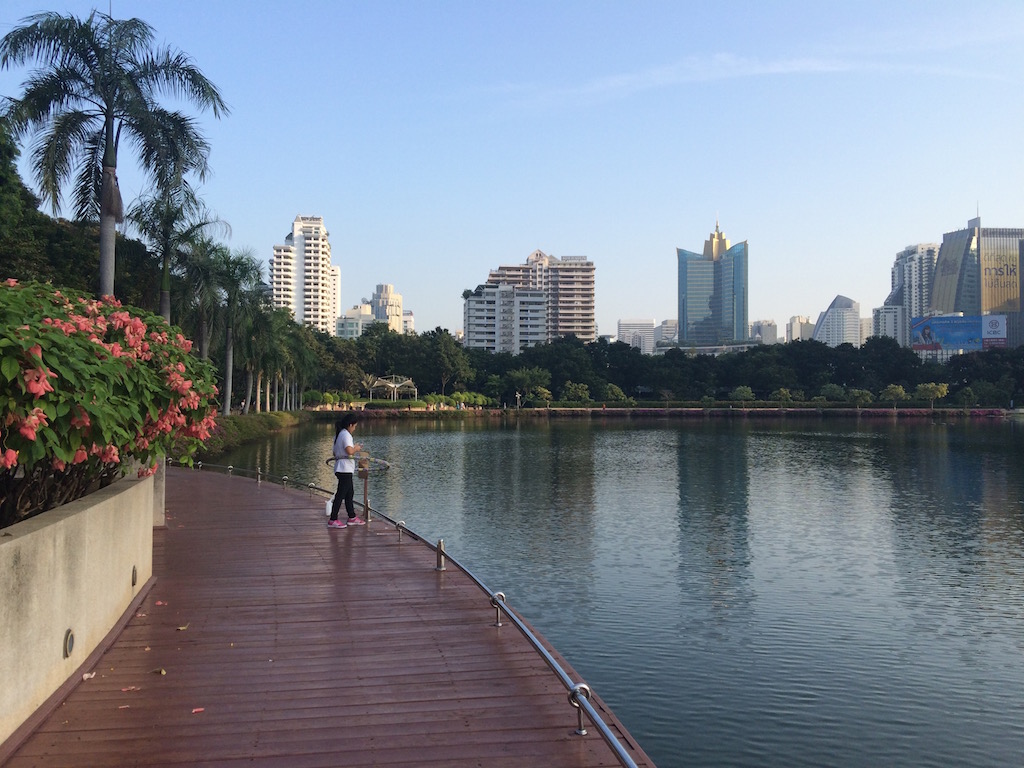 If you find yourself in Bangkok and need to go on a run, don't worry, there is an alternative to hitting the impossibly congested, polluted—not to mention dangerous—streets and sidewalks, or jogging in a fume-infested parking garage as I saw some of my condo neighbors do. Thankfully, Bangkok has a number of beautiful, clean, even serene, green spaces throughout the city where people can go to walk, run, relax, or play. Some allow biking as well, and many have playgrounds for the kids and swan boats to take out on the lakes. Most parks are also fenced off (to keep all the scooters and street food vendors from seeping in, I imagine!), and have guards at each entrance, helping to ensure rules are followed and the park stays safe.
During our recent month-long stay, I'd often wake at dawn to beat the heat and catch the BTS Skytrain to one of these parks to jog. Which is what I recommend you do: run at dawn, that is, or at least not after 9 a.m., as the heat or humidity might strangle you otherwise, especially if you're not used to it. Also note that most parks do not sell food or drinks, so be sure to bring your own as needed. Nourishment is usually available just outside the parks' borders, though.
So, here's my list of favorite parks to run in, along with some additional options.
#1 Benjakiti Park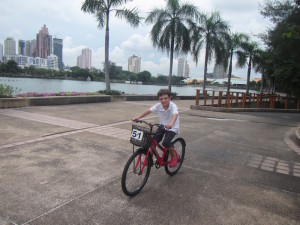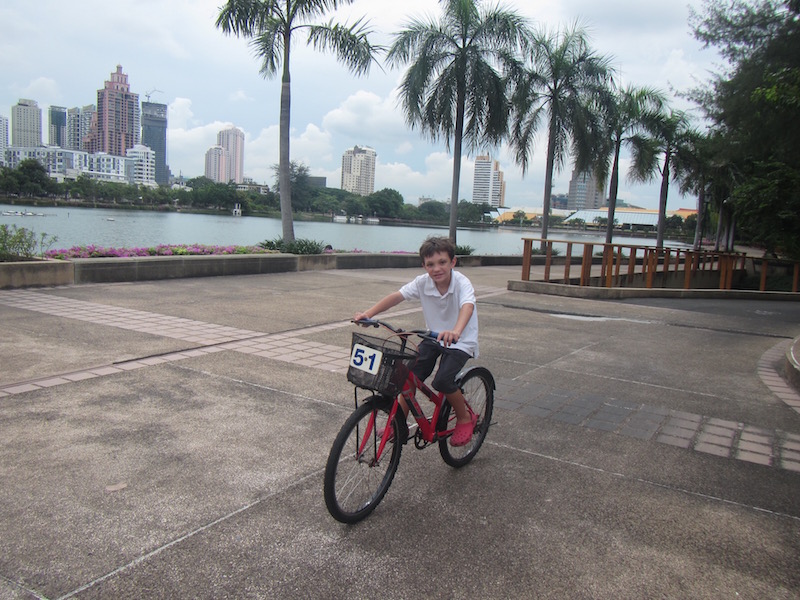 For running or biking, I love this park! It's set dead center among skyscrapers, next to the Queen Sirikit National Convention Center, and has as its centerpiece a huge, oval-shaped manmade lake. Basically, there is one wide-paved path that goes around the lake for running or walking, and around that, there is a separate, paved bike path for dedicated riding, about 2 km. in length around. It takes me about 15 minutes to jog once around the lake, or 10 minutes if I'm pushing myself. Other than that, the park has a small parcourse circuit, a grass area, and a bicycle rental spot in the southeast corner, near the convention center (40 Baht/hour with a 40 Baht deposit; about $1.25/hour). Note that although the bicycle rentals are suppose to open at 7:30 a.m., I only witnessed them opening at that hour on weekends. On weekdays, it's a crap shoot. A local expat has had the same experience. My family joined me one Saturday, and even our four-year-old got on a rented bike, riding alongside me as I ran to keep up.
Getting there: Take the BTS Skytrain to Asok station, and walk east to Rama IV, turning right to walk south to the northeast corner entrance of the park. Alternatively, take the MTR (metro) to Queen Sirikit National Convention Center and enter at the southeast entrance of the park.
#2 Chatuchak Park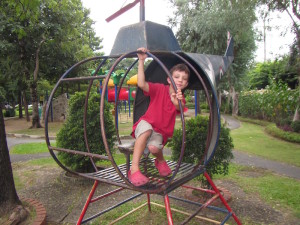 Because of its size and diversity (there are bridges to cross, gardens to run through, and numerous paths to take), this is a great park to run in! If your partner and kids have come along, there are a couple of large playgrounds the kids can kick back in, or swan boats to rent, while you run. (The Children's Discovery Museum is also nearby, as is Bangkok's famous weekend market.) This site explains why it's such a great running spot. When I ran there, I also spotted two outdoor weight-lifting areas, open-air muscle shops that reminded me of the one in Venice Beach, CA. There was also an extensive parcourse throughout the park. And in case you get bored, there are two other parks on its borders through which you can run, namely Suan Rot Fai (or Wachira Benthat), which allows biking, and Queen Sirikit.
Getting there: Take the BTS Skytrain to Mo Chit, at the end of the line. You'll see it upon arrival.
#3 Lumpini Park
This large, centrally located park is also a great place to run or bike. It has lots of bridges over lakes; a variety of pathways; lots of open, grassy areas with picnic tables; a couple of areas to rent swan boats; and a number of large playgrounds for the kids. At its main entrance, you can even find an official vendor who sells water and snacks. It can, however, also be crowded, particularly in the early morning hours. There is a designated bike path here. Runners can share those same roads, but are also free to run anywhere they want. You might even spot some monitor lizards here, lurking at the water's edge. Keep 5 Baht handy in case you need to use the restroom.
Getting there: Take the BTS Skytrain to Phloen Chit, then walk (or run) south on Witthayu Road to the park's northeast entrance. (You may have to turn right on Sarasin Alley to reach an opening in the gate.)
More Parks
Those are my three best parks for running, but there are others:
For a great description of the many parks available to you in Bangkok, see this link from Travelfish.
For a description of parks that allow biking and their biking hours, see this post.
Enjoy these peaceful shots of green in an otherwise busy, bustling city.
This blog post is copyrighted (c) 2015 by Cindy Bailey and is an original publication of www.mylittlevagabonds.com. Please join us on Twitter and Facebook. Happy travels!