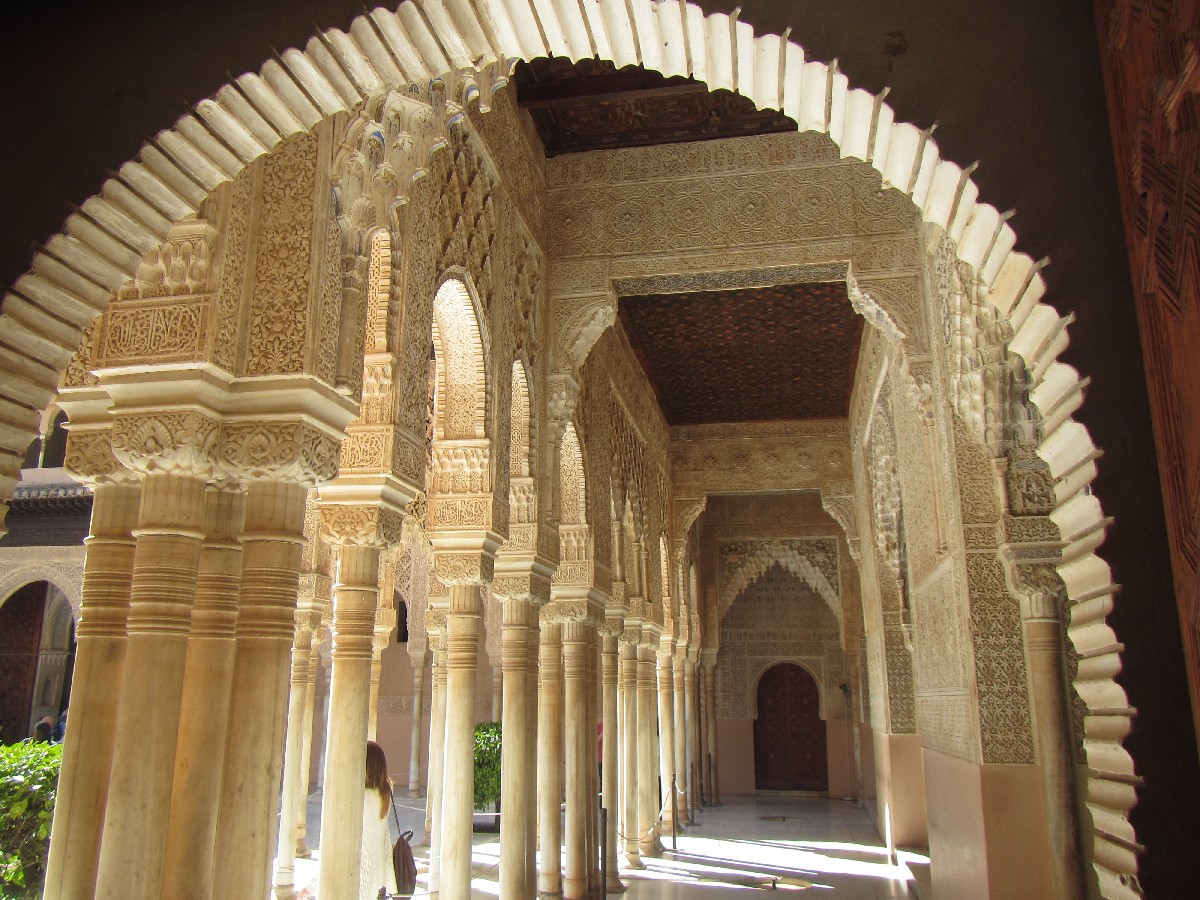 The city of Granada, with its ancient, medieval buildings, narrow, cobblestoned streets, colorful North African souvenir stands, plentiful outdoor restaurants and tapas bars, and live street music, is one place in Spain you really need to visit.
Located inland at the foot of the Sierra Nevada mountains in the southern region of Spain known as Andalusia, Granada has many historic and multi-cultural gems to share with visitors. Its history includes Muslims, Christians, and Jews, and its proximity to North Africa adds an Arabic influence to its food, products, and people.
The city is small enough to easily get around, either by walking or taking a taxi or intra-city bus (just not your car), and, with all the happy university students and tourists milling about, the place just makes for a lively visit.
So, here is our list of the top four things to do in Granada; and yes, with kids!
#1 See the Alhambra
The Alhambra, a UNESCO World Heritage Site, is the most visited tourist attraction in all of Spain, with good reason. Just catching sight of this sprawling Moorish palace with its immense grounds against the backdrop of the Sierra Nevada mountains, gives a striking impression. But that's nothing compared to the mind-blowing you get from seeing it up close. So get tickets, and do this!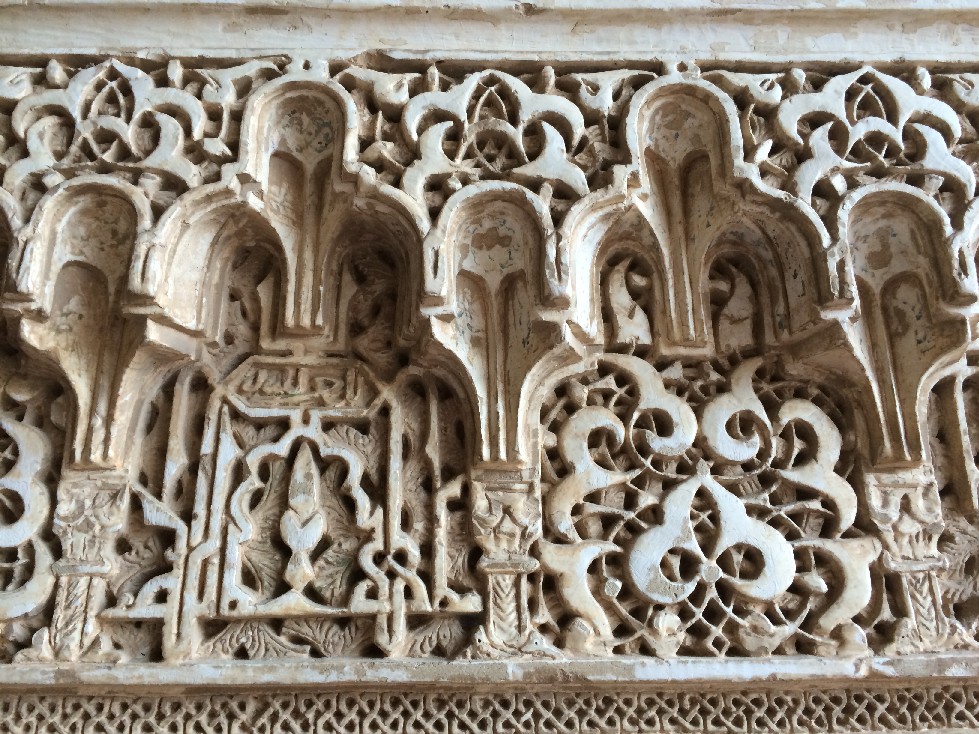 An Islamic palace built in the mid-1200's by the founder of the Nasrid dynasty, the Alhambra includes the Nasrid Palaces (three palaces built in the 1300's, and the jewels of Alhambra), the Alcazaba (the military area, which includes an impressive watch tower), Generalife (the gardens), a Museum of Fine Arts, and much more. Some of the crafted details in the Nasrid Palaces reminded me of the Taj Mahal. Truly splendid.
The kids will love running through the various rooms on the grounds, and the grownups will love the art, culture, and history. It's a good idea to give yourself a day to do this, as guidebooks suggest.
Practical Info
Like most popular tourist attractions in Spain, attendance is limited and requires a ticket. Only 6,600 people are allowed in per day and divided into two sessions: a morning one (8:30 a.m. – 2:00 p.m.) and an afternoon one (2:00 – 6:00 p.m.). There is also an evening session in summer, and there are additional ticket options depending on what you want to see. Kids under 12 are free, but they still need tickets (for the body count). Tickets usually sell out for the day well before noon. For further details about tickets and prices, see here.
There are two ways to get tickets: rise before dawn and get to the Alhambra entrance ticket line before they open at 8 a.m. and wait. Or reserve tickets in advance online, which you can do here. You can also get tickets at Caixa bank (branches are everywhere). Two-thirds of tickets are sold in advance, leaving one-third for same day sales at the door.
Tip: If you opt to buy at the entrance as we did, know that there is a line for credit card purchases that is less than half as long as the regular ticket line. I'm talking a much shorter line.
Note: Your ticket will include a time slot to see the Nasrid Palaces. You'll need to strictly adhere to that time. There is a line, but you will not wait long in it, and this is the mind-blowing part of the entire Alhambra tour. Do not miss this!
#2 Walk, Eat, and Shop in Albaicin
When our first attempt to get into Alhambra failed, our back up plan was to see the nearby neighborhood of Albaicin (or Albaicín or Albayzin), the Arabic quarter. This ancient Moorish neighborhood sits on a hill filled with narrow, cobblestoned alleyways, small plazas overflowing with outdoor restaurants, lively, wandering street music (at the right time of day), and stunning views, like the one at Plaza Saint Nicholas.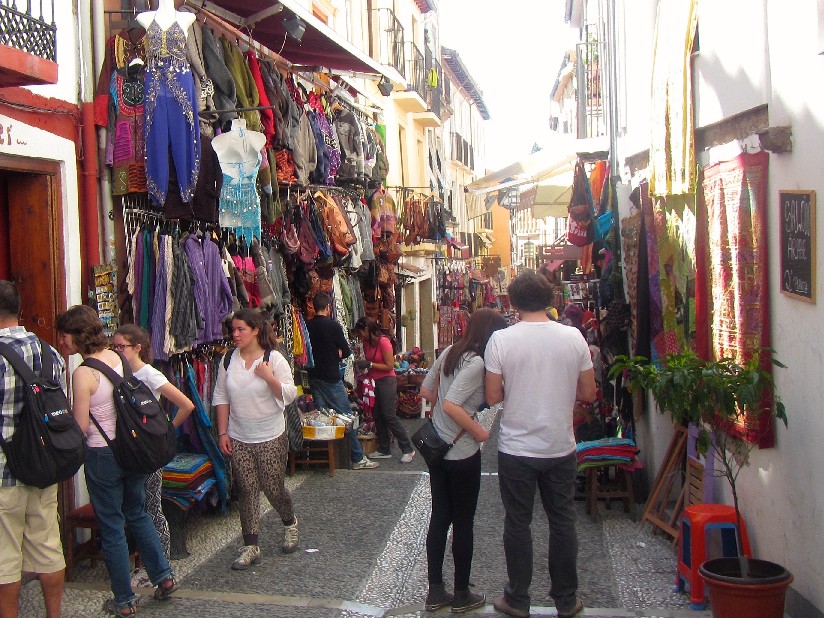 With its Moorish roots and North African influence, the edges of Albaicin include numerous merchant stalls that sell clothes, jewelry, bags, crafts and other goods, mostly of Moroccan flavor. These can mostly be found on Carrerro Del Darro, as you walk up from Plaza Nueva, and more intensely on the two sloping streets of Calderia Nueva and Calderia Vieja, up from Elvira Street. Elvira Street has more of this shopping too, along with a few other streets in that area. I couldn't help myself and bought a few colorful items for family and friends, even though technically we're not supposed to be accumulating items on our world journey. It was the sparkly Moroccan leather slippers that did me in. I bought four pairs to give to kids I know.
Walking the Neighborhood
It's a good idea to pick up a free map on your first day from a tourist information center (see #3 below for one). Start as we did at Plaza Nueva and walk up Carrera del Darro. On the right as you climb this street is a small river which separates this neighborhood from the Alhambra. On the left, you'll find lots of souvenir shops.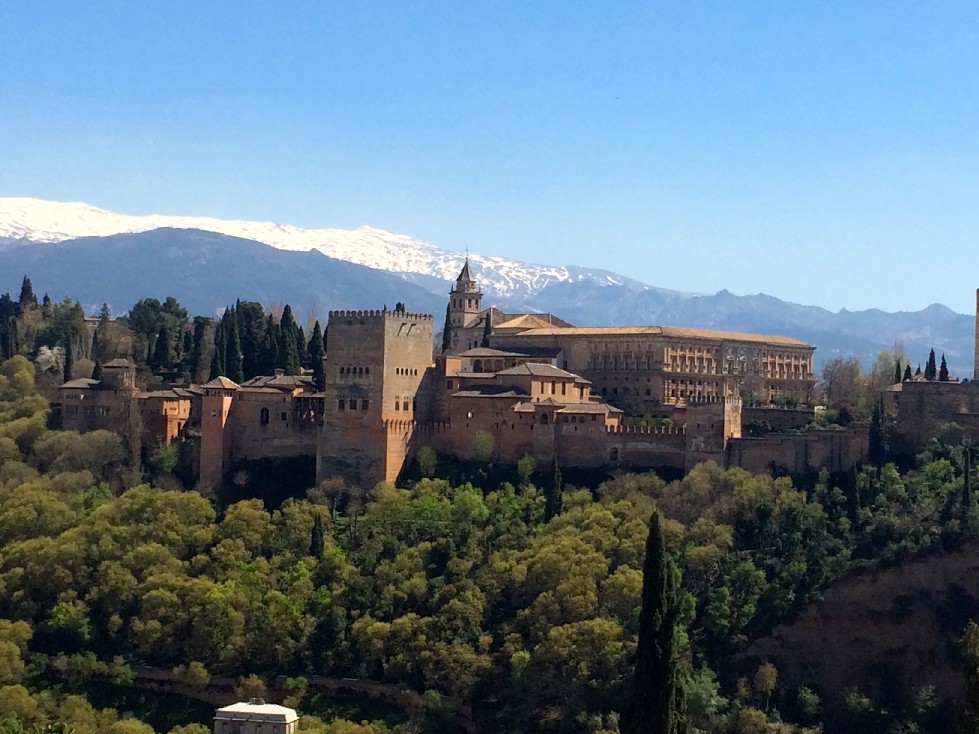 If you have the tourist map, you can follow the "tapas trail" to the end of Carrero del Darro and then turn left into the neighborhood, eventually ending up at Plaza Salvador. However, I would skip going to the end before turning left because out there, there aren't any restaurants or shops, just a beautiful, but very steep cobblestone road. Depending on the age of your kids, you may hear whining starting about half-way up. Instead, cut in at Museo Arqueoligico (Casa de Castril) and just wander the streets and plazas from there.
We had lunch at the very lively Plaza Larga, where a gypsy band passed through and played music while we ate our calamares a la plancha (tender squid in a garlic-based sauce), tortillas de camarons (Spanish-style shrimp tortillas), and caparrones (a traditional bean and sausage stew). Here's a nice list of Spanish foods.
During your walk, be sure to visit Mirador San Nicolás (Plaza Saint Nicolás) for an exquisite view of the city and of Alhambra. Some merchants set up temporary jewelry or craft stands there.
#3 Check Out the Cathedral, City Center, and Tapas
Our first trip into Granada found us at the city center, right at the Granada Cathedral (Calle Gran Vía de Colón, 5, near the street, Reyes Catolicos), which is a great place to start. The cathedral is beautiful, and the narrow streets south of it are lined with outdoor tapas bars made lively with the bustle of tourists and Spanish patrons alike. There are also a number of open plazas in the city center area at which to sit for a cool drink and people-watch, the largest and most popular being Plaza Bib-Rambla. On the last day I visited this area, I decided I was cursed by Plaza Bib-Rambla because it seemed no matter how many times I tried to escape it (it's beautiful, but touristy), I always wound up back there again. But, uhm, this could also be due to my poor map reading skills. Other plazas in the area to check out include Plaza Alonso Cano, Plaza Romanilla, and Plaza Trinidad.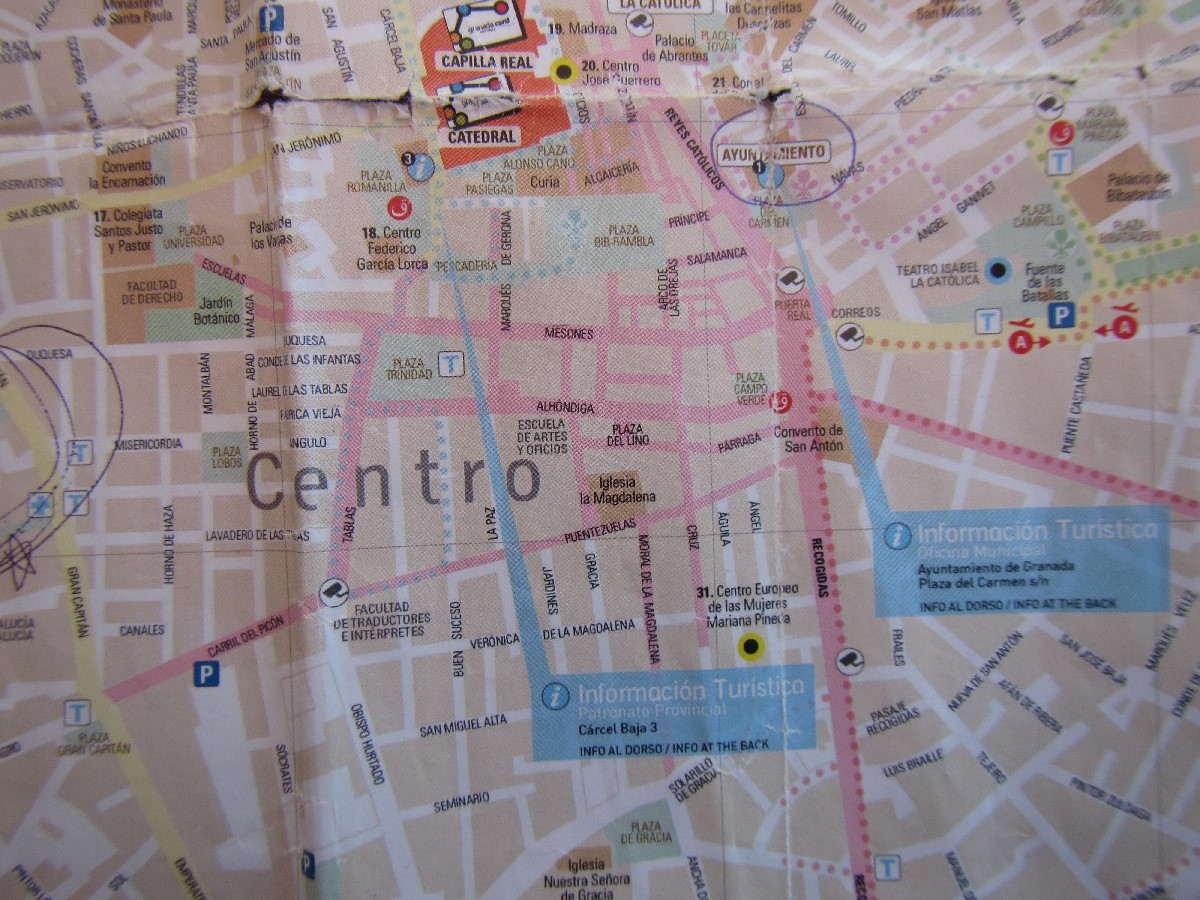 The city center is also the location of the tourist office, at Plaza del Carmen right off of Reyes Catolicos. That's the place to go to get a free city map and to book any city tours you might want. What I love about the tourist map is that it traces a number of tapas routes throughout the city, and these were fun to follow, helping us discover the city and its food along the way.
In our walk, we ended up at Plaza Campillo, which has a beautiful fountain, and stopped for some ice cream. Also, nearby Carerra de la Virgin has an El Corte Inglés, a high-end department store with a fancy grocery store in its basement, which I loved, just to look at. It was another tourist attraction to me. It was also the only place I could find chocolate Easter eggs during Semana Santa (Holy Week), the week leading up to Easter, in this largely Catholic country.
Shopping
The city center also has mainstream shopping: the brand stores like H&M plus many boutique shops. These are mostly found on Reyes Catolicos and Via de Colon streets. Keep in mind that shops shut down for siesta from about 2:00 to 5:00 p.m. every day, and then are open until about 8:30 p.m. If it's souvenirs you're looking for, the market stalls in Albaicin (see above) is the place to go, and most of them stay open during siesta.
#4 Catch a Flamenco Show
It makes perfect sense to see flamenco while in Granada, as Andalusia, after all, is the birthplace of this old, traditional, gypsy-originated dance form. Some say the Sacromonte neighborhood (just north of Albaicin) in particular owns the birthright.
Unfortunately, we didn't get the chance to do this here, although later we would see a performance in Barcelona.
In Granada, there are a number of places to see flamenco. One of the most popular (with plenty of positive reviews on TripAdvisor) is Jardines de Zoraya. I especially liked that they had an early show at 8:00 p.m. (which is way early for Spain), and that kids are allowed (not all flamenco shows allow kids).
For a more authentic experience, do see a flamenco show in a tablao, which traditionally is a cave or bar/café, as opposed to a large theater, and it's more intimate. To pick a tablao and purchase tickets, FlamencoTickets.com is a great service. I used it to book tickets for flamenco in Barcelona, and they don't charge a service fee. It's best if you book 24 hours in advance, though.
Of course, there are more sights to see. We never made it to the Monastery of Saint Jerome, for example, but we did a lot. Just walking through Granada, stopping for tapas and beer, and enjoying the sights and views along the way is a huge treat.