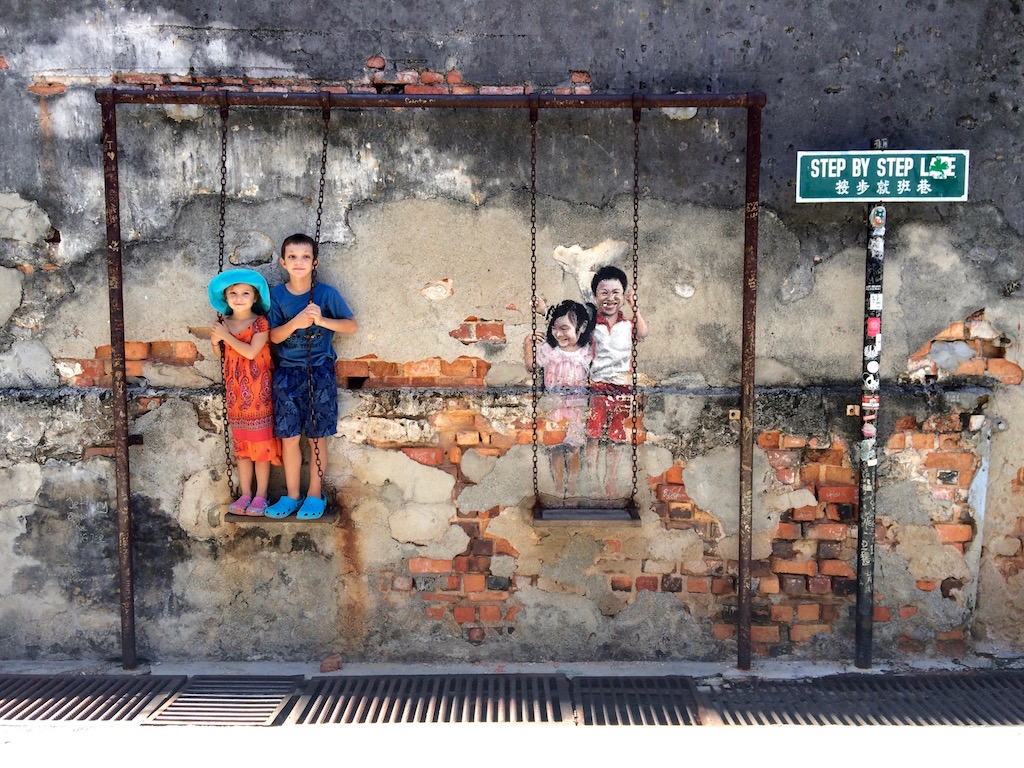 Penang Island, Malaysia is a culturally rich destination with plenty to see and do, and it's remarkably kid-friendly too. It's focus on education, culture, and arts offers travelers something a little deeper than just gorgeous landscapes, cocktails at the beach, and bargains at the markets. Its main town, Georgetown, which was founded by the British in 1786, is a UNESCO World Heritage Site and includes plenty of cute cafes, museums, and shopping.
With three main ethnicities coming together in one place—Chinese (41%), Malay (41%), and Indians (9%)—you can understand why Penang is also a mecca for a diversity of Asian cuisine. The hawker markets (street food stalls) will not disappoint! The same diversity extends to their language and religion. Although predominantly Muslim, Buddhism and other religions are practiced here, providing a variety of exquisite mosques and temples to explore.
I was relieved, too, to speak English without guilt. Although the country's official language is Malay, other languages spoken are Mandarin and English, the latter of which makes sense given the diversity of the population.
After spending a month in Penang, here's our list of the top 10 things to do there with kids!
#1 See the Famous Wall Murals (Street Art) in Georgetown
This is a must do! In 2012, for the annual Georgetown Festival, the city commissioned Lithuanian artist and local resident, Ernest Zacharevic, to paint culturally-significant murals on buildings throughout historical Georgetown. The results are amazing!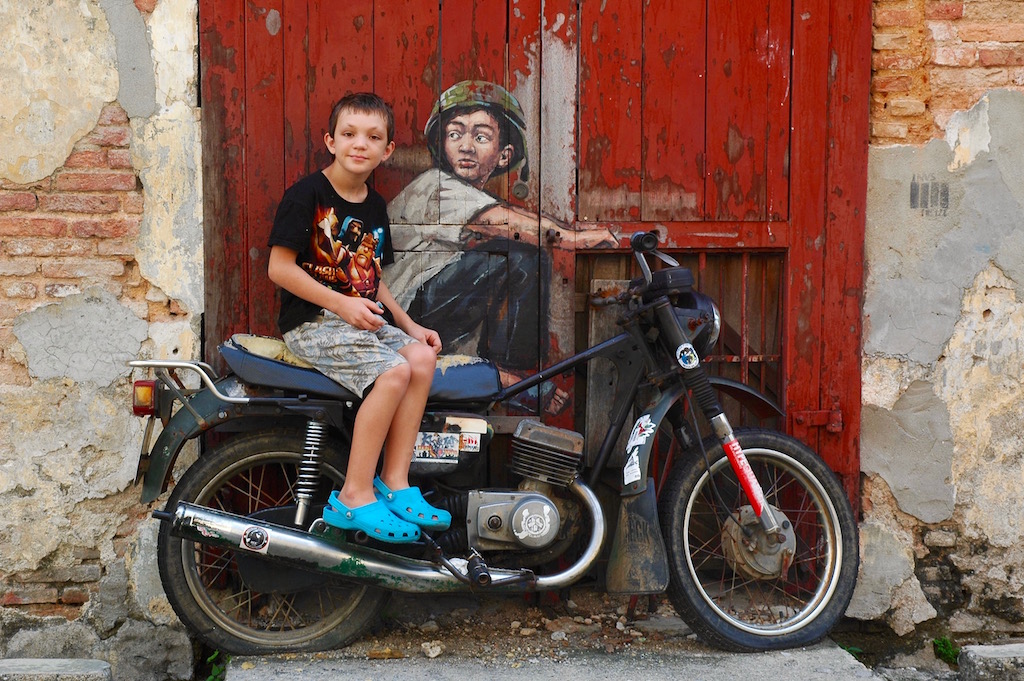 Some of the murals include a 3D element, such as a real bicycle pasted into the wall, making the painting of the riders come alive. This also makes it fun to get into the pictures yourself. Walking from one mural to the next also provides a nice tour of Georgetown, and you will discover street art from other artists as well.
Avoid weekends for this! Go early in the morning (before it gets too hot) on a weekday, start at one end and work your way to the other. Here's a general map of the murals' locations (see below). You can find a more specific map on Google Maps, and hotels and tour offices also provide maps. For more information on these wall murals, also see this link.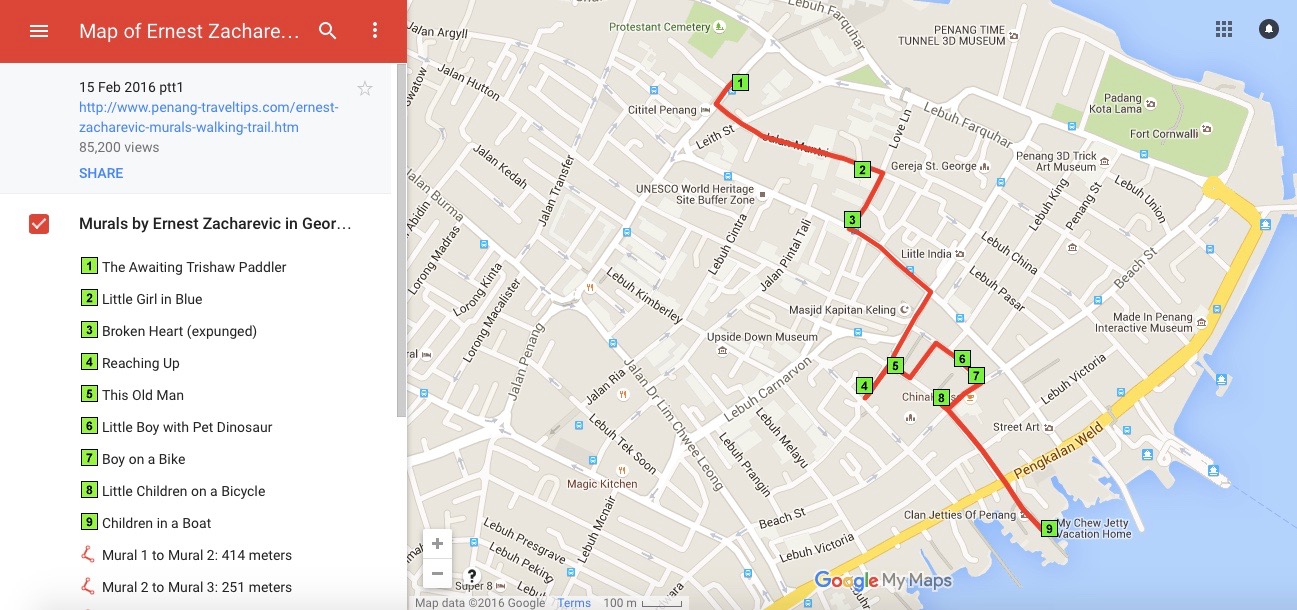 #2 Visit One of Many Interactive Museums
Georgetown is full of culture and activity, and there are many museums from which to choose. These three are the most fun, for kids and grown-ups!
At the Made in Penang Museum

Made in Penang Interactive Museum – We loved it! It is one of those museums that include 3D exhibits which you can place yourselves into for fun and silliness. The staff help position you correctly into the exhibit and take photos for you, as needed. There is also a 3D Trick Museum in town, but we chose this museum over that one because, as its name implies, it teaches about the unique history and culture of Penang Island for a more authentic experience. For prices and info, see this link.

Wonderfood Museum

Wonderfood Museum – Our favorite museum by far! We didn't expect much beyond models and photos of the local, multicultural cuisine and some history on its development. But in addition to educating visitors on the wide variety of dishes from the island's three main cultures: Malay, Chinese, and Indian, exhibits were also creative, fun, and very interactive. Kids could put on a hat, get behind a counter and pretend to make the local sweet tea, or pretend to eat a giant chicken satay. For information, see this link.

Tech Dome – For the science enthusiast, this museum has a ton of interactive, fun exhibits for every age. For more information, see this link.
#3 Run Around Penang Botanic Gardens
Located 8 kms. outside Georgetown, the Botanic Gardens is a great space to walk, jog, or let your kids run around! It has a few wide, paved paths that run up a hill and through the large property, and a number of unmarked tiny, single-track dirt trails that are great for jogging or hiking on. One such trail takes you up over 1,000 stairs through a tropical forest toward Penang Hill (see #4 below). It also includes plenty of indigenous and exotic plants, waterfalls, and lots of monkeys in the upper region. Don't feed them! And watch your stuff. Open 5 a.m. to 7 p.m. For more info, see this link.
#4 Visit (or Hike to) Penang Hill
Penang Hill sits atop a steep hill with sweeping views of all below, when its sunny and clear. On top, there are a couple of restaurants, a temple, a mosque, and now a mini Toy Museum (this last item I didn't see). The fun in Penang Hill is getting there, for which there are two ways: ride the funicular up (30 RM for adults, 5 RM for kids 4 to 6, ticket info), or hike up. As the hike is long and steep, it's not for small kids (unless you carry them for an extra workout!).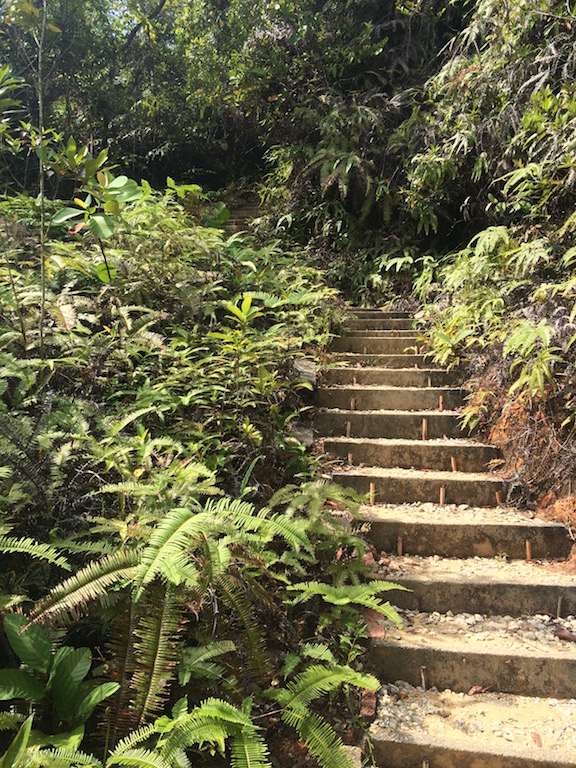 If you choose to hike (or jog) up, there are a few ways to do it. You can take the very steep 5 km. street which only allows resident vehicles to enter, so very little traffic. It will take about 2 to 3 hours. You can find this road to the left of the entrance to the Botanic Gardens.
In the Botanic Gardens, if you stay left as you ascend the hill, look for a small, steep, unmarked dirt trail to your left. This is the Heritage Trail, and it includes over 1,000 steps (I counted them on a jog up them) that wind through the tropical forest to end up at the street that takes you to Penang Hill (with 3.5 kms. to go from there). A third way is to take the Moongate trail. See this link on doing that.
#5 Play at the Penang Municipal Park and Pool (Taman Belia-Youth Park)
This is just a great all around park for the kids! It has a number of large playgrounds; a large swimming pool area with a number of fountains and waterslides for all ages; a skatepark, where our son loved to skateboard (sometimes with monkeys); a snack bar; and large, clean restrooms—all for FREE. When using the pools, wear rash guards, not only to protect from the sun, but also to show less skin, which gives respect to local Muslims. Located near the Botanic Gardens. Open 7a.m. to 7p.m. To learn more, see this link.
#6 Visit Batu Ferringhi Beach and Night Market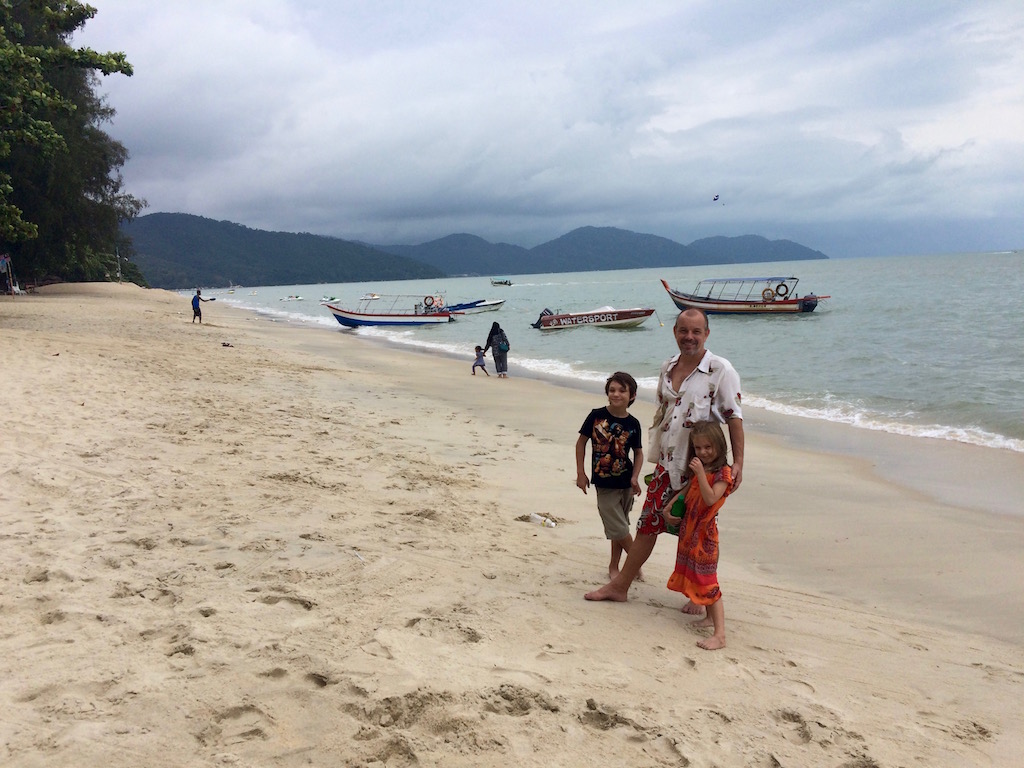 This beautiful stretch of beach includes a parasailing outfit, jet ski rentals, and a few massage stands, as a couple of resort hotels spill onto its sands. Although beautiful, with soft, swimmable waves and warm, tropical waters, we found this beach lacks the lively vibe you'd find on popular beaches elsewhere, such as in Thailand or Indonesia.
The town is nice with several good restaurants, and a large, lively night market, great for street food and picking up souvenirs. On our day there, we ate at Helena's Cafe, which offered a variety of Malay and Indian dishes, and it was very good. There's also a Hard Rock Cafe here.  For more information, see this link. (Hotels.com)
#7 Adventure Zone at Golden Sands Resort
We took our kids here for our daughter's 5th birthday and they had a blast. It's an indoor fun zone with slides and jumpy cushions for kids of all ages (although I imagine teens might get bored quickly). It's located in the Golden Sands Resort on Batu Ferringhi Beach, so it's nice to walk around the property, and even get a massage, while the other parent stays with the kids. They also offer drinks, snacks, and free Wifi at their cafe there. Non-resort guests pay 35 RM for a 2-hour session, but it's cheaper and less busy on weekdays. For more information, see this link.
#8 Eat at the Gurney Drive Hawker Stalls
About 3 km. outside Georgetown is the island's most famous hawker stalls, with plenty of choices of Malay, Chinese, and Indian foods and beverages. The seating is informal and lively! Open only for dinner, from 5p.m. onwards. Park inside the Gurney Plaza Mall next door. For more info, see this link.
#9 Shop and Play at the Gurney Plaza or Gurney Paragon Mall
In the same area as the Gurney Drive Hawkers Market are these two large, modern shopping malls with all the amenities you want, including recognized name brands, such as H&M and Marks & Spencer. We especially enjoyed the food court there, called Just Food, in the Gurney Paragon Plaza. The place is clean, modern, and air-conditioned, with a variety of foods on offer.
Both malls have modern restaurants and pubs with outdoor seating on the ground floors, most of them Western in style and offerings.
Both malls also have large cinemas showing current Hollywood films, among local ones, and a fun area for kids, with a play area for little ones and video games for older ones.
#10 Visit Temples and Mosques
With three main ethnicities and a colonial European influence, there are a number of gorgeous mosques and Buddhist, Hindu, and Chinese temples to explore, especially in and around Georgetown. Favorites include Wat Chayamangkalaram and Khoo Kongsi temple. For others, see this link.
#11 Eat at the Esplanade Hawker's Market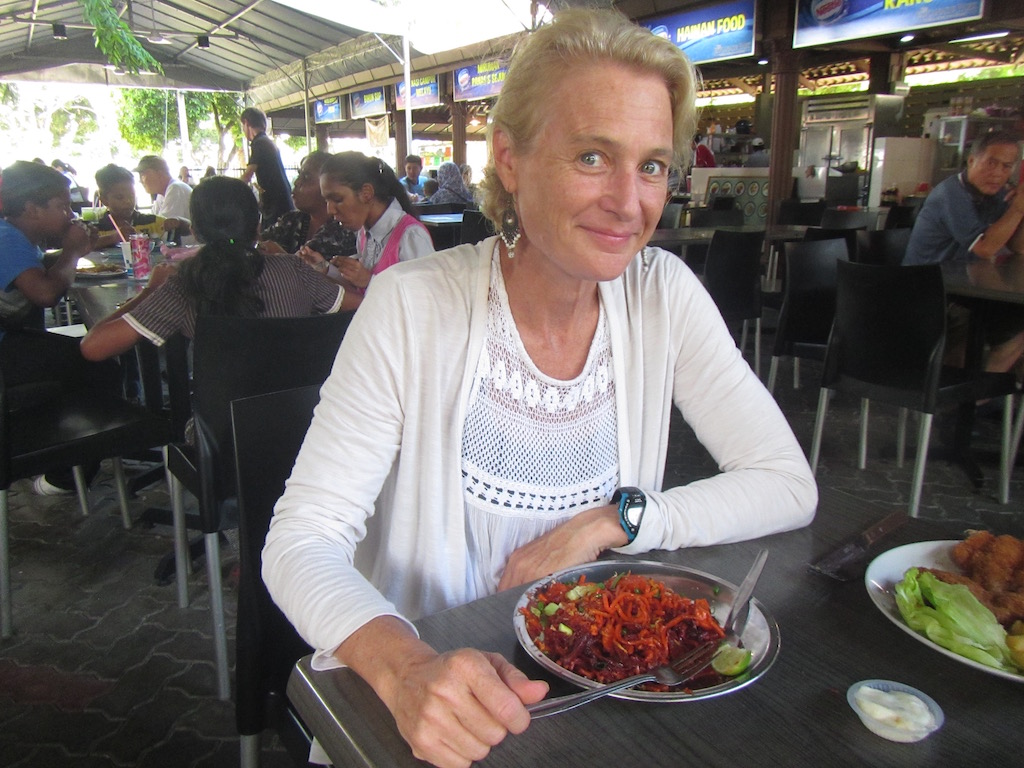 Located in downtown Georgetown, right next to the sea and beside the Cornwall fort is the Esplanade Food Market, serving a variety of Malay and Chinese dishes as well as fresh juices and other beverages. It's a great place to safely explore street food! We had read about a famous calamari-based noodle dish served there called Mie Sotong, which could be had for just 5 RM (US $1.25). The line for this was long but moved fast, and the dish was tasty.
After eating, enjoy a walk to the nearby playground, where the kids can play, and then walk on to the sea. Stands are set up in the area, offering fresh juice or traditional (temporary) henna tattoos, which Lily and I got on our hands for 20 RM (US $5).
#12 Visit Little India and Walk Georgetown
Little India within Georgetown is small and easy to get around. You can find Indian style clothing there and eat fabulous authentic food. We ate at Restoran Kapitan and Jaya, both excellent and cheap (US $2 per dish).
From there, just wander the streets of Georgetown, running into small cafes, restaurants, and shopping stalls. With its colonial influence and designation as a UNESCO World Heritage Site, there is a lot to discover, including all the street art.
Bonus Items
A couple of places we wanted to explore but didn't, either because of weather or other reasons, are these two:
There is even more to enjoy with the kids in Penang. Pace yourselves and enjoy an enriching experience.
This blog post, including photos, is copyrighted (c) 2016 by Cindy Bailey Giauque and is an original publication of www.mylittlevagabonds.com. Please join us on Twitter and Facebook. Happy travels!