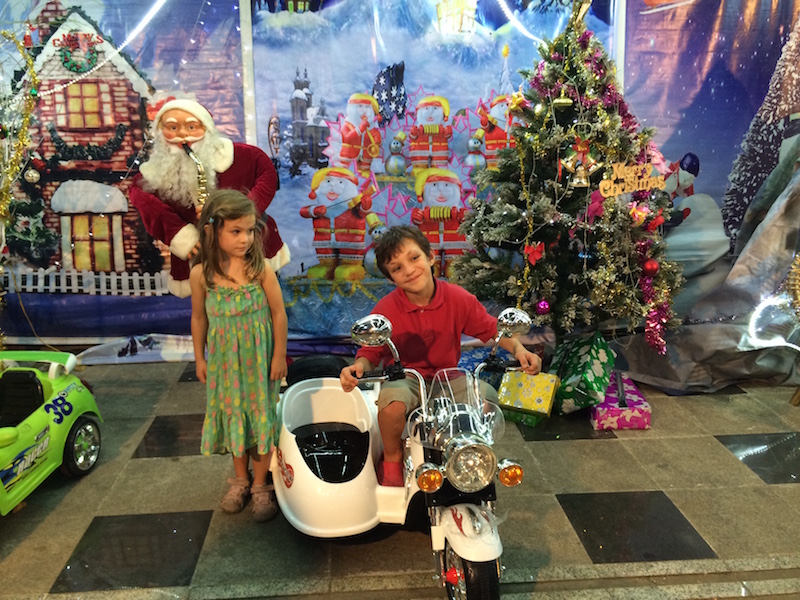 When our family left San Francisco in October to travel Southeast Asia with our two kiddies for a while, we wondered where we would spend our Christmas holidays. As it turned out, our 60-day visa for Thailand would expire on Dec. 20, which meant we had to get out by then. So, we set our sights on Vietnam, not knowing exactly what to expect. My only requirement was that we stay in or near a large city so that Santa could have some decent shopping options.
What did we discover? The Vietnamese really know how to have a good time! And Christmas time is no exception, even though only 8% of Vietnam is reportedly Christian.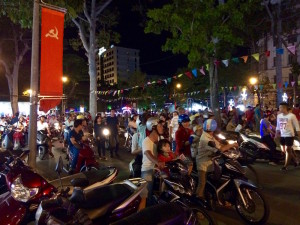 On our two-hour evening drive from the airport in Saigon to the beach town of Vung Tau where we would be staying, we saw numerous, even extravagant displays of Christmas lights. Once in town, we discovered storefronts decorated with Santa's sleigh or nativity sets, and a constant flow of familiar Christmas music piping in through speakers at malls. Lyrics were sung in English or Vietnamese. Just imagine Jingle Bells in Vietnamese; to me, it was a beautiful thing!
But more important than any of that, is the celebrating that goes on here! Searching online for an event to attend on Christmas Eve or Christmas day, the best I could find was the five-course Western dinner with Christmas cocktail at the high-end Imperial Hotel down the street from us. However, as I discovered, and as most nomads traveling through this region already know, the best way to find out about events is to wander the streets and look for posted ads, or ask locals or expats. Local social media might list events too.
Walking around is how I came to discover, by accident, the lively Christmas celebrations happening in the harbor part of town. We went there so my family could see the 3D version of the new Star Wars film, and so that I (who has no interest in Star Wars) could wander its streets.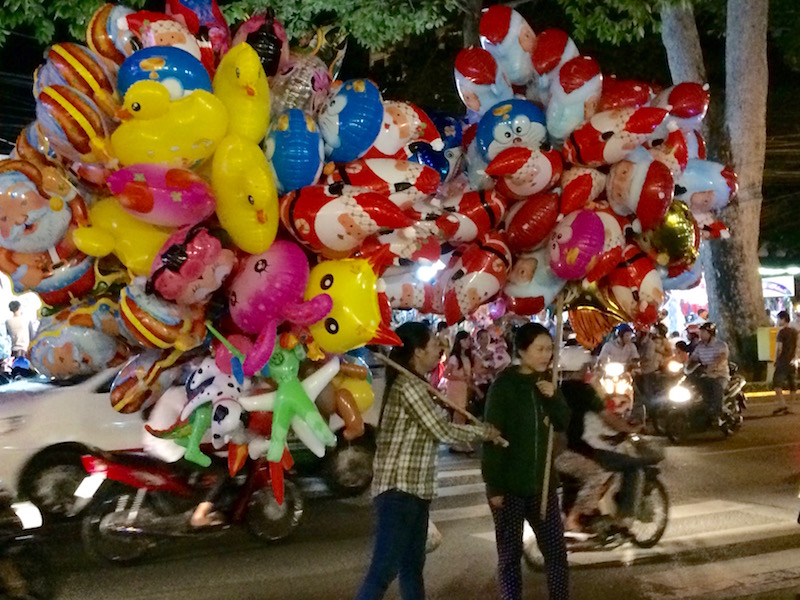 Already, at sunset, the harbor and its park had come alive with children playing, men exercising, families swimming, and friends gathering at low, plastic tables to eat, talk, and drink beer.
On the way back, some lights up a street caught my eye and I wandered over to investigate. I was thrilled at what I found! Up and down this main boulevard (Tran Hung Dao), there seemed to be a street party happening. Arches of lights lined the boulevard, and along the walls on either side for four or five blocks, these elaborately decorated Christmas scenes stood, one after the other. Families, dressed in their best, were out and about exploring these, placing their children (and themselves) into the scenes and snapping photos.
About half-way down this decorated portion of the boulevard, a church in a square came alive with music, and small children on a stage in front began to perform. All around the square and spilling onto both sides of the boulevard were busy sidewalk cafes. Scooters packed the streets and vendors on bikes sold Santa balloons. It was the perfect party for the whole family.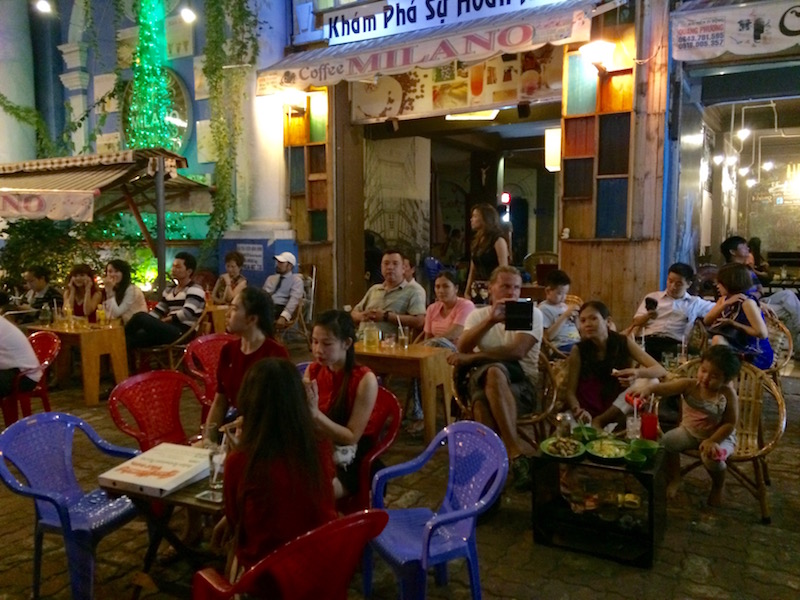 When I got back to the movie theater to meet my family, I discovered a spirited Christmas concert happening right there in an open space next to the cinema. The performers and audience were mostly teens and young adults, and the show was great fun! I watched a young man with a velvety voice sing two songs in English, and a group of five perform two upbeat hip-hop dance routines, one of them to a creatively re-mixed Christmas song.
After I shared all this with my family, it took us two seconds to decide to ditch the Christmas Eve dinner at the Imperial Hotel tomorrow night and come back here to these streets instead. (Update: We did that; we returned just tonight on Christmas Eve! The crowds at the street party were double, and everyone was happy.)
What we love? Having access to all the fun and high spirits of Christmas without the stressful shopping and run-away materialism that often accompanies it in the U.S. What is missing, though? Our dear friends and family, of course. Have a wonderful, spirited holiday, wherever you are in the world!
This blog post, including photos, is copyrighted (c) 2015 by Cindy Bailey and is an original publication of www.mylittlevagabonds.com. Please join us on Twitter and Facebook. Happy travels!