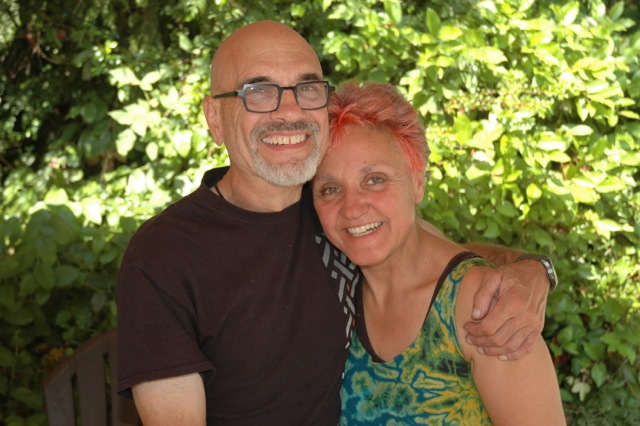 "I guess we are supposed to grow up, but somehow we never did," Dionne Haroutunian says, laughing as she runs her fingers through her pink hair. This is in response to how she and her boyfriend, Mike, live: making certain life choices that allow them to spend weeks and months at a time exploring the world on their motorcycles.
Dionne, Bringing People Together
Dionne, who is from Switzerland, is an accomplished, award-winning artist based in Seattle. Since her divorce in 2014, she lives with good friends. She used to own a printmaking studio, but is now one of three partners in BallardWorks, a workspace for artists. With 17 perpetual tenants, this business gives her the freedom to travel.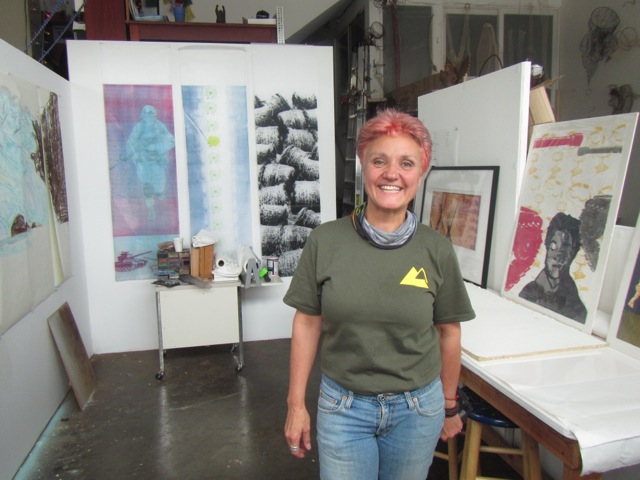 "But I am starting another business," she exclaims enthusiastically. "4ArtandAdventure is about creating world peace, one friendship at a time." Through her own adventures and artwork she wants to inspire people to get out of their comfort zones and travel, to not be afraid of others and to see the world.
"The news media can inspire fear and make people dislike each other," Dionne says. She wants to shatter those media-fed perceptions, just as her own were shattered on art assignments to Nigeria and China.
"The only way we can change the world is if people challenge their fears."
For her part, she plans to join her brothers on a motorcycle adventure through Turkey, an emotional challenge for her, as she is of Armenian descent. "How can I maintain integrity for my new business if I don't make friends with Turks?"
Hanging Out with Mike and Dionne
We are discussing this as we sit at picnic tables in Mike's makeshift outdoor kitchen on his property on Whidbey Island, Washington. Lily, our 4-year-old, is squeezing Mike's neck in an overzealous hug. (Our kids adore Mike and Dionne.) Pierre just made a delicious shrimp dinner for the couple as way of saying thanks for letting us crash here and catch our breaths before continuing with our own travels.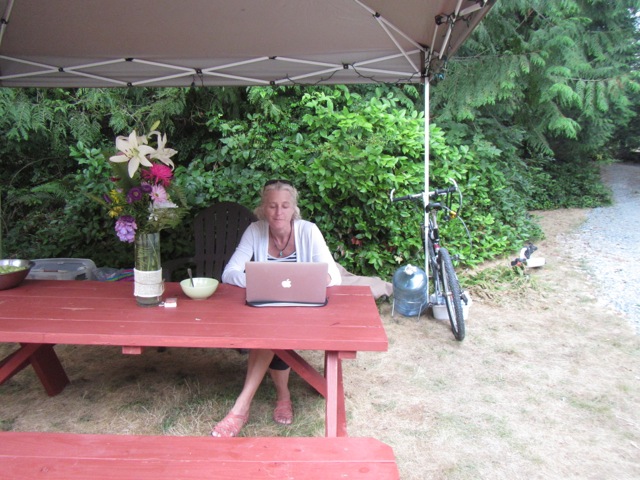 Mike waves away our gratitude and says, "I've set this property up exactly for this purpose: to receive our traveling friends."
We met Mike and Dionne while traveling through Moab, UT two months earlier, camping next to them at King's Bottom. Both Pierre and Dionne are Swiss-French, and we chatted and connected with them immediately.
When they left the next day, Mike said, "If you get to Washington before mid-August, come stay with us on Whidbey Island." After mid-August, they would be on their next adventure: dirt-biking through Alaska for six weeks.
They were genuinely thrilled we called.
Mike, Where (and How!) He Lives
Mike's place is nestled in a large, wooded area up a steep gravel road off the main street. On one half of his property, secluded by a row of tall trees, sits a large, two-story house with an immaculate Japanese garden and a separate guest house. Mike rents out this half; a wedding party celebrates there the weekend we visit.
On the other half is a large, gray, two-story house, the outdoor kitchen, a fully hooked up Airstream camper (where he has invited us to stay), and an expanse of lawn ("where people can come and put up their tents," Mike says). This is the half where Mike lives.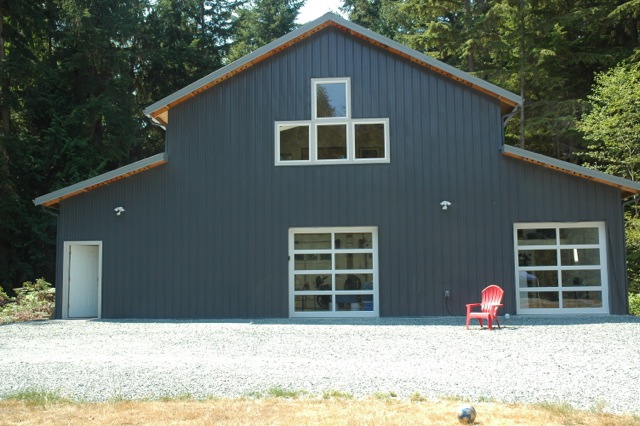 "It was my dream to have a motorcycle workshop and live above it, and that's what I did," Mike says, referring to the gray house. Inside, I count nine motorcycles, from light dirt bikes to fully loaded Harleys, neatly distributed across the clean, concrete floor. The first floor includes an art studio for Dionne when she comes and stays. It is also where I go every morning to write and use the Wifi.
How he got here, Mike tells me, is a love story. With his wife, he had a farm in Pennsylvania as well as an emergency medical business. His wife, however, developed Lupus and didn't think she would live long. She had always wanted to live on Whidbey Island, a place she had read about, and so in 2007, Mike sold everything: his farm, business, possessions and bought this property. Six months after they moved in, his wife passed away.
After that Mike moved out of the big house and eventually into the comfortable space above his motorcycle workshop.
It takes us three days to learn that Mike is a trained emergency physician. "It's not the first thing I want you to know about me," he explains.
"Once I finished my professional training, I never worked more than 14 days per month maximum, so I could travel, hunt, and fish. I drive pickup trucks, not Mercedes."
When needed, Mike does contract work as an emergency doctor, driving to various locations with his Airstream camper and living in it for the duration of the work.
Meanwhile, Dionne Moves to Adventure Biking…
After traveling around the world for almost two years in her early 20's, Dionne came to Seattle to visit a friend and never left. "I've been in Seattle for over 30 years now!" she says.
Although Dionne has been motorcycle riding since she was 18 back in Switzerland, she didn't start taking serious road trips until her husband at the time got hooked on motorcycles too.
"At first, it was three or four days at a time, and then a trip to Utah in 2006. That was big! Then, [in 2010] we went to Alaska for five weeks, 6,000 miles."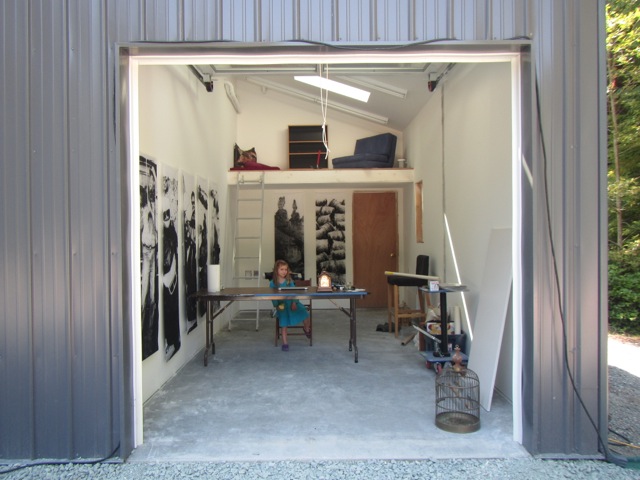 Dionne soon moved into "adventure biking," which means taking the backcountry dirt trails to destinations. She was inspired by the 2004 and 2007 documentary films, "Long Way Round" and "Long Way Down," which feature actors Ewan McGregor and Charley Boorman as they ride around the world on their motorcycles.
"I've always wanted to do something like that," Dionne says. "I love the challenge! We can go on a dirt road in the forest…"
"Right at the ragged edge of our comfort zones," Mike chimes in.
What Dionne loves most about traveling this way? "Meeting people, and not knowing what's going to happen next. We look at the map and if people tell us to see a place, we go there."
"Motorbiking makes it so easy to meet people," Dionne says. "People are drawn to bikers."
Why Mike Rides
Mike has a different take on why he rides. "I ride because it is the last modern connection to a western culture. …I smell the earth and the rain hurts and I'm happy to be able to do it."
He continues, "I've fished and hunted all over the country and that's where I feel I belong: in the wilderness. On the motorcycle, I get the sense I can touch it."
Mike started riding a motorcycle when a friend invited him on a ride to Montana in Aug., 2009. He didn't even have a motorcycle, but he immediately got one, got licensed, and started riding.
"It's an overwhelming part of my life now… I've owned 15 bikes since 2009."
Mike did his first cross-country trip in the summer of 2010, riding through 11 states all over the west.
"I branched into dirt riding because of Dionne," he says.
Mike and Dionne Come Together
Dionne and Mike met in a Police Officer Motor Club riding class in 2010 and became good friends, taking several motorcycle trips together in 2011 and 2012. They remained friends through Dionne's difficult divorce in 2014. It wasn't until later, that something more than friendship developed.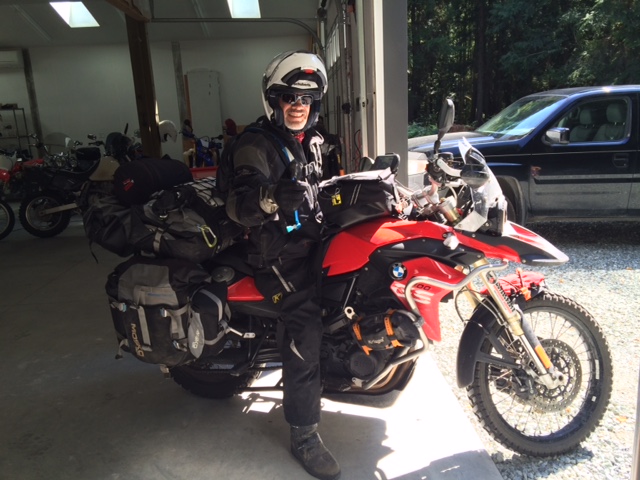 "We have nothing in common and everything in common," says Mike. "We're different people: she's left, I'm right; she's outgoing, I'm more reserved. But together, we work." Of course, they share an open, generous spirit and a love for cross-country motorcycling and its inherent lifestyle.
"What I love most about my life? I have no idea about tomorrow!" Mike says.
The two plan many trips together. In April of 2016, they plan to send their bikes to Switzerland and take six or seven months to see Slovenia, Croatia, and other countries in that region. They are also thinking of riding the Silk Road in China. And Dionne has that ride through Turkey coming up as well.
In the meantime, one morning they bid us good-bye, taking off on their planned six-week journey to Alaska. Dionne has already left and is waiting for Mike in Seattle.
"Turn off the water and lock up when you leave," Mike says to us. And off he rides, his bike fully loaded and precisely balanced to hold all that he needs in the world. The rest of it dissipates in his rear view mirror, out of sight and out of mind.